Mohammad Asif
As police personnel are manning their posts and posted far from their homes, they need help in case of accidents and medical emergencies. Even their family members need support as the bread-earners are away, their kin at home are unaware of the treatment facilities available or mediclaim benefits.
Due to ignorance, their family members have to rush from one nursing home to another for medication, losing precious time.
Therefore, a 'Welfare Cell' was constituted on 12 March, 2018 comprising a dedicated team of police personnel to facilitate hassle-free admission in cooperation with the hospital authorities and medical insurance authorities. The cell keeps information about the facilities available in hospitals and makes necessary arrangements as when required. The welfare cell also rescues common people in need. In a chat with Mohammad Asif, Assistant Editor Protector magazine, OC Welfare Cell, Kolkata Police, Jayanta Mukhopadhyay, gave an insight view about the working of the organization.
Take the case of the family members of a Kolkata-based businessman who were facing difficulty in getting plasma for a COVID-19 patient. The Kolkata Police gave timely help by donating plasma to one of their colleagues.
In another case, the Kolkata Police came to know from their Facebook page and Twitter handle that a COVID positive patient was critical and needed plasma. The police did the needful.
The adage– A friend in need is a friend indeed' is true for the police. During the pandemic, when common people remained indoors – Kolkata Police set an example for humanity.
From the day one of the lockdown, they have been on the streets advising people to stay at home and even reaching out to them in case of emergencies. During the lockdown when common people remained indoors, there was a shortage of blood in all major hospitals and blood banks. Responding to a request of the health department, Kolkata police donated 1,200 units of blood in April, 2020.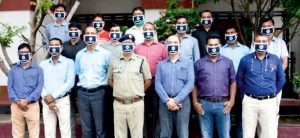 The Welfare Cell became a blessing for policemen working on front-lines during COVID-19 pandemic. It helped corona-infected cops and their family members and worked 24×7. Apart from helping in the admission of Corona affected staff, in consultation with doctors, it provided them with all medical facilities including blood and plasma.
Under the dynamic leadership of CP Kolkata Anuj Sharma, this Welfare Cell has come as a boon for Kolkata Police family. Under his initiative, a new mobile application 'Niramay' has also been launched so that their health could be monitored on a regular basis.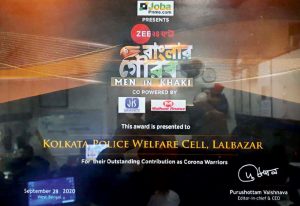 As the warriors in police uniforms have been working on the front-line over the past nine months protecting citizens, many of them got infected with this deadly virus.
Without fearing for their lives, the police not only cremated bodies but also donated plasma to the needy, setting an example for all.
Kolkata police records revealed that so far 3,374 have been affected with this virus. Among them 3,347 were cured and joined their duties, but 22 died and 22 are still undergoing treatment. Besides, 500 families of Kolkata Police have received help and care during this pandemic.
Kolkata Police are providing Rs one lakh to all COVID warriors who got infected and Rs10 lakh ex-gratia and a government job to family members of warriors, who have lost their lives.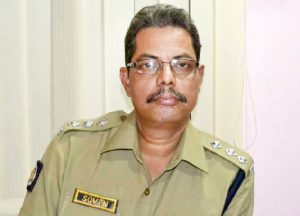 OC Welfare Cell of Lalbazar, Kolkata Police said that this body was set up exclusively for police personnel. At first there were 15 personnel, comprising Sergeant, Sub-Inspector, Assistant Sub-Inspector, constables and home guard.
But during the pandemic, the numbers have increased to 37 from 15. ASIs Gautam Sarkar, Biplab Bhattacharya, Sudip Banerjee, and constables Ramdulal Ghosh, MD Bagbul Sk, Jibesh Kuiri, Sergeant Syamsundar Gupta, Assistant commissioner Soven Banerjee, inspector Jayanta Mukhopadhyay are working round-the-clock to provide medical facilities to the needy. They said, " We have got an opportunity to serve the people during the pandemic."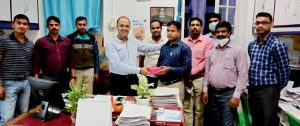 They also helped remove the apprehensions and misconceptions of people about the donation of plasma. The plasma extracted from recovered persons contains antibodies of the virus. On transfusion, these antibodies help them in recovery, say the doctors. But unfortunately, not many people, who had recovered from coronavirus, are coming forward to donate plasma.
Cops of Kolkata Police who have recovered from COVID-19 have set up an example by donating their plasma to save lives.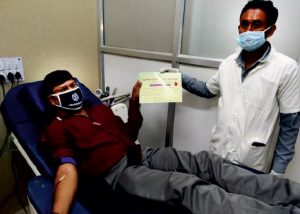 They have already donated over 100 units of plasma to patients. Plasma has also been donated to private and government hospitals for common people. For this outstanding contribution, Zee 24 Ghanta awarded Kolkata Police Welfare Cell, Lalbazar on September 28, 2020 as 'Banglar Gaurab Men in Khaki".
On the Police Day, Honorable Chief Minister Mamata Banerjee praised the Kolkata Police for the good work. Heaping praise on the Kolkata Police and the West Bengal Police for their "relentless" fight against the COVID-19, the CM said the police should "carry on the good work.
Kolkata Police is always ready with their helping hand to serve the people.
Assistant commissioner Soven Banerjee told Protector " All present and former employees of the Kolkata police and their kins constitute and extended family under the leadership of the commissioner of Police our welfare cell lends a helping hand to them during emergencies our cell knows what kind of help is required and we try to give our best to the extended family. Being a part of this larger family is the only identity we must upholds."