Mohammad Asif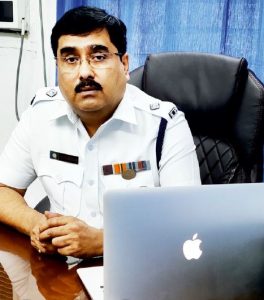 Being the most important transit point of South Kolkata, millions pour into Gariahat for a variety of activities every day. Right from the early morning till late in the night, Gariahat remains a hub of business activities as it is one of the biggest retail markets of eastern India.
Like a swarm of bees people can be seen running around in the din created by blaring horns of vehicles which pack the streets chock-a-block.
The hullabaloo in the crowded markets is visible from a distance. With a heady mix of eye-catching shops and establishments, the colourful and cheap street market along the footpaths are coupled with shimmering jewellery, sari and garments shops creating an irresistible temptation to even window shoppers.
The area also boasts of posh housing complexes where movers and shakers of Kolkata live. Some of the big hospitals and diagnostic clinics are also located here. Oblivious of the commotion in the market, some people with ample time still find peace beneath the Gariahat flyover and get engrossed daily in chess while sitting on the benches placed over the divider.
Probably, this symbolises the uniqueness of Gariahat where business and intelligentsia have peaceful co- existence. Some major temples, art galleries, schools and colleges add glamour to this upscale locality.
Such a variety of establishments and a huge spectrum of activities make it a perfect mélange of business, art and culture which signifies Kolkata's iconic identity.
With such socio-economic and cultural diversity, Gariahat symbolizes a wide spectrum of prestigious housing complexes to poor slums.
Apart from these, a large number of hawkers come to this area to earn their livelihood and put up their stalls on the footpaths adjacent to the Gariahat crossing. Consequently, the migrant population under this PS jurisdiction increases by a good number during day time.
Managing Gariahat Police Station has always been a challenging task for the policemen. The Police Station was carved out by bifurcating erstwhile Ballygunge Police station. It was inaugurated by the then chief minister of Bengal Jyoti Basu and former commissioners of police Nirupam Shome, Initially, the PS was located at 2, Dover Lane, Kolkata -700029. Later, it was shifted to Gol Park as the old building became dilapidated.
The old building was then demolished and a new G + IV building was constructed. The new building was inaugurated by Prasun Mukherjee, former commissioner of Police on August 27, 2006 with Gariahat PS back to its original place.
The area of Gariahat Police Station is around 1.677sqkm and it caters to an approximate 7 lakh population. Five other police stations share their border with Gariahat PS. Those police stations are Rabindra Sarobar, Karaya , Ballygunge, Tiljala and Kasba. The entire area includes 68, 85,86 and 90 wards of the KMC.
Two assembly constituencies, 160 Rasbehari and 161 Ballyganj AC are important parts of this police station.
Five slum areas Jamir lane, Ballygunge Place, 60 Bondel Road, Panditiya Basti and Kankulia Road also come under this police station.
Residence of three senior ministers of government of West Bengal as well as three honourable judges of the High Court also come under the Gariahat PS.
With high value business establishments, huge retail markets and an important transit point, Gariahat police station has to remain vigilant 24X7. To keep an eye on law and order and for immediate response to help, the Gariahat PS maintains the highest level of preparedness.
During the lockdown, Gariahat PS under the leadership of Soumya Banerjee, the officer-in-charge, exhibited excellent response in the field of social responsibility. In many cases, the cops set precedents for others to follow.
A multi-dimensional role was played by the staff of the PS during the pandemic. Being a densely populated area, it has always been a challenge to maintain physical distancing norms here. Though there were fears of rapid spread, cops of Gariahat PS always remained alert and kept sensitizing people relentlessly about the deadly virus. To avoid physical contact, special markings were made by police in front of important shops, banking establishments and shopping complexes.
Free distribution of masks and sanitizers were made at markets and shopping complexes. More than 70 footpath dwellers, including women and children were provided safe shelter, food and medicines for more than three months. The shelter was provided at KMC community hall at 3A, Dover terrace. Even the street dogs were fed by police at different locations during the lockdown to save them from starvation.

During the initial phase of lockdown, Gariahat PS set some outstanding examples in spreading public awareness. Such initiatives helped in strengthening the bond with the community to a great extent. The officers of Gariahat PS penned a special song resembling the tune of the famous "Bela bose tumi sunchho …." of Anjan Dutta. The song actually carried a nice message on following the COVID protocols. When the police officers went to several residential areas advising them to maintain physical distancing, the response was immense. People holding mobile torches and candles light reciprocated the move from their houses showing their solidarity in the battle against corona.
The video was shared in huge numbers across all the social media platforms.
The officers who played key roles in it were Debjit Mukherjee , the sergeant sang the song and was joined by other officers of PS.
Amidst the COVID pandemic, organising Durga Puja while adhering to the directives of the honourable High Court, was a big challenge.
Big puja committees, gated communities and all other stakeholders were taken into confidence as part of the puja preparations. Some big pujas of Kolkata are organised under this PS area. In terms of pomp and pageantry, very few puja pandals in Kolkata can match the splendour of Ekdalia Evergreen Club, Singhee Park, Hindustan club and Hindustan Park.
There are a total of 38 Durga Puja pandals under this PS area which are visited by thousands of devotees. Honourable CM Mamata Banerjee inaugurated six puja pandals. However,sincere efforts were made to follow all the guidelines of the High Court. To maintain physical distance, strict no entry zones were created in the pandals using barricades and masks and sanitizers were distributed under the guidance of police.
Frequent announcements were made to people to wear masks, use sanitizers and maintain distance.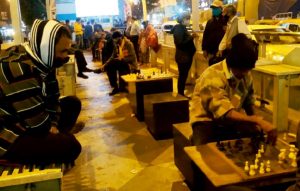 Presently, the highest number of Pronam members resides under this police station area. Around, 700 senior citizens are registered under this programme with 400 being women. The officers and the entire force maintained close contact with all the members and responded to their urgent calls.
They provided medicines, food and all other necessary helps. Prior to the pandemic, special health check-up camps, picnics, cultural programmes, seminars and short tours were organised by the police station.
Soumya Banerjee is a very active, cheerful and upright police officer with a good academic record.
After completing his master's in zoology, he joined Kolkata Police.Rather than keeping himself confined to the drawing room activities, he always preferred taking challenges head on.
He joined Gariahat Police station on 20.02.19. On that very day he suffered a personal loss when his mother succumbed to cancer.
But as an officer nothing could stop him from discharging his duties.
As an investigation officer, he got a rare opportunity to visit England for a probe in a visa fraud case. In the economic offence wing, he has proved his mettle on several occasions. One and half decades ago in the erstwhile IISCO (now part of SAIL), a huge amount of PF money was siphoned off. It was a struggling period for the IISCO as the organisation was passing through a tough time. A team under his leadership probed the case and recovered the bulk amount.
As an officer in the economic offence wing, he busted the Nigerian racket behind ATM card skimming. Working like an oiled machine, the officers of this PS nabbed the prime accused and the key conspirator in the murder of an elderly lady in this area. And within 24 hours the accused were identified. The murder accused was arrested from Punjab in a joint operation of the officers of the Anti-Homicide Squad.
In another incident, a huge amount of gold and other ornaments were recovered in a case that occurred in Hindustan Park area.
From delivering food and shelter to the poor and downtrodden to extending helping hands to elderly persons residing in high rises, policemen worked 24×7 to provide help to them.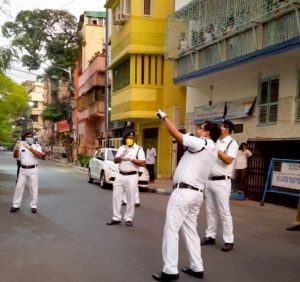 Under his able leadership, Garihat PS successfully handled prolonged lockdown with great care and human face. The officers also organise activities such as blood donation camps, Pulse Polio immunisation campaign , and sports activities involving citizens of the area throughout the year as part of the community policing project.
Almost 27 of them got COVID infected but that did not deter them from discharging their duties. All of them worked like true warriors for the community.
Soumya Banerjee said: "Under my command, men of Gariahat police station are ready to accept any challenge or to perform any service as true professionals of the Kolkata Police Force."
Since joining the force in 1991, he has received several awards, including Indian Police medal in 2014 (for meritorious service), 3 silver disk and 1 gold disk and Prasansha Padak of the Government of West Bengal.