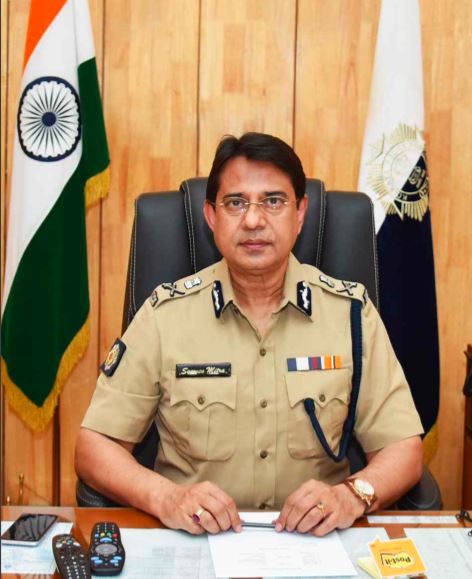 It has been a challenging year for Kolkata Police and they have done brilliantly in tackling the peak of the coronavirus – the dreaded second wave, with grit and determination. The Vidhan Sabha elections were held peacefully amidst the overwhelming second wave and the men in whites did well. They also controlled. the festive season with a similar grit, determination and sensitivity –allowing citizens to enjoy festivals without compromising on covid safety norms. Thanks to their efforts, Covid infections did not rise after the festive season.
Despite our greatest efforts to maintain the safety and security of our personnel, some of our colleagues passed away while discharging their duties. We grieve, every day, that we couldn't save these valiant men.
During the lockdown of 2020 and 2021, when citizens were safe behind closed doors, lulled by the fort and protection of their own homes, our men braved the great dangers with comfort and without fear, thus keeping the wheels of this vast city moving. Taking the elderly to vaccination shelters or reaching out to their homes for replenishing supplies or even taking them to hospitals for treatment, we did our best.
Men and women have recognized the dedication of the brave policemen of Kolkata Police. Many of our police families were debilitated because they caught the infection from the police personnel and had to be hospitalized. Timely care and help from other arms of the government saved them. The good news is that in spite of the great Covid 19 pandemic, Kolkata Police remained on course in its modernization programmes.
With rising fuel prices and with an eye on climate change and environmental concerns, Kolkata Police have decided to induct two hundred or so electric vehicles so that old vehicles in our transport fleet may be replaced with state-of-the-art non-polluting vehicles. These new vehicles will be given to the traffic, wireless and other such departments. A sum of Rs 8 crore has been allocated for the purpose. As e-vehicles take almost six hours for charging, it is hoped that charging points will be created across the city, thereby taking an important step towards a cleaner, more environmentally conscious programme.
A rise in cybercrime, due to an increased usage of online transactions during periods of lockdown have been an unfortunate corollary of the pandemic. Kolkata Police hope to upgrade their cyber security wing and create a modernized cyber-lab with cutting edge tools to offset such malicious intent. The city of Kolkata has been awarded the safest city in 2020 as per the National Crime Records Bureau report. Policemen like Sergeant Manjit Goel of the Cyber Cell, Port Division has made us even more proud by bagging the first position in an all-India training programme on investigation of Cyber Cases, conducted by the Central Detective Training Institute in Hyderabad. Let such good work continue and may each and every member of the force leave a meaningful impact on the world.
As the year ends, let us pledge to embrace the new year with safety. Although the pandemic has been somewhat controlled by vaccination, one must never be complacent. In the words of Alfred, Lord Tennyson, we are "one equal temper of heroic hearts", and Kolkata Police must aim high, to always be guided by the principle of "to strive, to seek, to find, and not to yield".
Soumen Mitra, IPS
Commissioner of Police, Kolkata