Mohammed Asif
The COVID-19 pandemic has thrown the city's normal city life out of gear. As the New Year kicked off, everyone has to think and act differently with restrictions in place.
Going beyond the conventional norms of women security, Kolkata Police has been addressing the issue with a holistic approach by imparting training in self-defence and unarmed combat to build the confidence of women.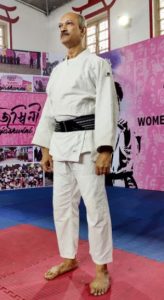 To check crime against women at public places, Kolkata Police has come with this innovative idea of training programmes for adolescent girls and women.
With the women's security at the forefront, the martial arts training given to women by the Kolkata Police has risen to fame and created great enthusiasm among citizens of the city.
After the successful completion of three editions of Tejashwini, the self-defence training programme for women, the Kolkata Police organised the fourth one but in a virtual mode.
With the rising popularity of Tejashwini and ever willing participants, it was decided to hold the workshop rather than postponing despite the coronavirus threat.
More than 1,000 energetic women aged between 12 and 40 years expressed their eagerness to get their names enrolled for the workshop.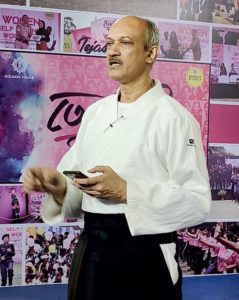 The women learnt basic fighting techniques. When women step out of their homes, they are subjected to obscene behaviour. This training gives them confidence to tackle such incidents.
This year the situation was completely different with the outbreak of COVID-19. It was not possible to arrange the workshop like in the past. So, Kolkata Police decided to hold it online in virtual mode. The five-day workshop was organized from December 5 to December 9 from 8am to 10am at Police Training School.
About 300 women learnt the basic training techniques of street fighting.
Soven Banerjee, Assistant Commissioner of Kolkata Police, said, "This initiative was first taken by the Police Athletic Club in November 2018. Realising the importance of training programme, Kolkata Police took up the programme. The second and third editions of Tejashwini were completed at the Police Athletic Club ground but in view of the pandemic, the fourth edition was organised in the virtual mode.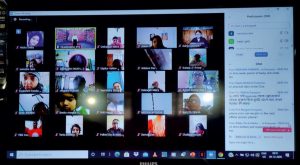 Black belt, 4th Dan, Aikido, Avijit Mitra imparted training to the participants. They attended the session through mobile phones, laptop and computers staying at their homes. In this edition 1,400 women had registered but due to some technical issues, we couldn't accommodate all. We will try to accommodate them in the upcoming fifth and sixth editions. We will make an announcement in this regard very soon. "