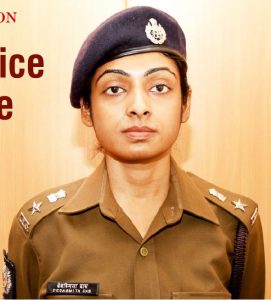 Debasmita Das, IPS, Deputy Commissioner of Police (Special) Detective Department, Kolkata Police, shares her policing experiences and working mechanism during the pandemic with Anurag Sinha.
Q: An excellent officer with an impeccable track record and exemplary commitment, tell us something about your journey in uniform. How were your initial days when you had joined the force?
A: It is a journey full of learning experience. In the National Police Academy we are trained in the theoretical and practical knowhow of policing. The initial days in the cadre are about applying that training hands-on according to the ground reality and learning new things each day.
Q: In modern-day policing, the police personnel and the entire human resource have to face stress due to the workload. De-stressing itself is not an easy task as it has been in case of the COVID warriors. Being a seasoned professional, what is your take on the importance of mental health for men and women in uniform?
A: Being a police personnel and a COVID warrior my take on this issue is mental health for men and women in uniform is of vital importance. Everyone needs to maintain a balance between work and home, and should have a personal de-stressing mechanism like some hobbies, physical exercise, yoga, meditation etc. Regular exercise is also necessary to keep one in good health and build stamina so as to be able to cope with the long working hours.
Q: Kolkata Police has taken community policing to a different level. The way the Kolkata Police force has been tackling COVID-19 has won laurels everywhere. What has been the secret of success in such effective community policing?
A: Kolkata Police has many community policing initiatives like Pronam, Kiran, Nabadisha, Sukanya. However, during the COVID-19 pandemic, the Kolkata Police has gone beyond the scope of regular policing and stood by the civil society. Alongside controlling crime and maintaining law and order, we arranged food for those who suddenly found themselves without food during the lockdown. We also reached out to senior citizens and people needing essential goods and medicine. Even the street animals and birds were taken care of. Police also helped to keep up the morale of the citizens by cheering them up. All these have been possible as each member of the Kolkata police has risen to the occasion and put the service before self.
Q: What are your suggestions for the youth who wish to pursue a career in the civil services? What integrated approach do you propose for preparing for the most coveted examination in India?
A: Anybody who wants to pursue a career in civil services must be aware of his/her surroundings and has to have an analytical approach. It is not only important to study, but also to be able to analyse the subject from different perspectives and form opinions.
Q: Gender imbalance has been a cause of concern for police forces around the world. Is there any prejudice in the grassroots mentality or the issue lies in the system altogether?
A: During initial days uniformed services used to be a male bastion as the number of women personnel were limited. Hence, there were certain concerns and apprehensions. However, with the increasing intake of women personnel in different wings of police, they have proven their worth and the imbalance and bias both have decreased substantially and are still decreasing.
Q: From physical and societal security to digital security – the priority in policing has changed in the last ten years due to rapid digitisation. Do you think the cyberthreat itself is tricky considering various stakeholders and existing regulations?
A: Cyberthreat is a comparatively new phenomenon and there are different kinds of cyberthreat like financial fraud by compromising passwords, cyber stalking, cyber bullying etc. Senior citizens have been found vulnerable to cyber fraud. Crime against women has also gained ground in the cyber world. Many service providers are located overseas, making cybercrime prevention and detection even more challenging for the police. However, prompt action is taken whenever there is a complaint of cybercrime. A special anti-stalking helpline is operational. We have taken some public awareness initiative also in this regard which is being intensified.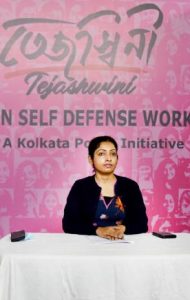 Q: Fake news has been the biggest threat to miscommunication and disharmony in various areas. What measures do you suggest to reduce the spread of fake news?
A: We take prompt legal action whenever such malicious spread of fake news is reported. However, as a civil society, we need to be more vigilant and prudent whenever forwarding something on social media platforms. A general awareness is the need of the hour to stop the spread of unverified and fake news.
Q: What difference did you find in the actual and virtual Tejaswini programme held this year under the COVID-19 pandemic?
A: Due to the COVID-19 pandemic, our Tejaswini workshop was held virtually but there was no lack of enthusiasm among the participants. It was held with the same vigour in the online mode.