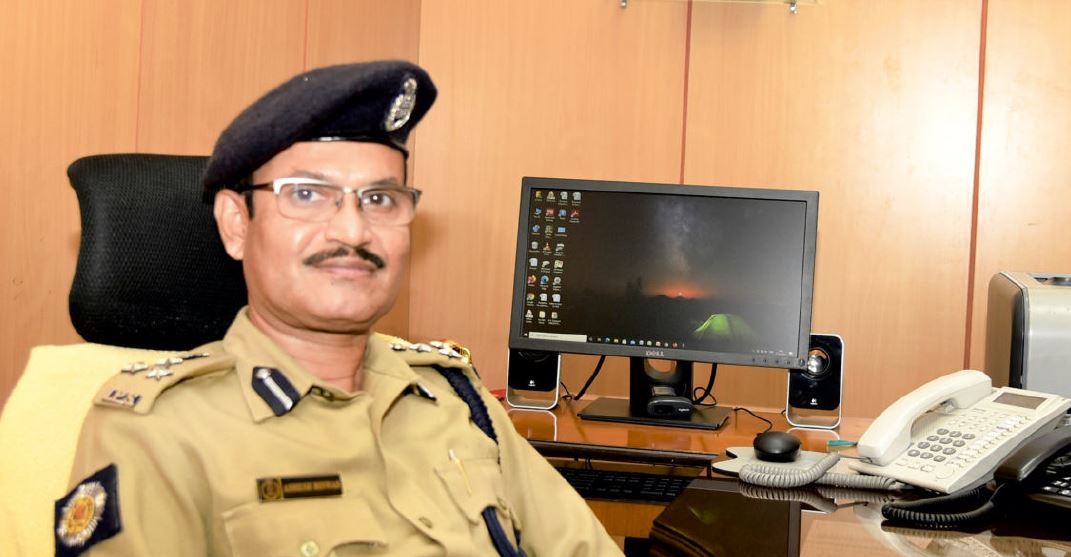 Mr Ashesh Biswas, IPS, Joint CP (Admin), Kolkata Police is a decorated officer, winning so many laurels in his years of experience in uniform. Read the excerpts from his interview with our correspondent Ranabir Bhattacharyya.
Q. A dedicated officer with exemplary dedication and commitment to work, who have been a brand of his own for young officers in the force – what has been the secret of your success in uniform?
A: Since the very beginning in the service I have always been a team worker. I believe in participatory leadership rather than just "command supervision". As already you have said that my dedication and commitment to work have been typically team oriented, which has eventually set a benchmark for me too. If my dedication inspires my other team players, it is a great satisfaction for me.
Success and failure in uniform is a common phenomenon. If I tell you that I was always successful, it is certainly fallacy. From failure, we need to learn. I think to be successful in uniform, every officer certainly needs to follow the basic thumb rules of core area policing, viz. dedication, integrity, open to learning, presence of mind, shouldering responsibility, discipline, compassion and empathy or rather proper communication with the team members.
Q. Covid-19 has witnessed role reversal to the Police fraternity. From law & order, police have been very sympathetic, playing an instrumental role to assist the COVID victims, family members and all. Do you think the pandemic has explored a paradigm shift in community policing?
A: The Police in our state has always been the first respondent in any eventuality, be it natural calamities or man-made calamities. The Covid-19 pandemic and imposition of lockdown posed a new challenge for the police with a special reference to the urban policing. Community Policing is nowadays an important and integral component of policing. The Kolkata Police is best known not only for its traditional way of policing but also for innovative policing including Community Policing. A different dedicated community police wing is rendering services to the society since last few decades. During the pandemic, outbreak and imposition of lockdown the main task of Kolkata Police was to impose lockdown. At the same time measures were taken to ensure that all sections of the society are served the daily basic needs. All the Police Stations were busy serving cooked food to the underprivileged sections of the society, helping in supplying medicines to the lonely and elderly, groceries to the needy families. COVID-19 situations have opened new avenues of implementing the Community Policing.
Q: Almost in all countries men and women in uniform have faced immense stress for Covid-19 seeing deaths of colleagues, friends, and family members while working in the forefront. What is the best way to handle stress in this circumstance?
A: No doubt, we have seen the pandemic within our force, family and friends. We have witnessed deaths within the family in the neighbourhood and some of our colleagues too laid down their lives in the line of duty. We have been extremely saddened by these very sad events. This situation has made us stronger. As a member of professional forces, we have been trained to handle such agonising situations. In my opinion, there is no short cut to handle stress. Over a while, a disciplined life with daily exercise, yoga, food habits and lifestyle come in immense help to handle stress.
Q: There has been a major shift in crime in Indian society, as Cyber Crime being a new entrant. Do you think policing in India needs an overall digital facelift to handle these emerging criminal offences?
A: Policing is a very dynamic subject. A dynamic police force, like the Kolkata Police, always has to rise to the occasion. Cyber Crime brings new challenges. Easy access to the internet and increasing dependency on a digital platform has created room for the cybercriminals to take advantage of the situation and these criminals do not have any geographical fencing. Policing in India has already undergone a digital facelift to bring such criminals before the law. From the police station level, district level, state level and finally to the national level, everywhere the police has created a very dedicated experienced, skilled specialised force to tackle the cybercrime and cyber threats. Often the cybercriminals pose threats not only to an individual but also to the national security and we are well equipped in dealing with all eventualities. Recently the Kolkata Police has set up Cyber Crime Investigation Labs in each Division. The State Forensic Laboratory has created specialised posts on digital forensic evidence recovery.
Q: As the Corporate Sector has witnessed a downturn and joblessness due to COVID- 19 situation, many youths are focussing Government jobs. What should be the ideal approach for Civil Service aspirants while studying from home with limited resources? 
A: It is a fact that ever since the opening of the economy in the nineties we have seen a growth of job opportunities in the private sector. I think the present pandemic would be over hopefully in the very next financial year. However, in India Government job is always a favourite amongst the middle class and especially the Civil Service. The aspirants should start preparation from an early stage. They should closely follow the current affairs, Govt. Policies, Monetary Policies, new developments in science and technology, relations of our nation with neighbouring countries and the world and the world at large. These can be easily followed from home using the digital platform. Apart from subjects like History of India, National Struggle for the freedom, the Constitution of India are very common components in any competitive examination. Special emphasis should be given to those subjects during the elementary classes. Now, there is no dearth of resources over the digital platform. The Government has launched a scheme named Digital Library India. All kinds of books/resources are available online free of cost. Aspirants should make good use of them from their home.
Q. Even it is said that the representation of women in the Indian Police fraternity is still not up to the mark. The same is often said about the Indian Armed Force. What should be the approach to encourage more women to join the force? Is gender sensitization much needed in the grass-root level?
A: Gender sensitization and empowerment of women have been a major subject of concern, resulting in debates among academia, civil society as well as the Government policymakers. It is a fact that our male-dominated system still looks at women as subordinate to men. Our family has a great role to play for the empowerment of women and gender neutralisation. Till recent past, only 7.28% of Indian subordinate police force were being represented by women and the situation is more dismal at supervisory levels. However, the situation is gradually improving. As a traditionally men dominated workforce, lady police personnel faced several shortcomings like the dearth of decent accommodation, separate washroom, change room etc. These infrastructures are coming up gradually. At the same time, the outlooks of our families and society are changing. Now you can see a good number of lady security personnel discharging their duties not only in the back office level but also at the frontline. These are some of the encouraging aspects of the outcome of gender sensitization.