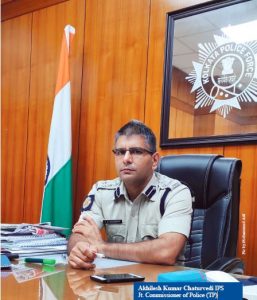 Management of traffic in the 'City of Joy' is a difficult task as the population grows and the number of vehicles are rising with each passing day. In our endeavour to reduce gridlock in the city, we have constantly embraced structural and functional changes through a better traffic management system.
Since the launch of 'Safe Drive, Save Life' programme, the number of road accidents has reduced significantly and Kolkata has witnessed a sea change in the behavioral attitude of motorists. Hence, all the commuters are requested to extend their wholehearted support to police by adhering to traffic rules and regulations for their safety and for smooth flow of traffic.
Q. Kolkata is an old city. Its population has risen by millions but roads have not expanded in the same proportion to cope with traffic requirements. What are the key challenges to keep the movement of traffic smooth here?
A. I agree that Kolkata is a very old city. All the metropolitan cities in India are facing similar problems. But the traffic in this  city is better managed than all other metros. And Kolkata Traffic Police is determined and capable enough to solve all traffic problems.
Q. Recently, a number of flyovers were inspected for carrying out repair work. As these flyovers connect many arterial roads, traffic had to be diverted to make way for renovation drive. So far this process has been a smooth affair. How the entire drive has been managed?
A. Though there is pressure on traffic as the repair of flyovers continues, we have deployed extra manpower to cope with the traffic and diversions have helped in easing jams.
Q. Commuters often complain about long waiting time at signals in the night or in the morning. How this waiting time can be reduced to ensure smooth flow of traffic?
A. It's true but it is due to synchronization of signals. Sometimes when the traffic is less, the waiting time is more but we are looking into the matter seriously and would find a solution to this problem.
Q. In the recent past, the police have cracked down on rogue bikers. A number of cases were lodged against traffic lawbreakers. How fruitful was the move?
A.  We carried out a successful traffic awareness drive for commuters, as a result, they have started wearing helmets and it has led to dip in traffic-related accidents.
Q. Traffic police are on duty throughout the year amidst sweltering heat to freezing temperatures. How important are their roles in co-coordinating with the rest of the force because they are the ones who face the trouble on streets first?
A. Work is worship for our dedicated force. They perform their duty irrespective of summer or winter season. Traffic cops are one of the pillars of Kolkata police and they are playing a great role in helping them.
Q. What are the modern technologies Kolkata police is planning to induct to improve traffic movement and surveillance?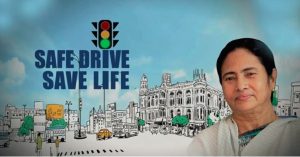 A. Recently we have inducted new technologies for the smooth flow of traffic.  We have introduced leisure speed gun, automatic number plate reader camera, and Red Light Violation Detector (R.L.V.D) camera. These systems will help check speeding and catch traffic violators. We are also going to introduce more technologies to better manage the traffic system
Q. Increase in the number of CCTV cameras and speed guns have helped in keeping an eye on traffic violators particularly those indulging in over-speeding in Kolkata. How such measures have helped?
A. With the increase in the number of vehicles, it is not possible to monitor the movement of vehicles manually these days. We are introducing new technologies and upgrading traffic system to meet the challenges and serve the people better.
Q. Identifying old and polluting vehicles from entering the city is also a big challenge. How do you catch the offenders?
A. Kolkata Police is committed to following the National Green Tribunal (NGT) guidelines on vehicle pollution.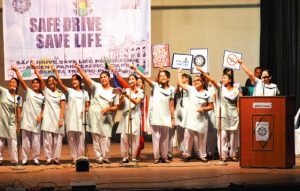 Q. Safe drive, save life campaign has been a priority for Kolkata Police. How this campaign has helped in reducing fatalities in Kolkata?
A. Safe drive, safe life campaign has helped in increasing awareness about traffic laws. The drive has led to a reduction in fatal and non-fatal road accidents significantly. Awareness has been the key to reducing accidents.
Q. After the collapse of Majherhat flyover managing traffic at Diamond Harbour road has been a challenge. What is the key to success?
A. Yeah, it was a challenge but now we are managing it quite efficiently.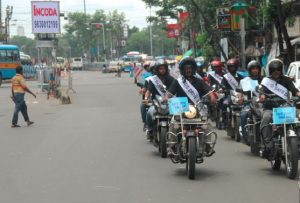 Q. You have been in the force for several years and worked in different cities. What motivated you to become an IPS officer?
A. I am just doing my job diligently. It was not that I had thought it for long before joining the force.
Q. Tell us something about your hobby other than the work?
A. Reading books and playing tennis and cricket.
Interview taken by Mohammad Asif