Policing the teeming millions in a bustling megacity like Kolkata is not an easy job, but Commissioner of Police Anuj Sharma is up to the task and does it with minimum fanfare. From the day he has joined Kolkata Police, his emphasis has been on core policing. Given his long experience of working with Kolkata Police, the affable Police Commissioner sends a chill down the spine of lawbreakers, but at the same time, he feels law-abiding citizens should not fear the force. In an exclusive interview, he offers details about his priorities and challenges while leading one of the most professional forces in the country.
Q. What are the changes you have noticed in the police force over the years?
I have had many stints with Kolkata Police. My first brush with the force was in 1999 and then I returned again in 2003. Again I left in 2006 and returned in 2019. This tenure has come after a gap of 13 years. Though the city has seen massive expansion over the years, I am well acquainted with Kolkata. The most striking feature which I found after my return is that many new buildings have come up over earlier vacant pieces of land. The population has increased and the city has also expanded manifold. On the other hand, the police infrastructure has also undergone a major change. More buildings have come up, more vehicles  are  in place to increase mobility, and a specialised force has been created to tackle emergent situations. The communication equipment has also been upgraded, especially for technical surveillance to deal with cyber cases.
Q. In terms of overall approach, how has policing changed?
With the changes in society, the crime pattern is changing, so policing must change to match the needs. Cybercrime was unheard of a few years ago. The focus is also on social media, where a lot of people post malicious content to create a rift in society. Community policing has become a big task  these days. There has  been a sea change in the policing of the past and  the present. We have to  know the pulse of society  and remain in constant touch with them to know their aspirations from the police. Police are one of the government departments that work 24×7. We are the face of the government which is active round the clock. So  the interaction with people  has to be there in right earnest.
Q. To meet the challenges of cybercrime, what steps are you planning to take?
We have already taken preventive measures. We are keeping an eye and taking action against offenders. I believe the cyber cell is working pretty well but we need to upgrade the infrastructure because the number of complaints is quite high. We have to match that. The upgradation will take some time but we are working on it. A new cyber police station is coming up and we are training ourselves to meet the future challenges.
Q. You mentioned metro policing. What steps do you need to boost policing?
For better policing in a metro, the visibility of police and the number of policemen per square km have to be more. Initially, Kolkata Police introduced the concept of the kiosk. The reason behind this was to make policemen available at your doorsteps.  As the number of policemen per thousand of the  population in urban areas  is less compared to rural areas, you cannot sit inside a  police station in a big city and do your job. My concept is to go out and meet people to increase your visibility. Since the day I joined, I have been telling my men to become more visible. I am continuing with the concept of frequent beat meetings and patrolling. My point is that the police have to be everywhere to boost the confidence of the public. They should see the police as their friend and their saviour. If I need something, I can go to the police for help. We have done quite a few things in the last couple of months. The mantra for metro policing is threefold : visibility, accessibility and mobility.
Q. What steps have you taken regarding women's safety?
We have started a campaign in this regard. You know  we brought out a yellow logo, 'Respect Women'. Police are putting stickers on vehicles. This is a way we are trying to flag women's safety issues. Women's safety is a high priority area for us. And  if any crime is committed against a woman, we shall be focusing on it and I  have instructed my officers to take action against the accused.
Q. Are you taking any specific steps to boost community policing?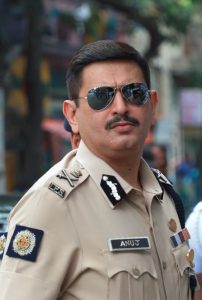 A lot of projects have been undertaken over the years. Every year, new projects are coming up. Now the time has come to actually review them. Some projects have slowed down as the focus is more on others. We need to focus on projects affecting people directly and we need to push such projects. One such project is 'Pronam'. We have also taken up a new experiment by getting the Kolkata Police Band to play at the gate of Victoria Memorial during weekends.Public response is good and it is another way of interacting with them.
Q. What are your plans for manpower upgradation?
One way is to boost service training so that the ranks can know about major developments. We have asked personnel to get in-service training so that they are in sync with the changing professional requirements. We are also working on a proposal to increase manpower.
Q. The media has always had a sweet and sour relation with Kolkata Police…
We will maintain a good relationship with everyone.
Q. How did you join the police?
I did an MA in Economics from Lucknow University  and was in MBA first year when I got selected. My father was an IAS officer in Uttar Pradesh so the motivation for Civil Service was already there. I belong to the 1991 batch and qualified for service in my first attempt at the age of 23 years.
Q. You love listening to old melodies?
Earlier, there used to be long-playing records. Those days are gone. I have been listening to Hindi songs for quite some time. I listen to Rafi, Mukesh, and many other singers. These days there are several other mediums like mobile, YouTube, etc. But my habit of listening to songs has always been the same.
With inputs from Mohammad Asif and edited by Pankaj Kumar Sharma