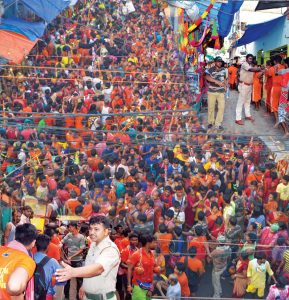 The advent of the holy month of Sravan denotes the marriage of Lord Shiva and Devi Parvati or according to another school of belief, the birth of Lord Shiva. Celebrations of this auspicious celestial event are marked by the mammoth Sravani Mela in Hooghly's Tarakeshwar. This year it was celebrated from 8th July to 17th August. Sravani Mela is one of the oldest and largest Hindu religious gatherings in West Bengal. Hundreds of devotees, from far and wide, thong the Tarakeshwar temple to pay homage to Lord Shiva and bathe him in milk and water. This year, the number surged to almost 22 lakhs, according to an ofcial record. This is also the longest religious milieu spread across a stretch of 39 km. On such occasions, religious spots are soft targets for terrorists and criminals. A silent threat always looms large and hence, to check all possible danger, the district police have crafted a master plan and given the entire security skeleton a huge face lift with apt tools and trained workforce.
More than 1500 to 2000 trained police personnel and civic volunteers scanned every nook and corner of the city with great precision. The government of West Bengal along with the police made illustrious security and civic arrangements to meet all the impending challenges. They left no stone unturned to plug all possible loopholes in the security barrier of
Tarakeshwar. All this was done under the able leadership of the Superintendent of Police Sukesh Kumar Jain, IPS Hooghly (Rural). The man who spearheaded the mission says: "Managing a mega religious gathering was an uphill task for the team but we managed it well this year." He further adds: "Constant brieng and training and team effort helped us to iron out the strategic hindrances that we came across till last year".
The top tier of the district administration along with the local Ofcer-in-Charge laid a robust
plan and implemented it with the help of a proper work force. Amit Kumar Mitra, Ofcer-in-Charge of Tarakeshwar police station, thinks that the constant crowd management was the biggest challenge for the team. "Repeated announcements and multiple drop gates helped us tackle the barrage of pilgrims". The numbers of the missing persons spiked last year to almost 3500 but this year it plummeted to zero.
Crime against women and cases of snatching and theft took a nose dive due to a number of active steps undertaken by the cops. A highly trained team of DMG (Disaster Management) personnel also kept strict vigil on all the devotees who plunged into the holy water of the famous 'Dudh Pukur' to wash away their sins.
People from different parts of Bengal and the media showered accolades for the men and women in uniform for their unparalleled service.
Disaster Control Strategy By West Bengal Police
(a) Proper illumination of the entire route.
(b) Proper mobile and motorcycle patrolling.
(c) No entry in all strategic points to restrict vehicles.
(d) Erecting PABs at all important junctions.
(e) Installation of 17 drop gates to regulate crowd pressure.
(f) Installation of 50 CCTV cameras and regulating crowd through observation round the clock.
(g) Use of 40 Public Address System covering the entire area connected through a single wire.
(h) Anti-crime patrolling.
(I) Coordination with stakeholders.
(j) Proper parking arrangements.
(k) Proper queue management inside the temple premise.
(l) Proper exit and route guides within the temple complex.
Subhajit Bhattacharya