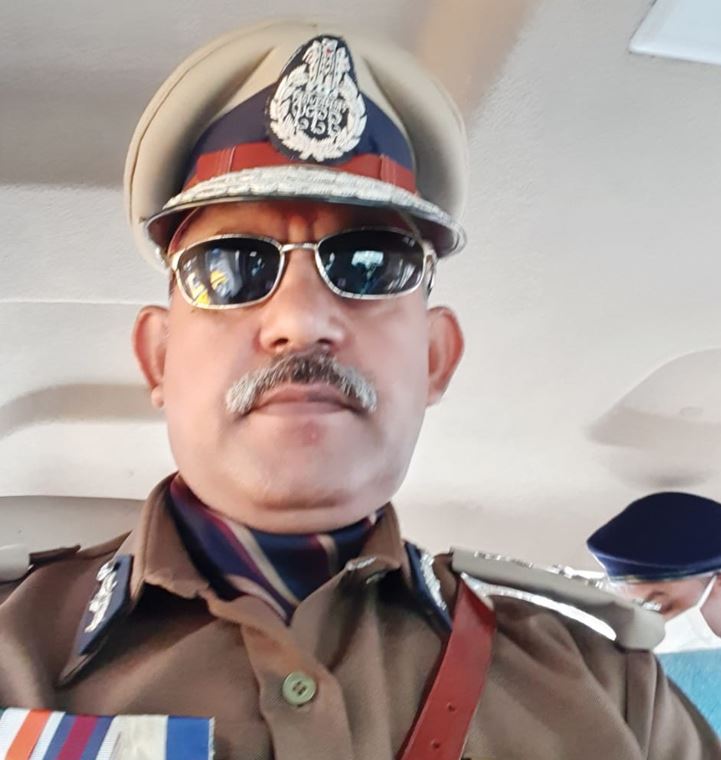 Gangeshwar Singh, DG, Enforcement Branch, West Bengal is an upright police officer with more than three decades of service. Starting his career as an Assistant Superintendent of Police, the officer with an excellent track record worked in different capacities across the state of West Bengal. His place of posting extended from the extreme north of Darjeeling Hills to the south of Jungle Mahal.
His sincerity and dedication towards carrying on his responsibilities with great finesse has helped him rise to the rank of Director General. Many accolades, including the President's police medal for Meritorious Service ,President Police Medal for Distinguished Service ,West Bengal Chief minister's police medal for Outstanding Service and Director General's DISC are the testimonials of his illustrious career.
He grew up in the lap of nature. Though living in a remote village of Daltonganj amidst dense forest, surrounded by beautiful rivers, the daily challenges faced in the terrains of Chotanagpur shaped his mettle for the police service. Probably a heady mix of knowledge, sensitivity with endurance laid the foundation of his outstanding police career.
Despite dearth of resources while living in a remote village, he continued with his goal of cracking the UPSC examination without much distraction. Gangeshwar Singh's hard work and steely resolve led to his clearing the UPSC in second attempt.
In a candid interview with Mohammad Asif, Director General, Enforcement Branch West Bengal Police, reveals his struggles and resolve behind his successful journey.
Q. Hailing from an underdeveloped area with poor economic conditions, how did you prepare for the UPSC examination? Did you face any problem?
A . Three decades back it was not easy to prepare for the UPSC examination. Living in a remote village with no electricity and hardly any communication with the city, we used to go to bed early in the evening and then woke up early in the morning during our schooldays. With no electricity, we were used to utilising maximum daylight for study. Coming from a rural background, there was a financial crisis and lack of overall support and guidance for advanced studies. But most of the village chaps had a different kind of ability to cope with adverse situations. Even today, I believe that students coming from Rural Areas do face economic problems due to poor family background but their perseverance helps them overcome all the difficulties. In my case, I didn't imagine going to any other service other than the police. I couldn't think of doing business since I never had such a background. Joining the IPS was my only priority. I considered Indian Police Service a prestigious one. UPSC examination is one of the most revered examinations of the world. So I decided to prepare for it with all my effort. I reached the final round of interview in my first attempt in 1985 and cracked it in the second attempt in 1986.
Q. What prompted you to choose IPS as your profession?
A . My father was a constable. Later, he was promoted and retired as Havildar. So there was an atmosphere of policing in the family. I had great respect for the Indian Police Service (IPS). If you join the police service, you get an opportunity to serve the country for a long duration. The job offers you respect , limelight and secured career apart from other perks and status in society.Beyond that there is a lot of opportunity to prove yourself with your hard work. UPSC has the most transparent procedure of selection. So, if someone works hard, he has a good chance of getting selected.
This being one of the reasons I got attracted towards Indian Police Service. In my student life, I used to go to the riverside for studies. At that time we didn't have access to the internet and other communication facilities. Personally, I had more time to ponder over what I studied during my regular sessions. I have seen the flow of Jinjoi and Amanat rivers and they have an indelible imprint on my personality. Both the small rivers were obstructed by the Koel river when in spate. During the monsoon season, the Koel river used to take a menacing form. This taught me a lesson that in nature too a powerful entity by habit and show of might always try to suppress the weaker entity.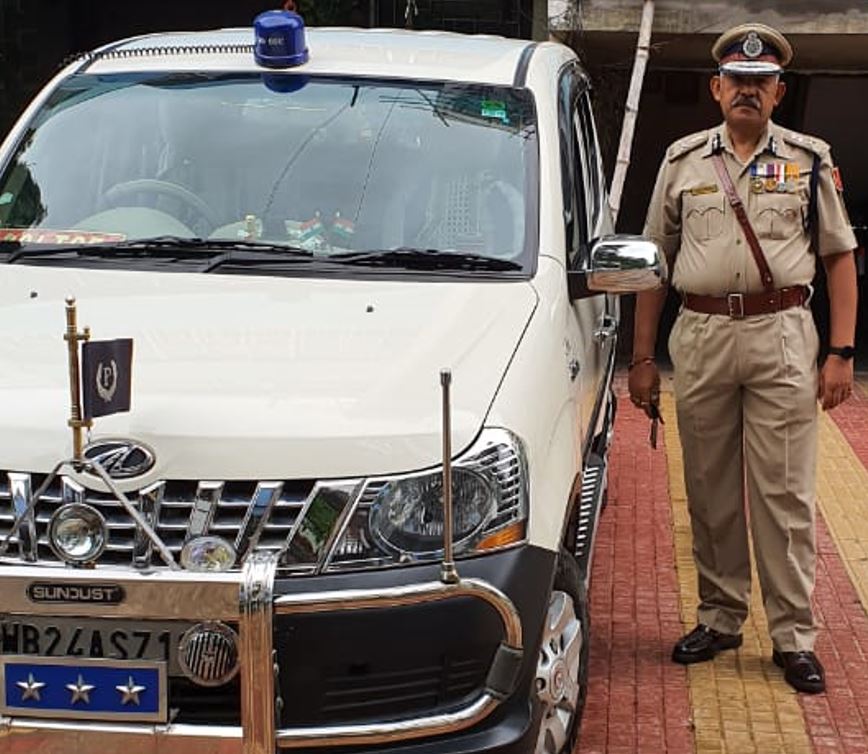 Q. During your tenure, you were posted at various places including the Jungle Mahal area of West Bengal when the Maoist activity was at its peak. Under your leadership, the Maoist activities were curbed to a great extent. How did you manage to control the situation?
A. Since 2004, I have worked for several years in Jungle Mahal in four different capacities. In November, 2004, I was given the charge of DIG Midnapore Range and worked there for two years (2004-2006) in that capacity. After I became the IG, I worked for another three years, and my attention was focused on Jungle Mahal. In November 2011, I was again sent to Jungle Mahal as the IG western range. Left wing extremism was very active then. There were a few encounters and I am not going into much details of it. You all know about those developments but I must say that the then dispensation had the political will to restore peace in that area. That was very important. As the police had to work under the ambit of law, we started our activities based on community policing. This helped us develop better relations with Jungle Mahal people. By that time Jungle Mahal Cup, a football tournament of local clubs, was also initiated by one of my predecessors. Nearly 750 football clubs became a part of it. Honourable CM madam appreciated this initiative. After that we stressed on the Surrender cum Rehabilitation policy. About 39 active Maoist leaders, including Topmost CPI Maoists surrendered with arms. I must admit this was a collective team effort and there were some really good officers who indeed did a great job. The then DIG was Vinit Goyel, Praveen Tripathi was the SP West Midnapore, Gourav Sharma was the SP Jhargram police district while Mukesh Kumar was SP Bankura, Sunil Chowdhury was SP Purulia and there were other good officers also. I was really fortunate to have a great team.
The government started development works at various levels, including building roads, and many social schemes were launched for the benefit of people. Most of the youths from the local villages got job opportunities. Many were appointed as home-guards and junior constables. Such a multipronged approach on the part of government and police helped them bring them back into the mainstream.
Q. What are the roles and responsibilities of the Enforcement Branch of West Bengal Police?
A. During the British era Great Bengal Famines 1943 had occurred in Bengal. Many people had died due to starvation so the British government had promulgated an ordinance to stop black marketing and hoarding of food items. For surveillance, an independent agency was required. That was the reason behind the formation of the Enforcement Branch. Earlier, it was a wing under the DIG, CID. After independence, it became an independent agency. The main responsibility of the organisation is to check corruption in the food supply and PDS system. Moreover, it is the responsibility of the department to check that foodgrains are not illegally transferred to bordering states or countries. Strict monitoring to prevent hoarding and black marketing also comes under the jurisdiction of this department. Sometimes unscrupulous businessmen create such situations where scarcity of essential commodities arises. The Enforcement Branch(EB) intervenes to bust such rackets.
Q. If I am not wrong, the main function of this unit is to prevent and detect commercial crime. What West Bengal Police is doing to prevent such crimes in West Bengal? How many such crimes have been reported in 2020-2021 and how many people have been arrested during this period?
A. The Enforcement branch is divided into two parts: The central Enforcement Branch (EB) and District Enforcement Branch (DEBs). The central Enforcement Branch is the headquarter of all enforcement jobs throughout the state of West Bengal and is headed by Director General of Police/Additional Director General of Police with one Deputy Inspector General of Police and two Special Superintendents of Police and four Deputy Superintendents of Police.
Enforcement Branch is one of the oldest units of West Bengal police since its creation in 1959. It has been discharging its duty effectively and diligently. Presently, the main responsibility of EB West Bengal is to enforce essential commodities act, copy rights act, trade and merchandise act, drug and cosmetics act etc. apart from Indian Penal Code. Moreover, as per the order of the state government, EB West Bengal discharges various other important responsibilities like monitoring of price/availability of food stuff, sensitive enquiries, besides routine investigation.
Enforcement branches, and district enforcement branches are controlled by EB West Bengal. There are proposals for regional enforcement branches at Siliguri, Asansol and Durgapur.
During the COVID-19 pandemic, EB has lodged 1,288 cases and made 1,567 arrests. Out of these, 150 PDS cases were lodged and 145 arrests made. The number of non-PDS cases are 1,138 and 1,422 were arrested. These figures are up to 13th of July 2021.
In 2020, the total seizure value was more than Rs 16.82 crores. In 2021, till July, there were seizures worth more than Rs 45.20 lakhs.
Q. Kindly elaborate one such interesting case?
A . In a major breakthrough this year, over 175 trucks filled with 5,101.25 metric tonnes of wheat were seized. The fact of the matter is that on October 23,2020 at around 19.05 hours, IC Basirhat received a complaint from DC Customs, Ghojadanga that 181 trucks loaded with wheat were stationed at Ghojadanga LCS.
As per the intelligence received, the wheat in the trucks were originally meant for PDS, but diverted for export to Bangladesh. To hide the mischief, unscrupulous elements had emptied the bags, reversed it and refilled with wheat so that the marks and numbers showing state government name etc went inside the filled bags. No one could recognise from outside that the consignment was made for the PDS. A case was registered at Basirhat Police station. Later, the investigation was taken over by the Enforcement branch. The total seizure value was neatly Rs 14 crores.
Q. The police force has played an important role in stopping the black marketing of oxygen during the COVID pandemic. Will you please elaborate the steps taken to prevent black marketing of oxygen and how many were arrested for the crime?
A. During the COVID pandemic, EB had to play a different role. We had to ensure an uninterrupted supply of medicine, baby food, drinking water, sanitizers, masks and many other things. We worked in coordination with all other agencies so that there was no scarcity of essential medicines. Also, our main endeavour was to ensure a balance between demand and supply.
During the COVID period, six cases were lodged for illegal hoarding of oxygen cylinders and seven persons were arrested. In addition, 92 oxygen cylinders and Rs 7,36,000 were also seized. We also monitored the process of conversion of industrial oxygen into medical oxygen. Vigilance was a major part of our action during this period.
Q. You are also known as a good poet. Your poetic journey and police job are two opposite characters. How do you reconcile these two opposite characters in your life?
A . Apparently, it seems that creativity and meeting harsh realities are contradictory to each other. But, in a larger sense I will say that they are complementary to each other. In police service, you get an opportunity to meet and interact with different sections of people. People from different strata of society with different cultures and lifestyles actually enrich you with their experience. So, I believe such experiences always lead to creativity. You can find spare time beyond your busy schedule. I write for my own pleasure and satisfaction. I have penned down a few books of poetry and novels.
Q. Tell us something about your native place Daltonganj and childhood memories?
A. I grew up in a village of Daltonganj of Palamu district. My ancestors have a long relation with the land of Palamu. In fact the written history of Palamu starts with the advent of my ancestors to the land of Palamu 300 year ago.The Palamu Fort is the symbol of glorious history of my ancestors. The place has a great scenic beauty and is surrounded by dense forest, beautiful rivers, hills and waterfalls. The area bustles with age-old tradition of folk arts that embody the essence of cultural legacy. Also known as Medininagar, it is the cultural and economic heart of Jharkhand's Palamu district. In my student life, there was no electricity, so we had to utilise most of the daylight. Nature in many ways has shaped my destiny and taught me the technique of studying in a quiet place. I used to go to the bank of a nearby river which was actually a cremation ground. Studying in the open air gave me an ample opportunity of thinking that always helped me to understand things in a different way. During my college life, I was a student of history. From there on, I started preparing for the UPSC examination. Still, I have a strong bonding with the people and land of my native place.