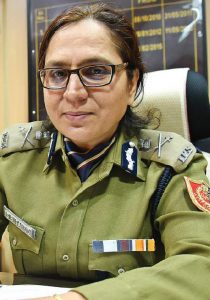 A mother, a friend, a distinguished officer of the Indian Police Service, an accomplished marathon runner and above all, an epitome of a modern Indian woman. That's how Suman Bala Sahoo should be described. The Protector lists out the journey of this super cop since she joined the prestigious Indian Police Service in 1987 till date. Excerpts:
Growing up:
Daughter of a government servant, Sahoo grew up in Delhi. Her mother was a teacher. She did her Bachelor's degree in zoology from Hansraj College, Delhi University. She pursued her Masters in the same. Initially, she wanted to become a lecturer and thus pursued and successfully earned UGC and CISR scholarship for her M.phil, which she duly completed but as fate would have it, it was her father who insisted that she appear for the Civil Services exams at least once. She took Zoology and Botany as her two main papers.
It is evident that managing two very academically challenging goals is very imposing. When asked about how she managed her time, she replied: "Most of my General Studies was done during the bus journeys to my college. I had to change three buses every day to reach Hansraj College from my home".
On the very first attempt, Sahoo cleared prelims and the mains but could not manage the interview round as the questions were much more intricate than what she had expected. Also, for a brief period of time after the completion of her higher secondary, she wanted to pursue MBBS but did not do so after not clearing it in one attempt. After the first Civil Services attempt, she continued her academic pursuits and deliberately kept her desire to appear for the same for the second time, a closely guarded secret that she did not disclose to her own family as well. She cleared it in her second attempt. She got AIR 151 and was given the Indian Police Service. She vividly remembers: "I clearly remember, one of the interview panellists asked me whether I would take IPS if given the opportunity. My reply was a firm yes."   
First Impressions:
Her first impression of the magnitude of the Services and how prestigious it actually comes later on. "After I got my ranking and IPS, there was this programme that came on Doordarshan titled "Premier Institutions of India" and coincidently during that time they ran a story about National Police Academy. It used to air at around 10 pm every night." That was the first time she understood what IPS entail. Her mother was a bit hesitant about her joining the police services but ultimately, she had to yield to her daughter's wishes. Her worries continued when she learnt that Sahoo would have to learn horse riding, swimming and several other things that people rarely get acquainted with in their normal lives.
After the initiation of the training phase, the officer explained and appreciated how there was no leeway given to lady officers in physical or academic training. The entire batch had to go through the same rigorous training irrespective of their gender. Mr. S. Ramakrishnan was the A.D.O.D. of the NPA during her stay there. She also mentioned Mr. R. K. Johri who was the then Assistant Director.
Sahoo recalls 8 lady officers out of their batch of 120. After the first six months, some of the lady officers left to pursue different services and one got martyred in Manipur during probation and finally, four lady officers remained in the 1987 batch of the Indian Police Services. There were about 24-25 senior lady officers when she joined the Services. Theirs' was the 15th batch of the IPS since the inaugural batch of 1972.
Training and learning the ropes:
Officer Sahoo started her career as an officer in Hooghly district, West Bengal. At first, she was required to complete the mandatory state training in Barrackpore for one month. After that, she found herself in Singur PS as a part of her rural PS attachment and Sreerampore PS as urban PS attachment. The SP office in Chinsura is where she completed her attachment to the SP office. She continued to focus on how important it is to understand how a police station works and its inner nitty gritties as during this period after completion, the officer would have to supervise these areas. If one is not thorough with the police procedures and state laws, the task can be a very daunting one. Minute details such as how many registers are there in a police station to how D.I.B works in an SP office — everything had to be learnt. The thoroughness of the training can be sensed by the fact that the officer will have to sit on the Duty officer's chair and write GD's for 10 days. The probationary officer is also required to investigate five cases, all of which come as a directive from the National Police Academy. Another important task that the officer is required to do is maintaining the cash book of SP office for seven to 10 days.
During her first posting in Hooghly, people stood in awe as it was unprecedented for the masses to see a lady IPS officer. The love and affection Hooghly gave her always holds a special place in her. As a Delhitte, she initially had a hard time communicating in Bengali but the caretaker of her residence and his two children helped her out with primary books which provided pictorial representation whenever needed. As she remembered her initial days in Hooghly, she constantly laughed. She spoke about a primary teacher who refused to take money in exchange for teaching Bengali to the officer and how she insisted and maintained the protocol by giving him remuneration. However, the teacher took that money and bought cassettes of Rabindra Sangeet for her and  also went on to explain the meaning of each song in an effort to grow her interest in the language. As we all know, Tagore is the epitome of Bengali language and Bengali culture, incorporating his music in tutoring proved to be fruitful as Suman cleared the departmental exam for Bengali in her first attempt.
Professional life and highlights:
The officer has handled many distinguished and challenging portfolios throughout her career and continues to do so. Thus, we were curious to know how she views her professional life and if there is any particular posting that she thinks is more mentionable than the others.
She started off by stating that every posting has its own set of challenges and this diversity of workplace is what motivated her to join the Police Service in the first place but there are few that stood out for her. It included her tenure as the Deputy Commissioner (Special Branch), Kolkata Police. At the time of her posting, there was no DG security. Thus, the entire security set up was supervised by the Deputy Commissioner. Every state visit, be it the Governor's or any VIP or foreign dignitaries, all were under the responsibility of the DC Special Branch. All the political intelligence also ran through the DC. It required the on-duty officers to remain on their toes for 24 hours because the DC Special Branch is responsible for postings of all officers in plainclothes and a various other divisions. All this workload did have an impact on her personal life as she is also a mother, but she managed that as well.
The officer was jubilant in sharing how far women have come in the Services and how more and more women are choosing this field as their profession. In the last IPS batch, there were 36 lady officers, which a resounding upsurge from that of her batch of just four. In her words: "I don't only blame parents for lack of interest in policing. As far as women are concerned, I believe it is the women themselves who need to have more self-confidence and clearer goals."
The officer shared her experience as the chairperson of the board for female constable recruitment. She observed that girls from the financial outskirts of society are keen on joining the police force than middle-class girls. During one of these trails, she met a woman, a widow and a mother of two who ran the fastest because that woman had the hunger to provide a better future to her offspring. This passion made her run like that and eventually she got the job. It is the passion that is most important. As far as the appeal of the police force is concerned, it is evident from the response that the department gets highlighting the charm of uniform is very much alive and intact.
 On rising crimes against women:
Like the pragmatist she is, she opined that it cannot be tackled only by police personnel. The cops can and are taking sufficient prevention. The police have the advantage of prevention, protection, detection but the general public needs to be more aware and contribute to collective security. She also added that crimes in general terms are gender-neutral barring oddities and thus, not only women but men too should be proactive in ensuring their protection.
The officer spoke about the need for gender sensitisation in our society and making sure that the police as an organization does not misbehave and maintain utmost professionalism while conducting a case. It is important that before we look at society, we must look into ourselves, she said. According to Suman: "It is difficult to change society but we must keep trying. But before anything else, we should change ourselves. As an organization, it is our duty to make sure that our people don't misbehave."
During her posting in Lalbazar as DC (DD), she regularly held weekly meetings with various NGOs working on this very subject alongside many high-ranking police officials. These NGOs included the ones like Swayam, Sanghita, etc.
When she was posted as SS (CID) then also she made sure to run gender-sensitization programmes particularly focusing on sexual harassment at workplace which was then newly introduced and also domestic violence protection that the then government created legislation on.
Steps towards the future: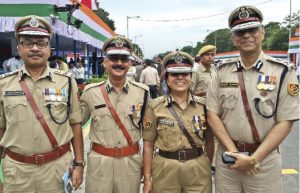 The officer is currently serving as the DG (Welfare), West Bengal Police. She mentioned that since she joined three years back, she had changed many things. One of them is that there were many funds such as sports fund, welfare fund, etc which were put in one place for better allocation and management and a society was formed, named West Bengal Police Welfare and Sports Society.
The department has started to give student loans. Students doing well in their Secondary and Higher Secondary exams get Rs 2000, Rs 4000 and Rs 6000 as scholarship based on their performance.
The department is also involved in a lot of ex-gratia work as well. Anybody wanting to take a loan for education, marriage and other issues are provided with the same. The department helps in remunerating the deceased personnel's family. These opportunities are available in every district of the state. They are also encouraging sports. Twenty five percent of the cost borne by the district in organizing sports tournaments or activities, is given by the Head office and sometimes even more than that.
Insurance is another aspect that she mentioned. The West Bengal Police Medical insurance covers the entire family of any serving member. The Personal Accident insurance which covers any personal accident provides Rs 6 lakh to the family of the deceased. A sum is also given in case of grievous injuries. The contractual personnel of the police force such as Home Guards and Sevaks are also insured under different schemes. The department has recently signed an MoU with the State Bank of India for police salary package for a duration of three years. This move has lead to further advantages, as the bank is also providing personal accident protection of Rs 5 lakh, Rs 10 lakh, Rs 15 lakh as per salary holder's position. 
She has plans to incorporate skill development under the aforementioned society and is in talks with the concerned ministry. She thinks it would help the wards of the police personnel and even the Home Guards and their families too as they could learn new skills from these proposed centres and create new earning avenues.
There are also talks for family creches in every district which would be a huge help to the working police families.
An officer with a distinguished career, Suman has set an example for all the young people out there. Her colleagues and those she serve always shower accolades for her professionalism and her dedication towards her duty. And of course, beyond the confines of the printed word, a free spirit evolves and is nurtured everyday for the betterment of this city and humanity.
As told to Subhajit Bhattacharya