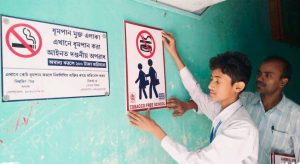 In most of the third world countries, teenagers coming from marginalized sections of the society are most susceptible to tobacco consumption. In Kolkata, along with the state government, various NGOs are now working hand in hand to tackle this grave problem. In this regard, Tomorrow's Foundation, Kolkata is focusing on marginalized children of Kolkata within the age group of 14- 16 years through the Tobacco Control Programmme and Skills which is essentially a school based programme. This project is supported by Salaam Bombay Foundation, Mumbai. Started since September, 2017 till March 2018 this Tobacco Control Programme, popularly known as Project Super Army has facilitated a total number of 500 students of class VII, VIII, IX  in seven schools of Kolkata under Total Literacy Mission (Sarva Siksha Mission) where 290 students have successfully completed a vocational training under Skills@Schoolprogramme which is popularly known as Project Resume. The seven schools from North and South Zone of Kolkata are Nabajatk Vidyabhavan, Park Institution for Girls, S. B. Girls High School, Kailash Vidyamandir, Poddarnagar High School, Rani Bhabani High School and Haranath High School. The officials of the Total Literacy Mission and the school managements have been extremely supportive of this social initiative of Tomorrow's Foundation.
The motto of the programme is to inculcate the seeds of ambition and leadership qualities in children, inspiring them and their families to be regular in school and work towards a brighter and healthier future. No doubt, this programme has helped those children from marginalized sections to rebuild their life skill and refusal skill, particularly to firmly say "No" to Tobacco. Under the Project Super, the students are endeavouring to spread awareness among others in their family, friends and neighbourhood circles and motivate them to refrain from tobacco consumption. Each of the listed schools have been identified and declared as "Tobacco Free School" with the help of our Super Army. Meanwhile, the Project Resume equipped the students through Vocational Training in schools with requisite knowledge and skills on the subject of computer hardware networking, graphics designing and mobile repairing. This has made them self-sufficient and is expected to have unlocked a new path for future and decent lifestyle.
To celebrate the success of this project, Tomorrow's Foundation is getting ready to implement these programmes with the support of Salaam Bombay Foundation in 25 more schools under Total Literacy Mission (Sarva Siksha Mission) from April, 2018 to December 2018 where, 3500 more school children will be included in the Tobacco Control Programme and 1000 children of class IX will be trained through  a vocational training under Skills@SchoolsProgramme.
According to the Programme Heads of this social initiative of Tomorrow's Foundation, Indranil Dasgupta and Tanay Ghoshal: "This programme has huge potential to make a child's life better. During the programme we have seen great stories of the children like a girl Disha who is suffering from leukemia and has started to dream a new life; in another part, a differently-abled boy Jeet is enjoying repairing mobile and looking up to build his future with robust optimism. Many more stories are there which are inspiring us to take this initiative to the next level."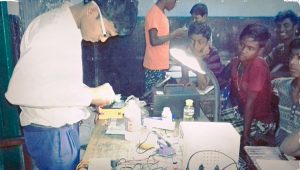 This programme is definitely going to add value to the West Bengal government's ambitious skill mission that categorically focuses on school drop-outs. Skill development should be introduced at the school level to deal effectively with this issue with maximum impact. Definitely, this can make education relevant, while checking school drop-out cases and imparting employable skills to the children and updating them with the technical skills of job based approach can make the world of these struggling children bright and inspiring.
Swarup Ghosh, Co –Founder of Tomorrow's Foundation said," We are looking forward to run this programme in all SSA run Government Schools from all districts of West Bengal with the support of the West Bengal Government and Hon'ble Chief Minister Miss, Mamata Bannerjee to spread Anti Tobacco campaign. This can be pivotal in ushering a life defining change of the under privileged children through the 'Learn & Earn' method."
Ranabir Bhattacharyya
Connect – tf@tomorrowsfoundation.org
Website:  www.tomorrowsfoundation.org
Facebook: https://www.facebook.com/tomorrowsfoundationindia/
You Tube: https://www.youtube.com/channel/UCMoXQSknP0JC5scf9b8aZsQ