Ekbalpore police station is one of the key police stations of Kolkata. Created in 1961 by bifurcating Watgunge police station, its location is vital to maintaining law-and-order as well as peace and harmony in the area.
Constant vigil, meticulous planning, and strong bonding with the local people are the basic tools of policing here.  Earlier, it was attached to the South division of Kolkata police, but later came under the Port Division.
Host to prestigious assembly constituencies of Kolkata region, Bhawanipur is represented by the Honourable Chief Minister of West Bengal, Mamata Banerjee, while the Mayor of Kolkata, Firhad Hakim, represents Port the segment.
Established in 1829, the historical Sholoana burial ground comes under the Ekbalpore police station while the same police station has also the jurisdiction over Mayurbhanj Rajbati ground. The total area under the police station is approximately 1.114 square kilometres.
A sea of humanity descends at 'Sholoana Burial ground' and Mayurbhanj Rajbati during 'Shab-e-Barat' ceremony. The Ekbalpore police station is surrounded by Alipur, Watgunge and South Port police stations.
Its northern boundary extends to Dr. Sudhir Bose including the road but excluding the houses to the north of the road, Circular Garden Road from its junctions with Dr. Sudhir Bose Road up to its junction with Bhukailash Road (excluding the road and footpath).
Its western  limit is  Bhukailash Road, excluding the road while the southern limit is Jala Lane, including the Lane and houses to the northern boundary wall of CPC quarters on Remount Road up to Bhukailas Road on the west.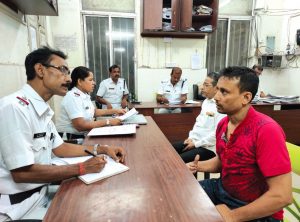 On the east its boundary extends from Diamond Harbour Road to its junction with Dr. Sudhir Bose Road up to its junction with Jala Lane, including the road and its western footpath.
The densely populated area of Ekbalpore police station comprises people from different communities and diverse socio-economic strata. Major festivals that are observed here with pomp and pageantry are Eid-ul-Fitr, Eid-Al-Adha, 'Shab-e-Barat' Muharram, Durga Puja, Laxmi Puja, Kali Puja, and Diwali followed by Christmas and  New Year.
Millions gather on the night of 'Shab-e-Barat' to pay homage to their ancestors. There is also a big gathering during the night of Kali Puja at nearby Laxmi Kalibari.
To keep constant vigil across the region, more than 450 CCTV cameras have been installed. Policemen keep 24 x 7 vigil of the area apart from routine and review meetings.
To maintain better relations with the community, the police are involved in lot of social activities. There are two active peace committees. One is Mominpur-Mayurbhanj peace committee and another is Hossain Shah Road peace committee. Prior to major festivals, meetings are conducted with the members of peace committees to maintain peace.
The Officer-in-charge of Ekbalpore police station, Amanullah, said, "To tackle any law and order issue, policemen always remain vigilant. We go sleepless for several nights for the sake of peace and security."
In addition to law and order, the policemen also send messages related to community policing by stressing on road safety steps for school children, keeping the city clean and awareness on increasing the green cover in the city. Drive against Dengue is also a part of the health initiative.
As society continues to use high-tech gadgets, the challenges for the cyber cell are also increasing. More people are falling prey to cyber frauds, even though more cyber law violators are being taken to task. To make people aware of such threats, Ekbalpore police station has launched drives against those frauds.
There has been an awareness programme against Drugs and safe driving too.
Regular checks are carried out at intervals at Judge's court and at Ekbalpore to curb the menace of rash driving and to rein in rogue bikers.
To maintain better relations with the community, the police are involved in lot of social activities
Recently, Ekbalpore police station solved some complicated cases. Cases of several bike thefts were reported from different areas of Ekbalpore. The police were able to recover the bike by searching CCTV cameras and activating local sources. Later, CCTV footages led officers to Howrah where they found a mark on the T-shirt of an offender to crack the case. In, another cybercrime case, police nabbed a gang of offenders who used to lure people in the name of offering a loan. This racket was being run secretly. Police applied modern techniques of crime detection to crack the case.
The women police officers are also doing a great job in association with their male counterparts in crime detection. Sub Inspector Rehana Khatun and Assistant Sub Inspector Sikha Majumdar have done the policemen proud with their exemplary work. The team is active in lodging and responding to the complaints of crime against women and children. Child marriage, illegal trafficking, domestic violence, crimes against women all are taken seriously with the prompt response.
Meanwhile, the Ekbalpore police station provides special security and care to 38 senior citizens through the special programme "Pronam".
A special team under inspectors and sub-inspectors including lady officers keeps regular contacts with senior citizens to meet their needs. Round-the-clock police help is extended whenever needed. Besides police officers regularly visit them asking about their health and wellness.
Thanks to the vigilant policemen, the sinister designs of anti-social elements always get foiled.
By Mohammad Asif