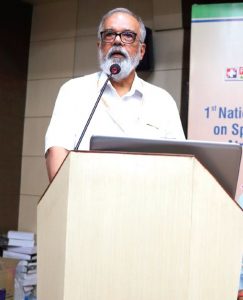 Peerless: Peerless Hospital, a torchbearer in healthcare, has started a special clinic for diagnosis and treatment of Spinal Muscular Atrophy (SMA) since last year. A dedicated team of Pediatricians, Pulmonologists, Neurologists, Physiotherapists and Dietician has been constituted to provide multi-specialty care to those diagnosed with SMA
Spinal Muscular Atrophy (SMA) is an autosmal recessive neurodegenerative disorder characterised by weakness and wasting of the skeletal muscles used for movement which is caused due to genetic mutation.
This is mainly caused by the degeneration and death of the motor neurons in the spinal cord which leads to weakness in the muscles connected with swallowing, breathing and walking.
Following the development of the clinic, the hospital took a lead by organising a conference at Science City on June 9 to highlight the advancements in treatment and diagnosis of SMA. With the support of Cure SMA Foundation of India –a unique parent group that deals with children with SMA and helps them to get the best available care, the team at the Peerless Hospital has been able to gather eminent national speakers and researchers to be a part of the first National Conference on Spinal Muscular Atrophy. This major conference has been possible only because of the hard work and dedication of the organising team-Dr Sanjukta De, Clinical Director, Department of Pediatrics who runs the SMA clinic in Peerless Hospital & Debashish Ghosh, Joint Organising Secretary and Dr. Subhrojoyti Bhowmick, Clinical Director, Academics, Quality & Clinical Research, Peerless Hospital and Joint Organising Secretary, SMA conference.
The main focus of this conference was to engage Generalists, Specialists, Postgraduate trainees and parents of children with SMA, to enrich their knowledge on the advancements in diagnosis and treatment this field and the current scenario.
The conference organised a special session on "Drug and treatment modalities in SMA". In recent times, there has been the development of new drugs for the treatment of spinal muscular atrophy and a very recent one that utilises gene therapy to overcome the disease. The cost of these drugs are beyond the reach of the common people, but we hope through regular treatment, intervention like physiotherapy to give children a better life till bio-similar of the medicines are available or other drugs come into the picture.
The conference highlighted modalities of treatments, other interventions, the formation of parent support groups like CURE SMA Foundation of India and the role of multidisciplinary clinics like the one at Peerless Hospital.
Prof. (Dr) Pradip Kumar Mitra, DME, Govt. of West Bengal; Dr. Santanu Sen, National President, IMA ; Prof. 9(Dr) Krishnangshu  Ray, Director Institute of Health & Family Welfare,  Govt. of West Bengal and Dr Sujit Kar Purkayastha, Managing Director, Peerless Hospital and patron of first National conference on SMA updated on the steps to be taken in the near future for the diagnosis and treatment of SMA, so that we can give better lives to the ones who are suffering from the disease and also take steps to detect it at the grassroots level.