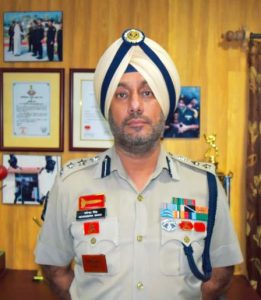 Security at the hospitals has been beefed up to avoid unsavory incidents. A standard operating procedure (SOP) has been drafted by senior police nodal officer which encompasses charter of duties for all the stakeholders.
As part of the efforts to mitigate hospital security, the Kolkata Police has carried out extensive reconnaissance of the five Government College and Hospitals in which some important aspects were identified and addressed on priority.
The core issues include the nomination of Nodal Officer. It was decided to depute senior IAS officers from the Health Department as Nodal Health Officers and a DCP level officer from Kolkata Police as senior Police Nodal Officer.
The state government has appointed five serving ACP rank nodal officers for five medical colleges. The colleges are – N. R. S. Medical College, R. G. Kar Medical College, Calcutta Medical College, Chittaranjan National Medical College, and Institute of Post Graduate Medical Education at SSKM hospital.
Apart from these, a number of steps have been instituted by the government so that some relevant issues at the hospitals don't turn into flashpoint and converted into law and order problems. Security at the state hospitals has been taken up and coordinated with all stakeholders at hospitals to include Kolkata Police, different agencies dealing with private security and Hospital administration.
After a recent incident, the doctors had gone on a statewide strike with the entire medical fraternity supporting them. The strike was withdrawn after the personal intervention of honorable West Bengal Chief Minister Mamata Banerjee.
During that meeting with doctors at Nabanna and Swasthya Bhavan a decision was taken to depute senior IAS officers as nodal officers who will look after the security of five major hospitals in coordination with senior Police Nodal Officer. These nodal Officers will work in tandem with Police and Swasthya Bhavan to ensure better coordination at the hospitals.
The senior Nodal Police Officer Col Nevendera Singh, DCP Combat Battalion and Incharge of Special Forces Kolkata Police projected Training of the Private security personnel under the aegis of trained Ex Servicemen at the hospitals to combat unruly mob.
Nevendera Singh said, ''The attack on doctors at hospitals is unheard of in the developed countries and is unique to Indian society. The Workplace Violence (WPV) means that the perpetrators of crime are executing an extra-judicial order. Its solution has to be multi-faceted involving all the stakeholders to ensure 'Zero Tolerance Policy' towards WPV. The endeavour should be to arrest these incidents. It should involve training of security personnel, doctors and hospital staff to manage conflicts and defuse the situation."  
Earlier, the outposts at all major hospital were being manned by Police Inspectors, but now they would be supervised by Officers of Assistant Commissioner rank. A separate post of officer-incharge has been created for M.R. Bangur and Vidyasagar hospital police outposts. Security audits have also been conducted in the hospitals to plug the loopholes. Apart from increasing the number of police personnel, the number of CCTV cameras has also been increased for better surveillance.
In addition to the outposts, policemen of local police stations and the DCP's office have been given access to the video footage. According to police officers, these initiatives will help in the quick response in case of an emergency. Regular meetings of Rogikalyan Samitis are also being conducted to address the needs of patients.
To prevent any law and order issues inside hospitals, emphasis will be on better surveillance and coordination. To regulate unauthorised access in hospitals, security at the entrance and exit gates has been tightened. Hospital staff and doctors will have to carry identity cards. Only one person will be allowed to accompany a patient at OPD and two persons in emergency wards. Visiting hours inside the ward has also been regulated.
Police is supervising private security personnel at entry and exit gates as well as in parking in the hospital premises. Only vehicles carrying patients will be allowed entry inside hospitals.
With these measures, the government hopes to tackle law and order issues on the hospital campus.
New measures
Better Access control

Signage and LED boards

Refresher training and validation of private security

The nomination of PRO in all hospitals

Initiation of Portal and Helpline number

Regular briefings/debriefings at all levels

Increase of ex-servicemen in private security

Removal of encroachments

More CCTV cameras to be installed

ACPs to supervise hospital outposts

Hospital staff to carry IDs

Only authorised vehicles to be allowed entry

The number of attendants along with patients to be regulated

Trolleys and wheelchairs to be kept at gates to carry patients
By Mohammad Asif and Pankaj Kumar Sharma