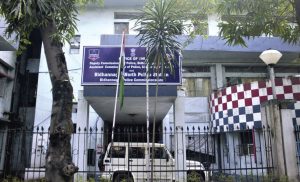 Just meters behind the huge state government offices, an old building stands with much grace and poise as police vans pass through its bylanes. It is the Bidhannagar North Police station. While I approached the station, I could sense the serenity and calmness that surrounds it.
I was greeted by Sub-Inspector Mouli Khamara as the Inspector-in-Charge Somnath Banerjee was attending a meeting. A young officer with just three years into the service, she represents the face of a new emerging police force, marked with ambition and a strong sense of responsibility towards the community. She informed me about the lady police station that their station has and also the cybercrime division.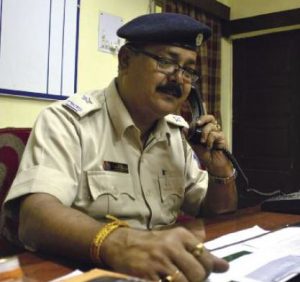 As we looked around, the ambience reminded me of how selfless the service is and how actually thankless it is. These men and women devote their entire lives to the safety and security of the masses and yet prejudices about policing still continue.
Somnath Banerjee, a quintessential Bengali with a warm smile, reaffirming the faith and belief in the police force, welcomed me. Banerjee joined the police force in 1991 and was always eager to express his passion for his profession and how it has worked as a catalyst for his psychological evolution.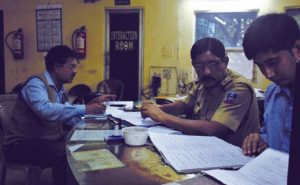 He spoke in detail about the outreach programmes that his station has initiated especially directed towards sensitization of schoolchildren about the social evils that prevail in our society, like human trafficking and bank frauds.
KNOW YOUR OC
An officer nurturing a love for cricket and other sports, a doting father, he also involves himself with blood donation camps and organizes football tournaments to engage with today's youth. Banerjee, a graduate in B.SC, also holds a diploma in Computer Science. He cares deeply about the people he serves as he wholeheartedly believes in the mission and vision of the police force.
"Police can see the darkness as well as the light of society. Thus, it is truly rewarding to serve the purpose of the people and stand beside them in the darkest of their times."
He is a first generation police officer in his family and he enjoys cricket. As he explains: "The way Gavaskar used to tackle those bouncers from West Indian bowlers is something to marvel at. Nowadays, it's rare to see such grace in batsmen."
Logistics of the Station –
Patrolling Cars – 2
O.C -1
Patrolling Bikes -2
Total – 5
Human Resource of the Station –
Sub Inspector – 9  Male – 8 Female – 1.
Assistant Sub Inspector – 5
Constable -31 Junior Constables – 14 Lady – 11 Senior Constables – 6.
There also a rotating posting of a deputation force – 1st Battalion – 8.
3rd Battalion – 5  – Total -13.
However, the officer regretted the fact that the colonial perception of police still prevails in society and people are still hesitant about approaching the cops. He said that his police station is availing every avenue to alter this idea. Efforts are on to take policing as a community-centric approach rather than an authoritative one.
By Our Correspondent