The need for police stations dedicated exclusively to women arose to take care of females who suffer from domestic violence, rape or molestation. A woman cannot express her feelings or her trauma to a male police officer. Therefore, the need arose for women police stations catering to their needs. Belonging to the same gender, a woman officer can better understand the viewpoints of a victim and seek solutions. Women cops manning the Kolkata police stations are doing a tremendous job in making the city safe and secure for girls and weaker sex. They have become a source of inspiration for them.
Mohammad Asif in conversation with eight women Ocs
To ensure the safety and security of women, Ultadanga Women Police Station was established in 2017. It is under Easter Suburban division of Kolkata police and covers areas such as Ultadanga, Entally, Beliaghata, Maniktala, Narkeldanga, Tengra and Fulbagan. The police station exclusively investigates crimes against women especially domestic violence, POCSO, molestation and rape cases.
Kanika Bose was the first officer-in-charge of Ultadanga Women Police Station when it was established in 2017 and she still continues to hold the post even today.
"Since 2017, I have been the officer- in- charge of this police station. With help from my colleagues, I have been able to perform my duties with quite an ease. Despite being new, we have been successful in two cases of conviction from this police station. Presently, there are 19 woman officers of different ranks with us," Kanika said.
Joining the service in 1986, Kanika has worked for over 34 years and has earned huge respect for her knowledge and experience in solving cases and helping the needy. While talking to Protector, she said: "Being a police officer punctuality and discipline has become the parts of my life. And you have to be courageous to perform your duty. Every day is a great learning lesson for me in the line of duty.
"I had not thought of becoming a police officer but I got a letter from the employment exchange and joined the police service. Police is a disciplined force. We follow the instructions of our seniors and take their suggestions at every step.
"In my police career, I have never faced any problem with my family because I live in a joint family. Therefore, I can concentrate more on my job. The family members are very good and co-operative. Our senior officers are very helpful. My women colleagues are very efficient. They may be upset at times due to work pressure but a majority of them are very co-operative. Without support, I would not have been able to perform my duty successfully. I am extremely grateful to them for their support."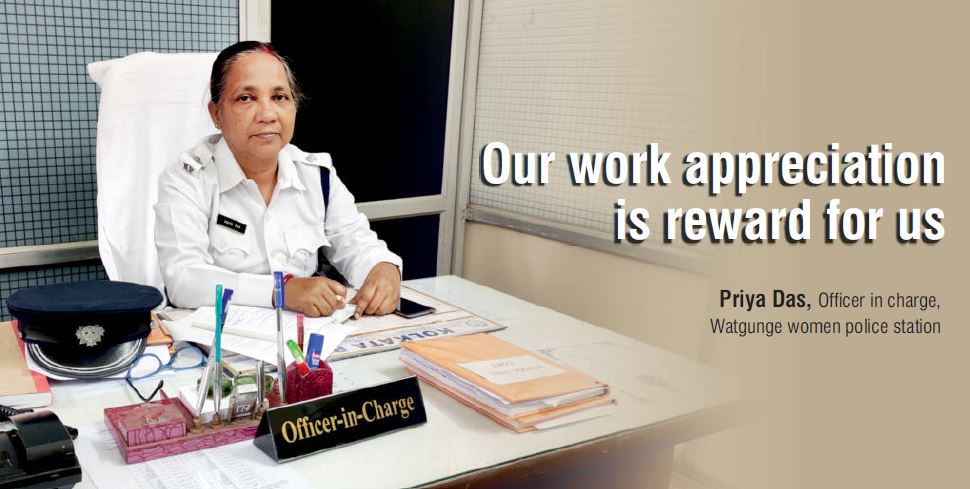 Watgunge women police come under the Port division comprising Watgung, Eqbalpur, South Port, and West Port, Metiabruz, Raja Bagan, Nadial, Garden reach and North port areas.
Watgunge women police station was established in 2016. Priya Das became its officer–in-charge on February 19, 2019. She joined the police in 1991 as a sub-inspector and has already served for over 30 years.
Watgunge women police station deals with crimes against women like rape and molestation. In a chat with Protector, Priya said: "There are several complaints of domestic violence but we try to solve them amicably in counselling session. Last year, about 25 cases of minor disputes have been solved amicably. We are in constant touch with such families so that the disputes do not arise again."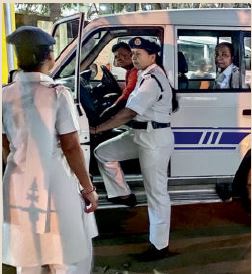 "People of area appreciate me for my job and some come with sweets for solving their problem. After lodging the complaint of domestic violence, some women come to me and seek advice for financial support as they cannot fight the legal battle due to poor financial condition.
"I suggest to them to visit the centre of legal service authority of WB. 'Bhorsha' helps them in fighting cases free of cost. To prevent eve-teasing, our woman officers visit Port division schools every day. Some schools invite us to the awareness programme regarding sexual abuse. We take initiative for the awareness programme on child sexual abuse with lessons on good touch and bad touch."
Priya also said: "When people get help from us, they appreciate our efforts and it's a great feeling and satisfaction for me. I have also worked as a sub-inspector at women grievance cell. I had investigated a case in which a man had mercilessly beaten up his wife. Not satisfied, he dragged her to bridge, poured kerosene and set her on fire. The woman later succumbed to her burn injuries. I had submitted the charge-sheet in this case and the accused got life imprisonment. I felt proud of being able to play my part in his conviction."
Amherst women police station was established in 2016. Coming under North & North suburban division, Amherst women police station exclusively investigates crime against women like domestic violence, POCSO, molestation, abduction. The police station covers areas such as Amherst, Jorabagan, Battala, Shyampukur, Chitpur, Kasipur, Tala, and Sinthi.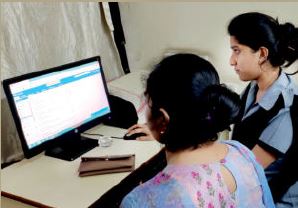 Joining police service in 1986, Ratna Chakraborty has so far worked for almost 33 years in the police. She had taken the charge of Amherst women police station in 2017. The police station has 31 female officers of different ranks.
In an informal interview with Protector, Ratna Chakraborty said: "In my police career, I encountered a unique case. This case came from Kashipur police to our police station for investigation. A man and his spouse lodged a complaint against his father, mother, brother, and sister for mental and physical torture. The case is still under investigation."
"Generally a woman does not come to the police station to lodge a complaint in domestic violence cases but here was a different case. In the last one year, we have settled about 30 cases through counselling.

In the past, police service was regarded as a male bastion. Nowadays, women coming to the police station over violence and their love for police service are good signs. But we need efficient female officers who can maintain a balance between their family and professional lives. Only a good manager can cope up with the two things at the same time, said Ratna.
"Society has become more open and the acceptance of working women has become a norm. But family members need to understand the challenges of a working woman. I live with my parents. I have an 88–year-old father and an 80-year-old mother. Due to my job responsibilities, I don't get enough time to even take them to clinics. One of my sisters looks after them, she helps me a lot, " added Ratna.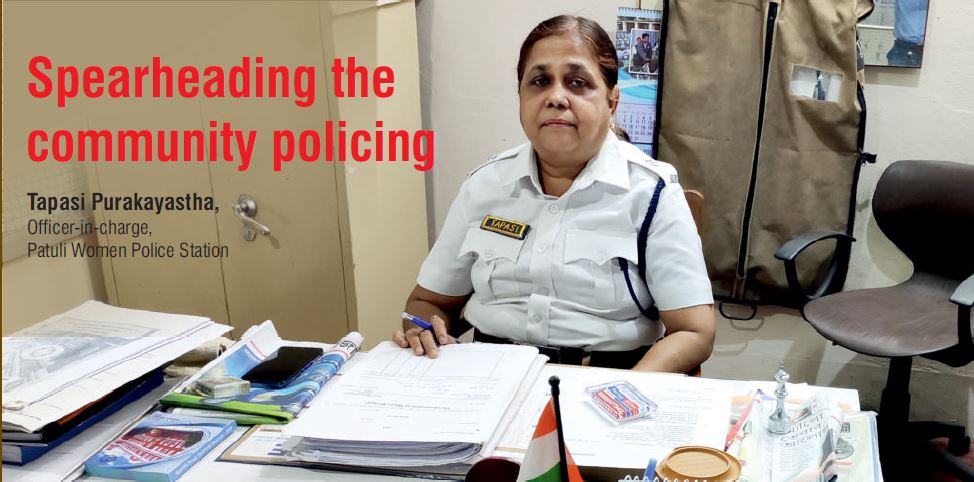 Far from the madding crowd is a vibrant part of the city called Patuli. Majority residents living under Patuli women police station are employed people who left home early in the morning and return from work in the evening. With a full-fledged floating market catering to the daily needs of commuters, the city became the first metro in India to enjoy this privilege. Other than Kolkata, only Dal Lake in Srinagar in Jammu and Kashmir has this kind of floating market.
Established in 2016, the police station has 19 women officers of different ranks who look after the safety and security of women living in South Suburban division areas like Patuli, Regent Park, Garfa, Netajinagar, Kasba, Jadavpur and Bansdroni.
"The police station specialises in crimes against women and focuses on domestic violence and sexual offences. Petty crimes dominate this region, like fight over lending of money, brawl among tenants or with landlords. Though such cases are rising here, they are being resolved through counseling," said Tapasi Purakayastha, Officer-in-charge of Patuli Women Police Station.
Tapasi Purakayastha joined Patuli Women Police Station in 2019. Joining the police in 1983, she has experience of over 36 years in service. Tapasi is among the most senior woman officers of Kolkata police.
Praising her colleagues, Tapasi says they are very sincere and efficient.
On March 7, 2020 four erudite women had visited the police station and celebrated the International Women's Day with cops. They offered bouquets to woman policemen and discussed with Tapasi about their efforts in helping the aged persons and ensuring the safety and security of women. The OC explained to them in detail about the 'Pronam', a noble initiative for Kolkata elders. The guests were quite happy after learning about the Kolkata Police activities. One of the women, Sunrita Chatterjee said: "It was an amazing experience visiting and Patuli Women Police Station and we are overwhelmed after knowing the efforts of Kolkata police for safety and security of women."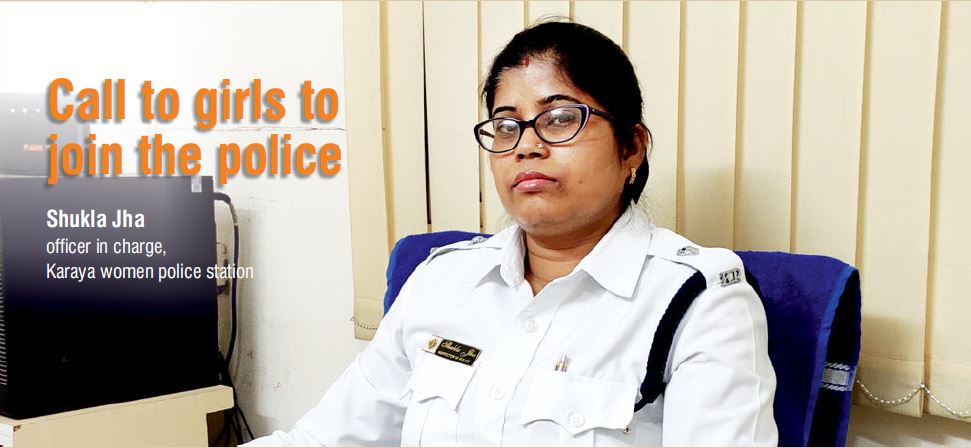 Karaya women police station was established in 2017 to enhance security for women living under south division areas of Topsia, Beniapukur, Tiljala, Baligung, Lake, Rabindra Sarobar, Gariahat, Karaya.
The police station investigates crimes against women and focuses on domestic violence and sexual offences. Shukla Jha, the officer-in-charge, joined Karaya Women Police Station in 2018. She has been in the police service since 2004 and has worked at several police stations during her tenure.
According to Shukla Jha, initially, the women were hesitant in going to police station manned by male cops but after the setting up of this police station, they feel free to come to us and narrate their woes.
The Quest mall, Garihat Bullygunge posh area with the residences of many VIPs and renowned schools are located in this region. "Our police station is open 24X7 and women officers are available round-the-clock. Presently, 30 officers of different ranks are posted at Karaya police station," said the OC.
Praising her colleagues for duty, the officer-in-charge heaped special praise on sub-inspector Sarboni Biswas for her excellent work.
"Most of the crimes are related to domestic violence, molestation, rape, and POCSO. During my service, I have gathered knowledge and experience in association with my seniors. Working as an OC, I can take decisions with full confidence," she said.
"This is my first promotional posting as the OC of Karaya police station. All my staff are very punctual in their duties. I maintain good relations with my colleagues that help me perform my duty. I had never planned to join the police service. But while searching for a job, I gave several PSC examinations and got the police job. Initially, some of the family members were unhappy with the job but now they feel proud after I became OC of Karaya women police station," Biswas said with a glow in her eyes.
"I have a 9-year-old daughter and she is studying in class IV. I wake up early in the morning and prepare my daughter and myself. I drop her to school at 8 am and then go for my duty. I am managing my family and professional life skillfully. "We feel there are very few women in police service. Girls should come forward and join police service to serve society. So my message to all girls is to join police service and serve the people," said Shukla Jha. Karaya women police station, OC Shukla Jha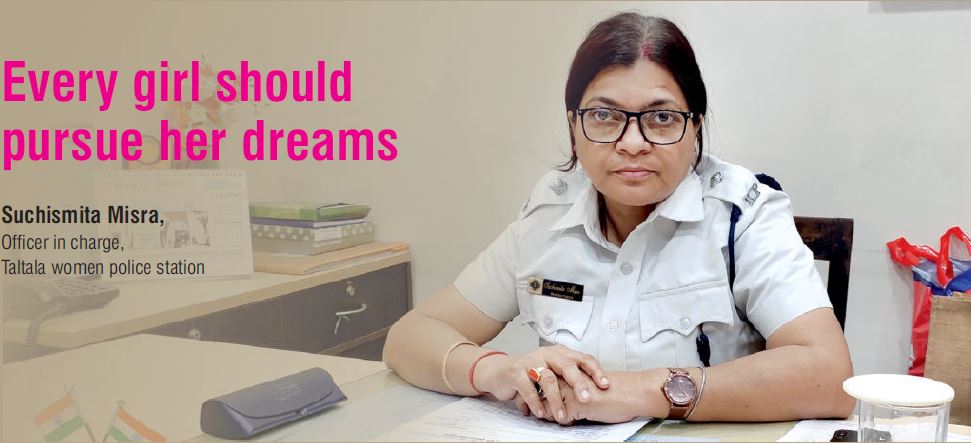 Taltala women police station was established in 2017 under a dream project of honourable Chief Minister Mamata Banerjee.
Taltala comes under the Central Division of Kolkata police and the area it covers are: Barabazar, Posta, Jorasankho, Girish Park, Muchipara, Boubazar, Here Street, New Market and Taltala.
The police station exclusively investigates crimes against women and focuses on dowry and domestic violence cases, abduction, and sexual offences.
Suchismita Misra became the Officer-in-Charge of Taltala women police in 2019. A very experienced officer, Suchismita joined the police service in 1991. She has got several appreciations for her leadership qualities.
In the last one year, 11 cases of crime against women have been registered with Taltala police station. In most domestic violence cases, as the accused are known to the complainants, therefore, it's not difficult to nab the accused. Most of the aggrieved parties come to the police station and discuss their problems without any hesitation.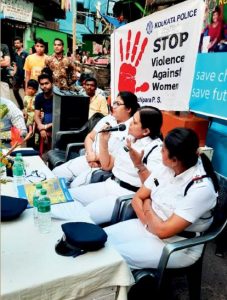 In an interview to Protector, Suchismita said: "A month ago a 26–year-old well- educated woman was trying to commit suicide in the night but one of the male police officers came to her rescue and saved her. As there was no woman officer around, I came forward and took the woman to her residence.
"Though , it was beyond my jurisdiction, I rushed to the spot and accompanied her with the help of Dumdum police station. Recently, we confiscated a huge consignment of gold in Lucknow, UP in a domestic violence case."
"Everyone has some dreams and ambitions in life. One becomes successful if ambition is fulfilled. I also had a dream from my college life. I wanted to become a police officer and help people," said Suchismita Misra.
In a message to girl students, the police officer said that they should confess everything to their parents try to become self-dependent. They should be courageous and fearless, she added.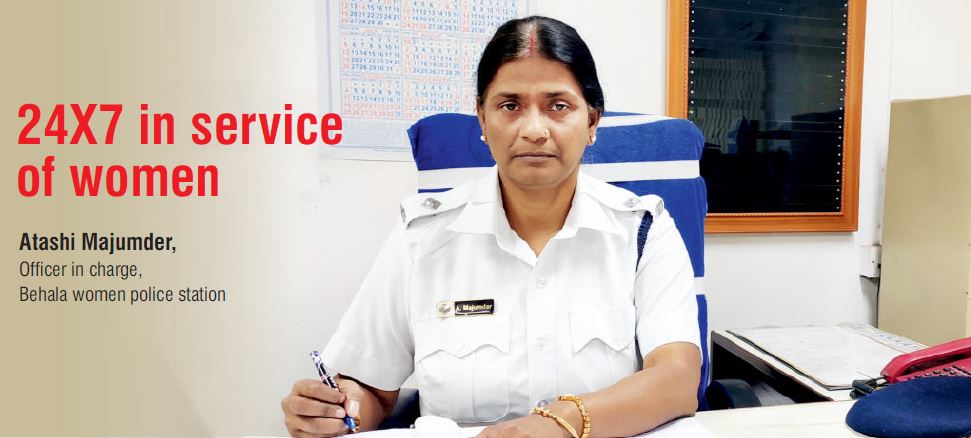 Comprising Behala, Thakurpukur, Parnashree, Sarsuna, Haridevpur and Taratala areas, Behala women police station was established in 2017 under South West Division of Kolkata Police. Home to one of the busiest places in the city, 14 no. bus stand and MP Birla School come under this region.
Behala women police station looks after the safety and security of women, including those suffering from domestic violence, and molestation. Atashi Majumder took the charge of Behala police station on January 13, 2017. Currently, 18 women officers of different ranks are posted here. With a 33-year- long career in the force, Atashi Majumder has earned huge respect for her knowledge of policing. Atashi shared her experiences with the Protector. She said: "In this profession, we have to look after the security of VIPs, including top cricketers, film actors, actresses, singers, and senior leaders. We also accompany raiding parties during investigation and have received awards from officers for exemplary service.
"Despite some problems in personal life, I have enjoyed my stint with the police service. This profession inspires you to do good work. Police are a disciplined force and we are always in touch with our seniors for their suggestions and follow their instructions. In 2007, the parents of a Nursery KG section girl came to Behala women police station and reported that one of the school employees was harassing her daughter. On the basis of the complaint, the accused was held under POCSO charge. The trial of the case is still ongoing.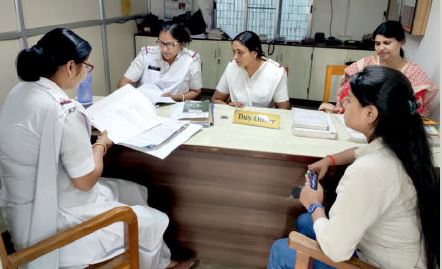 "Our police station is open 24X7 and female officers are on duty round-the-clock. In police service, there are no fixed duty hours, but my family members are cooperative in bringing up my daughter. We get very little time to spend with our family members, especially during the puja. After taking over the charge of this police station, I was a bit hesitant in taking decisions but our seniors helped me a lot. That boosted my confidence and now I can take a decision on my own," Atashi added.
In a message to every girl, Atashi said: Don't suffer from inferiority complex. Get over the fear inside you. Don't' be afraid of taking decisions. And don't believe blindly into anyone. Use your presence of mind and intelligence."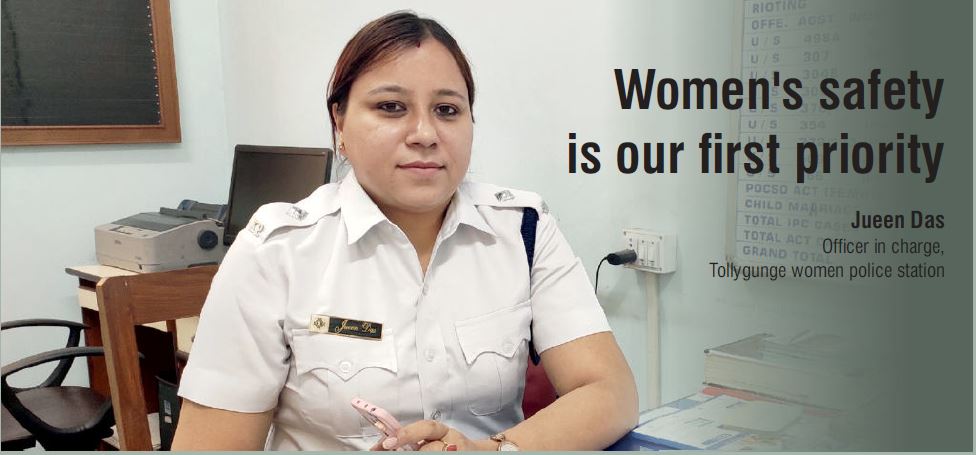 Tollygunge is a locality of Kolkata where both rich and poor live side by side and everyone is aware of their rights.
With an aim to boost security of women, the Tollygunge women police station was established in 2016. The women living under the south division of Kolkata police, including areas such as Tollygung, Charumarket, Chetla, Maidan, Alipore, New-Alipore, Bhawanipur, Hastings, Park Street, Shakespeare and Kalighat can now lodge their complaints without any hesitation.
The police station exclusively investigates into crimes against women such as POCSO, rape, domestic violence, molestation. Since Jueen Das became the officer-in-charge of this police station on February 18, 2019, women are feeling more safe and secure. Presently, there are 27 woman officers of different ranks at the police station.
"During my 16-year of police service, I have a feeling that more and more women are showing keen interest in joining the force," said Jueen Das.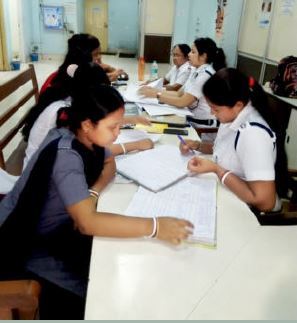 Recently, this upright police officer arrested a High Court advocate for allegedly raping a divorcee and cheating her of Rs 9.64 lakh. The accused had established physical relation with the complainant on the pretext of marriage. During the investigation, it was found that the accused used to target single mothers and the case is under trial. Being the daughter of a defense officer, Jueen's penchant for the men in uniform was natural. While living in the cantonments, her affection for uniform grew further.
"My best dress is uniform. After qualifying for my PSC examination, I got a police job and I am satisfied with my job," she said. The officer-in-charge lives with her husband, father-in-law, mother-in-law and her widowed mother.
Mother to a 10-year-old daughter, she says that her family is quite understanding and helpful.
"I have a 10-year-old daughter so I have to wake up early in the morning and prepare my daughter for school and myself for duty. Normally, I drop and pick her from the school, but when I am busy with my law & order duty, my mother-in-law picks my daughter from her school. They are so supportive and understand my job responsibilities. When I am in office, they take care of my daughter."
My message to girl students is that they should choose a career as per their choice. Due to our efforts, becomes the safest city during Durga Puja. "So far I have not faced any problem in my 16-year career. After joining the police service, my confidence has grown sky-high. Now I have learnt to face tough situations," concluded Das.