Global warming and its aftermath is an undeniable fact which has become a regular occurrence, affecting all and sundry. Air, land and water quality is deteriorating day by day. Flora and fauna worldwide are threatened with extinction. Nations are ravaged by floods or famine. The groundwater level is fast depleting, while sea levels are rising. Seasons have become imbalanced and unpredictable. Increasing temperature of the Earth is posing many challenges. India's economic growth is also threatened by the adverse impact of climate change. Under such circumstances only option available to secure our future is to expand green cover of the Earth on a war footing.
'Clean Camp, Green Camp' Campaign of SRPF Group 2 – Ahmedabad
Environmental anomalies have made people from all walks of life take note of the urgency in rectifying the situation. Displaying a remarkable awareness on environmental issues, the officers and police personnel of the Gujarat State Reserve Police Force Group 2, Ahmedabad, have taken praiseworthy initiatives in environmental conservation through their 'Clean Camp, Green Camp' campaign.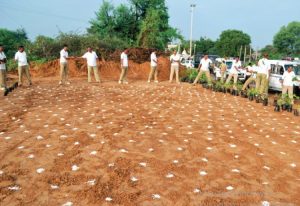 Amid issues and problems related to global warming, an IPS officer, highly sensitive to environmental issues, launched the 'Clean Camp, Green Camp' campaign to make the SRP camp under her charge as eco-friendly as possible. Green Initiatives of Group 2 include use of bicycles in THE camp to save fuel, ban on single use plastic, plans to generate power through solar panels, experiment with Japanese-style toilets to save water, use of simple techniques of rainwater harvesting to improve ground water level, conversion of all organic waste of the camp area into organic manure with the use of a composter as well as the successful replanting of big trees required to be removed for development projects.
Mission Miyawaki
Apart from the activities mentioned above, with the aim of increasing the green cover of the camp by 100%, large scale forestation through the Miyawaki Method, a non-traditional way of planting trees, has been adopted.
Sudha Pandey, Commandant of SRPF Group 2, Ahmedabad, says that people are now more sensitive to the need of planting trees and conserving the environment. However, traditional afforestation is generally carried out by planting same species of trees 10-15 feet apart in a pre-determined pattern. With this traditional method, hardly 10 to 15 trees can be planted in a 100 sq. metre area. Therefore, a very large area is required if 2000-3000 trees are to be planted. Moreover, experience shows that even if such a large number of trees are planted, only a few of them can survive for want of proper care and protection. The outcome is hardly sufficient to make any substantial impact on the environment.
On the other hand, the Miyawaki Method now adopted by the entire Gujarat Police, enables large scale afforestation in a short time in a very small area and with a high rate of success with very little care. However, the method is not altogether new or unknown. Developed by Akira Miyawaki, a Japanese botanist, it has been successfully implemented in Japan for over four decades and is now gaining popularity in India and other parts of the world.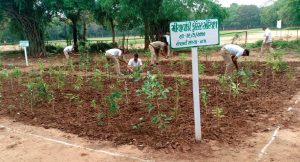 However, before plantation, land is required to be prepared properly. The entire area marked for this method is dug up to a depth of one metre. Soil texture should be checked as this helps in determining appropriate amount of perforator (rice, wheat or corn husks), fertilizer (organic manure), water retainer (coco peat or dry sugarcane stalks) and mulch (rice, wheat straws, corn or barley stalks).They enhance soil quality, resulting in a successful outcome. This treatment makes it possible to plant an unbelievable number of 300-500 trees of 20-25 species in a plot of just 100 sq. metres. This method requires the planted area to be given attention like watering and removing weeds for just two to three years. It thus becomes self-sustaining in hardly three years, requiring no further treatment or nurturing.
Benefits of the Miyawaki Method
Named after its developer, the Miyawaki Method differs from the traditional one. It helps build dense, native forests in very small area. This fully organic forest grows ten times faster, is thirty times denser and releases far more oxygen into the air. It involves planting dozens of native species in the same area. Therefore, no wonder that it becomes a paradise for innumerable birds and several species of animals and insects. It also plays a vital role in controlling air-water-ground-noise pollution, moderates temperature and helps in raising ground water levels in the surrounding region. It has also been noticed that such forests also provide considerable security at the time of natural disasters like earthquakes and tsunamis.
Action on a War Footing
Commandant Sudha Pandey did thorough research on the method. She hired local experts to get involved in the project. Before starting the task, the staff of Group 2 was thoroughly sensitized through proper training. Post-training, they swung into action on a war footing and planted their first Miyawaki forest in a 100 sq. metre area with 285 plants.

When the Gujarat DGP – Shri Shivanand Jha came to know about this experiment, he instructed all units of the Gujarat Police to undergo training on this method and 135 police representatives from the entire state were thoroughly trained at Group 2 – Ahmedabad camp. This method is now being implemented by SRP Group 7 – Nadiyad, Group 8 – Gondal, Group 3 – Madana, Group 13 – Ghanteshwar, Group 16 – Bhachau, the Chetak Commando Unit at Magodi, Rajkot Rural Headquarter, Valsad Headquarter, Ahmedabad City Police Headquarter and the Gujarat Police Academy, Karai etc. There is a high possibility of the Miyawaki Method being enacted at other police camps in Gujarat and public places as well in next monsoon.
Encouraged by the successful plantation of the first forest, the Group 2 staff planted seven more mini-forests in just 60 days, bringing the total number of trees planted in just 850 sq. metres to more than 3500 in eight mini-forests.
According to Sudha Pandey, the group was given a target of planting 3200 trees in the current year. However, Group 2 campus, which is spread over 70 acres, is already a lush green campus covered with around 4000 trees, making it one of the greenest areas of Ahmedabad. Initially, the task and target did look impossible. However, with successful experiment of the Miyawaki method, a camp which did not have space for 1500 additional trees now has the potential for even 15,000.
Citizens' Response
The new experiment undertaken by Group 2, Gujarat Police, is eliciting a positive response from all sections of society. School and college students, voluntary organizations and other citizens are visiting the mini-forest and getting trained in this method. The DGP's office has allotted a special grant to Group 2 under the Suraksha Setu program to purchase a coco peat making machine, which is needed for this kind of plantation. Now coco peat is available at a reasonable price, for plantation by police force at various places state-wide, be it in their own camps or some public place.
About 15 to 20 of the Group 2 Ahmedabad staff are now well-versed with the Miyawaki Method. They have adopted the method now not only to meet the given target but to embark on a mission to save the environment. They are working as a green brigade; keen to help, guide and inspire others through the amazing success of their Miyawaki plantation.