The Student Police Cadet project is a school-based youth development program that trains high school students to evolve as future leaders of a democratic society by inculcating in them respect for the law, civic sense, empathy for vulnerable sections of society, and resistance to social evils. The project enables the youth to explore and develop their innate capabilities, thereby empowering them to resist the growth of negative tendencies such as social intolerance, substance abuse, deviant behavior, and anti-establishment violence. Equally, it strengthens within them commitment towards their family, the community, and the environment. The programme is designed to develop young people contemporary skills and qualities necessary to face the challenges of life in the 21st Century.
The Student Police Cadet project has its roots in a community-level initiative by Kerala Police in 2006, and officially launched in August 2010 in 127 schools across Kerala. Gujarat adopted the model in 2013 initially in five districts of Surat Range namely Surat Rural, Navsari, Valsad, Dang and Tapi. With the success of the project in these districts, it was extended to all 38 police jurisdictions and every police station. Today, there are more than 1000 schools spread across Gujarat, with more than 50,000 cadets. The project was entrusted to Suraksha Setu Society (A public outreach program of Gujarat Police) to implement it statewide. The Society put a robust system in place for its implementation at all levels, standardized the syllabus and laid emphasis on capacity-building of field-level implementers like CPOs on a regular basis. CPOs and DIs were trained on the standardized module at the district level for uniform delivery of content to cadets. The success of the SPC project inspired the Central Government to adopt SPC countrywide on July 21, 2018.
Vision
To raise a humane and just society where citizens respect and follow laws willingly, practice responsible behavior towards others, demonstrate empathy for weaker sections of society, and participate in tackling community issues and resist threats to the natural environment.
Mission
To unlock the potential of our youth and make them capable of becoming social leaders with a global vision, guided by humanitarian values.
Features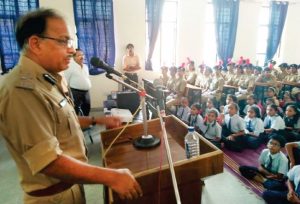 The SPC project is a synergistic partnership between the internal security framework of a State and its educational institutions that trains and encourages youth to develop respect for law and practice abiding by the law as a way of life. It uses existing network, infrastructure and leadership qualities of the police to supplement physical, mental and educational development of the youth. The program also creates confidence in the youth to react against social evils, thus enabling them to find solutions to community problems. It also enables school communities to create safe school environments and stimulates parents and community leaders to work with the police in creating safer communities.
Motto
'We Learn to Serve': The feeling of togetherness implied by 'we' should be reinforced in students to enable them to shoulder the responsibility, both of learning and social service. Service-mindedness emphasized by Mahatma Gandhi, the Father of the Nation, is to be instilled in young minds to make them ideal future citizens. Learning and growing through service is the primary idea encapsulated in the motto.
Objectives
Ø Moulding a generation of youth who willingly respect and abide by the law, who practice civic sense, democratic behavior and selfless service to society as a natural way of life.
Ø Facilitating development of good health, physical and mental fitness, self-control and discipline in youth, thereby enhancing their capacity for hard work and personal achievement.
Ø Enabling the youth to work with police and other enforcement authorities including forest, transport, and excise, in preventing crime, maintaining law and order, promoting road safety, and improving internal security and disaster management.
Ø Developing social commitment in youth and empowering them against deviant behavior in themselves and others, thereby preventing growth of social evils such as drug and alcohol abuse, intolerance, vandalism, separatism, and terrorism in society.
Ø Enabling the youth to explore and develop their inner potential in achieving success, by inculcating in them leadership, teamwork skills, innovative thinking and problem-solving ability.
Ø Increasing knowledge and understanding of effective use of Information and Communications Technology (ICT) among the youth, preventing its negative influence and enabling them to benefit from the vast potential of ICT.
Ø  Motivating the youth to develop a secular outlook, respect for other's fundamental rights, and willingness to carry out their fundamental duties as enshrined in the Constitution of India, by developing in them qualities of Patriotism, Open-mindedness, Large-heartedness, Inclusiveness, Capability and Effectiveness (POLICE)
SPC Training Programme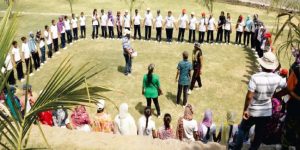 Physical Training (Outdoor Classes): The goal of physical training is to inculcate desirable standards of health, physical fitness, discipline in mind and body of cadets, team spirit, capability and endurance to carry out assigned responsibilities. Drill Instructors conduct physical training for cadets, including drill, parade, cross-country march, yoga etc., as per the Annual SPC Activity Calendar.
Study Classes (Indoor Training): The goal of the indoor training is to acquaint cadets with police-related topics like matters of law, constitutional principles, community policing, national movements, personality development principles, and inculcate in them confidence and self-esteem.
Field Visits: A major component of the training programme consists of field visits by cadets to establishments that administer, implement and adjudicate the law, places of historical, cultural, scientific and national importance, etc. These visits provide practical exposure to cadets, and raise awareness of citizenship values in them. CPOs and Drill instructors coordinate with PSLCs to arrange such visits.
Camps: During their two-year training period, SPCs take part in camps, both residential and non-residential. These camps provide opportunities for leadership development, life skills acquisition and personality enhancement, enable creation of a healthy team spirit and self-esteem within each cadet.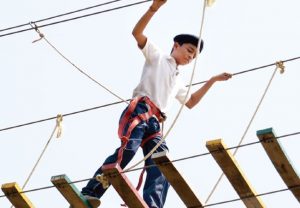 Community Projects: Leadership qualities of SPCs are strengthened by participation in various community issues such as road safety, drug and substance abuse, environmental protection, and aspects of law and crime. They are also encouraged to participate in social service projects, take responsibility during school festivals, sports meets, and traffic control duties.
Key Positions in the SPS
Community Police Officer (CPO): CPO is a key post of the SPC programme. Two experienced, willing and socially-committed teachers will be designated as Community Police Officers in each school. Each CPO undergoes proper training by police personnel and is given the rank of honorary Sub Inspector (SI) after training. These CPOs are responsible for the satisfactory progress of the SPCs in the training programme.
Drill Instructor (DI): Selected police personnel of the rank of ASI/HC/PC are designated as Drill Instructors to impart physical training to SPCs on a regular basis. They have to ensure that cadets attain a desirable level of physical fitness and stamina, capable of participating in formation marching and parade drills during national festivals.
Executive Framework
State Nodal Officer: In order to assist the State Advisory Committee on the implementation of the SPC project, a senior police officer is designated as State Nodal Officer – SPC project. The SNO has overall executive responsibility for the project implementation, with jurisdiction in the entire State. The SNO liaise with district-level officials, coordinate with officials from other departments and report regularly to the State Advisory Committee on a regular basis.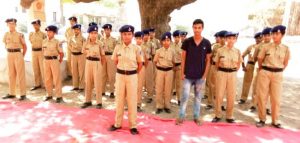 District Nodal Officer (DNO): In each district, a police officer, of a rank not less than Deputy Superintendent of Police, shall be appointed as District Nodal Officer for the SPC project. The DNO has the overall responsibility of project implementation in the district, and will coordinate with SPC officials to carry out various training activities. The DNO will report to the SNO on the performance of the SPC project on a regular basis.
Police Student Liaison Officer (PSLO): The local Circle Inspector is designated as the Police Student Liaison Officer (PSLO) in SPC schools. The PSLO has a field-level responsibility of project implementation in the school(s) falling under his jurisdiction. He reports to the DNO on project implementation on a regular basis.
District Nodal Office (DNO): The Student Police Cadet District Nodal Office, also called the SPC Learning Centre, is the central hub for all activities connected with the project in a district. Located in the District Headquarter, and staffed by a team of SPC officials, the Office coordinates supports and strengthens all aspects of SPC program implementation in the district. The Office serves as the venue for meeting of SPC officials, as a resource library for trainers and cadets, and as an authoritative clearing house for all SPC-related information. The overall responsibility for guiding and supervising the functioning of the District Nodal Office/SPC Learning Centre is that of the Asst. District Nodal Officer.
Preliminary Results
A field-level assessment has revealed the significant positive impact SPS has on students, parents, teachers and police personnel.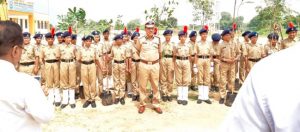 The project has proved that local police officers can work in close association with schools to tackle crime and prevent anti-social activities that target the student community. The emphasis on discipline, proper conduct in schools and physical fitness was found to improve the overall mental attitude of students. Interaction with police officials, workshops by educationists and trainers, and presentations by qualified professionals in various fields was found to raise the level of social awareness of SPCs. Through various SPC field activities and camps, the cadets had the opportunity to mingle with students of different backgrounds and from other districts. This exposure is expected to develop an inclusive community perspective among the students. The activities conducted as part of the SPC project channelized the energy and enthusiasm of high school students into productive outlets, resulting in better family relationships and involvement in community life.