The Gujarat Government launched 181 – Abhyam Women Helpline to support women in distress. The statewide service was launched on March 8, 2015, on the occasion of International Women's Day at Gandhinagar. The helpline, launched in collaboration with the Home Department and Women and Child Welfare Department, is synchronized with the existing 1091 – Gujarat Police Helpline and other women-oriented services.
Objectives:
To provide 24X7 free counseling, guidance and information through a centralized response centre. To rescue in emergent situations like domestic or any type of violence to shift women to safe places. Response to 100% calls through technology integration.­
Following the success of the helpline, a mobile application was launched on March 4, 2016. The App, which is available on all platforms, tracks the location of women in distress through a single SOS button.
Request through Call: Call can be made from a mobile or landline App available on all platforms
No Speaking Required: The caller's tentative location can be tracked without the caller having to share information via a call.
Roaming Users: Call from any mobile Panic Button available
App for Public usage: Available on Google Play Store, on the website
Tentative Location of caller: From any mobile/without any App
Precise Location: Call from landline/mobile
Rescue Vans with Counselors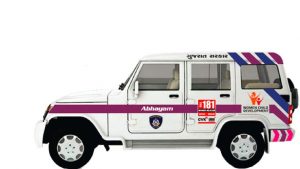 If any woman feels threatened or faces any violence, she can call the toll free number at any time of the day. She will be transferred to the nearest safe place. Abhyam is supported by a fleet of 45 rescue vans with counselors and lady constables. This helpline number is accessible through any mobile or landline. Till date, this helpline has responded to 10.13 lakh calls, out of which, more than 6.65 lakh beneficiaries have received counseling.
Launched in association with GVK Emergency Management and Research Institute (EMRI), the helpline has been established by leveraging existing resources of 108 Emergency Management Services under PPP framework between the Government of Gujarat (Women & Child Development Department, and the Home Department) and GVK EMRI. The services were initially available only in Ahmedabad, Surat, and Gandhinagar district. Observing its effectiveness, the State Government decided to expand its reach to the entire State.
Who can avail the services?
Women, aged 14 years and more, can call the helpline. The information given at the time of the call is kept confidential. Counseling, guidance and information through a centralized centre are provided for all kinds of complaints – physical, sexual, mental, financial, harassment at the workplace, marriage and interpersonal relationships, legal information, etc. Important information like local government services, women police stations, free legal services, counseling centres, NGOs and rescue officers etc is also provided.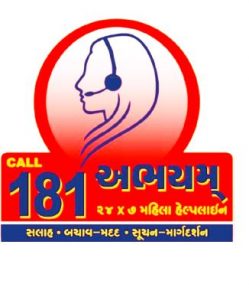 Adding Value to Life
Gujarat has always been a leader in all aspects of innovations and initiation of public services. The 181 Abhyam toll-free number is an excellent step towards the assurance of women safety, security and empowerment.
Gender Resource Centre (GRC)
Established in March 2004, GRC is promoted by the Department of Women and Child Development, Government of Gujarat, to provide support for incorporating gender equity and equality in the overall development process and plans of the State.
GRC recognizes that women's inequality manifests itself in many forms such as gender discrimination in terms of declining male-female sex ratio, social stereotyping, gender-based violence at home and at work, low level of education, health and nutritional status, limited access to resources, etc.
GRC serves as a nodal agency for all gender-related initiatives in the State and it coordinates the efforts of different sections of society and the Government to make a noticeable difference to women's lives. GRC attempts to develop and make available the resources at a single place to share them across organizations in order to make their efforts in the sector more streamlined, efficient and effective. It also aims to sensitize and facilitate government departments, NGOs, academic institutions, international agencies and independent experts in planning, implementing and evaluating gender-sensitive programs, policies, laws and schemes.
Women Empowerment Fortnight Celebration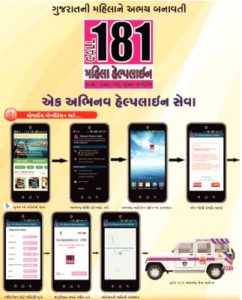 The Women Empowerment Fortnight (August 1 to 14) is an annual celebration observed all over Gujarat. The Government undertakes a statewide awareness drive for women during this period to educate them against issues such as domestic violence, harassment and other social evils. The occasion is also used to highlight the fight against malnutrition, door-to-door visits at the different Anganwadis and distribution of toys and clothes to the children at these centers, constructing toilets, rehabilitating women bootleggers, counseling and treatment of alcoholics to free them from the addiction, setting up of melas/fairs to sell rakhis prepared by members of of Mahila Suraksha Samitis with the help of the Mahila Bal Kalyan Department.