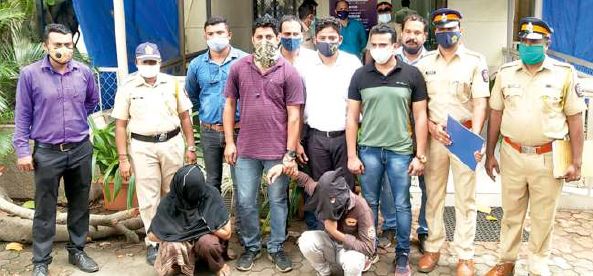 A woman, with the help of her paramour, murdered her husband as he had become an obstacle in their illicit relationship. They buried him in the kitchen. After a thorough investigation, the police arrested the two accused. 
According to the local police, deceased Raees Sheikh married Shahida in 2012 in Gonda, Uttar Pradesh. After the marriage, the two shifted to Mumbai and rented a flat at the Khan Compound at Rawalpada, Dahisar East. Raees started working in a clothing shop near Dahisar Railway Station. Raees and Shahida were settling in comfortably with their six-year-old daughter and two-and-a-half-year-old son. After a while, Shahida became friendly with her neighbour, Aniket alias Amit Mishra. A few months later, they started a relationship. When Raees discovered their relationship, he beat Shahida and warned her to stop meeting Aniket. This led to frequent arguments between them.
On May 22, 2021, Raees reached home unexpectedly early and caught Shahida and Aniket red-handed. Cornered and guilty of being caught, Shahida, with Aniket's help, strangled Raees with a wire and killed him. They also chopped his body into pieces and buried it in the kitchen. "The older child witnessed the gruesome incident. Shahida threatened her daughter to keep mum about the incident otherwise her younger brother will meet the same fate as her father. Frightened, the six-year-old girl remained silent," said a police officer attached to the Crime Branch. 
Meanwhile, Shahida and Aniket came up with a plan and started spreading rumours that Raees left on May 21 and has not returned home. After a few days, Shahida lodged a complaint with the Dahisar Police Station about Raees' disappearance. Based on the complaint, the police filed a missing person's case.
Meanwhile, Raees' brother, Khan, visited his missing brother's family at the Khan Compound. "He became suspicious of the new staircase in the house and the sudden disappearance of his brother. He took the opportunity to question Raees' six-year-old daughter who related her mother's extramarital affair. She also confessed the gruesome incident she witnessed and the threat made by her mother. Khan gave this information to the police. The police immediately arrested Shahida. When questioned, she confessed to the murder. Meanwhile, Aniket alias Amit Mishra was arrested by the police from the Aarey Colony forest," the police officer added.
The case was investigated under the guidance of Additional Commissioner of Police Dilip Sawant, Deputy Commissioner Vishal Thakur of Circle 11, Assistant Commissioner of Police Suhas Patil of Dahisar Division, Senior Inspector of Police Praveen Patil, Inspector of Police Vikas Lokare and Assistant Inspector of Police Chandrakant Gharge, Assistant Inspector of Police Om Totawar, Women Sub-Inspector of Police Varalakshmi Sakinal, Constable Sandesh Tatkare, Constable Devendra Page, Police Naik Sharif Sheikh, Police Naik Bharat Mohite, Police Officer Chandrakant Shirsat, Police Officer Rajendra Sangle, Constable Sandeep Deshmane, Constable Bhingor, Police Naik Siddharth Kini, Police Officer Sagar Pawar and other police squads.