Mohit Naik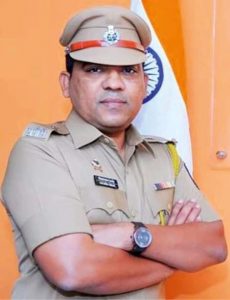 The police have a huge responsibility, which they cannot take for granted, as everything depends on the decisions they take regarding the situations they encounter. They are accountable for keeping law and order, managing traffic, deal a firm hand with criminals, prevent smuggling – drugs or humans, maintaining border security, averting terrorism, cyber-crimes, etc. These responsibilities do not bog them down but serve as a driving force to become better by the day. Some officers often outperform their duties and set great examples of excellence. Vijaykant Sagar, the current Deputy Commissioner of Police, Mira-Bhayandar Vasai-Virar Police Commissionerate, is one such officer who goes the extra mile to ensure the safety of the citizens. He is as passionate about his physical and mental wellbeing as he is about apprehending lawbreakers and stopping illegal activities.
Born into a Sagar family in Murum Village in Osmanabad district, Vijaykant Sagar is renowned for his Singham style and suaveness. He joined the Force in 2007 as Deputy Superintendent of Police. Since day one, Vijaykant is admired for his quick decision-making ability and efficiency in handling difficult situations effectively.
Complainants who come to his office get their complaints registered without fuss and solved in record time by this dynamic officer. They leave the office assured of hope for a better tomorrow. He made it his mission to build a rapport with the people under his jurisdiction right from day one. 
He was highly appreciated for his service right from the initial days of his career. He dealt a firm hand against the Naxals during his tenure in Naxal-affected areas like Gadchiroli and successfully established peace in the area.
Vijaykant Sagar was awarded the DG Insignia badge for his excellent service. Before being appointed as the Deputy Commissioner of Police (HQ) Mira-Bhayandar Vasai-Virar, Vijaykant served as Additional Superintendent of Police, Palghar. He also served as Principal, Akola Police Training Centre. He then took over as Additional Superintendent, Akola. He did a magnificent job of empowering women by raising awareness about security laws that favour them through a famous initiative named 'Janani'. 
INITIATIVES 
Rakhi with Khaki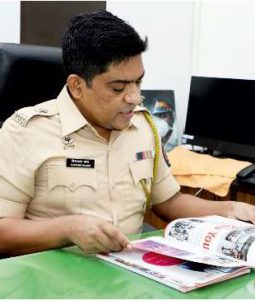 After assuming his role as the Additional Superintendent of Police, Vasai, Vijaykant launched several initiatives, which helped bridge communication between cops and citizens. His initiative 'Rakhi with Khaki' was much appreciated at the State level. Police personnel would tie Rakhis on local people who violate traffic rules. They do this to spread awareness about road safety. The police collected Rs 70,000/- through this initiative, which they donated to the Kerala Flood Relief Fund.
Police Mitras
To tackle crime in the twin cities of Vasai and Virar, he garnered the help of 10,000 locals by enrolling them as Police Mitras. There has been a drastic drop in the crime ratio since then. 
Vasai Tobacco-Free School Campus Taluka
Children are the future of the country. To provide a safe and favourable school environment to them and prevent their future from being ruined by drug dependency, Vijaykant and his team conducted a special operation in the Vasai Division in December 2018. During the campaign, all police stations in the Division visited 246 schools and 34 colleges and put up anti-smoking boards. The police took about 816 actions under the Quota Law and a fine of Rs. 1,63,200/- was levied in 67 places with the cooperation of the Corporation. They removed all encroachments in the area on January 5, 2019. The entire school region was declared a tobacco-free zone.
Accolades and Laurels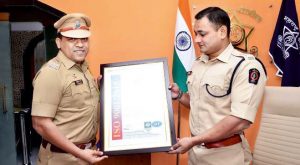 Vijaykant Sagar has received several awards for his outstanding policing and quick detection ability.
He was awarded the 'Special Service Medal' from the State Government and 'Internal Security Medal' by the Central Government for his outstanding performance during his tenure at the Naxalite-affected areas. He also received the 'Director General of Police Award' for his excellent duty.
He digitised the Police Training System when he was the Principal, Police Training Center at Akola. He was honoured by the Director-General of Police, Maharashtra, with a token of appreciation.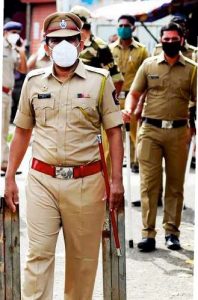 The Department of Social Justice and Special Assistance, Ministry of Extension Bhavan, Mumbai, bestowed on him the 'Father of the Nation Mahatma Gandhi State De-addiction Service Award' for 2018-19 for the work initiated by him in the Vasai Division to make school premises tobacco-free.
In 13 years of policing, Vijaykant Sagar has been very consistent in his duties and responsibilities to better the lives of the citizens and lift the standard of the State Police. The Protector magazine congratulates him for his outstanding efforts and wishes him the best in his professional and family life.