Our Correspondent
Policing is a calling for people with valour and not for the faint-hearted. It demands a sacrifice of time and energy. We see that as we observe the police going about their duty 24×7. Their passion and dedication results in better policing, which often reflects in their overall performance. We witness this on the Maharashtra Police. The crime rate is reasonably low compared to other States. The State Police have achieved this landmark because of high quality policing in the cities and the rural districts. 
One such rural police force is the Satara Police headed by SP Ajay Kumar Bansal (IPS). This particular division is well known for its policing achievements. As is its motto: 'Keeping Satara a Safer and Better Place to Live', the local sleuths have promised to ensure the rule of law, enforce the law of the land impartially and firmly without fear or favour, and strive to create a fear-free environment that is conducive for growth and development. Satara Police will remain committed to maintaining public order, preventing and detecting crime, maintaining and promoting communal harmony, ensuring a smooth flow of traffic, and taking strong action against terrorism, organised crime, and anti-social elements.
They commit to serve and protect all, particularly the downtrodden, the weak, women, minorities, senior citizens, slums dwellers, the poor and other marginalised sections of society and give prompt and compassionate response to every call of citizens in distress.
They are determined to keep their integrity high, work as a team to bring transparency in their functioning and strive continuously to raise professional skills.
Proper management of the Force is one of the crucial aspects for better policing. Satara Police have divided their Force into several departments to monitor every case registered under their jurisdiction effectively. 
Police Headquarter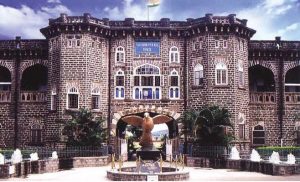 The Satara Police District Headquarter is at Satara. It maintains the Reserve Police Force. It is used for guard duty, escort duty and many other regular duties. It also organises basic police training sessions. If there is a disturbance in law and order, it designates the Reserve Police Force to handle the situation. The Reserve Police Inspector who is posted at the Headquarter controls the discipline, training, canteen, store, armour room, building maintenance, guards' quarters and magazines. These are under the observation of the Deputy Superintendent of Police and Superintendent of Police.
Control Room
The Police Control Room presently headed by Inspector A.S. Patil. He controls the activities of the police department throughout the district. The Control Room connects all police stations in the district 24×7. It also plays the role of a communicator between field staff and controlling authorities at all levels. It ensures the proper execution of law and order.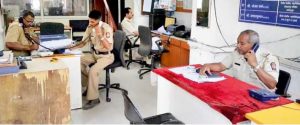 During critical situations, and in the absence of Senior Officers/Unit Commander, the Control Room Officer has to make decisions, give directions to the officers present on the spot, and when required, dispatch forces to assist police officers on ground zero. It promptly communicates important events to the Unit Commander, other senior officers and the DG Control Room.
When there is a law and order problem, accidents or territory movements, citizens also inform the Control Room on the Emergency Number – 100. Based on the information, The Control Room take necessary action, and if required, sends a Force as quickly as possible to maintain law and order and deescalate the problem. For that purpose, PCR mobile vans on patrol within the city at all times.
Crime Branch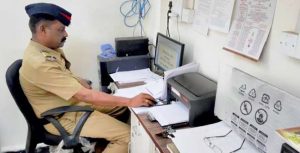 A vital part of the police department, this branch is presently under the charge of Inspector K.M. Dhumal. It is involved in crucial criminal probes and deals with sensitive crime detection. The staff is very sharp, shrewd and capable of dealing with and detecting all kinds of crime. Their investigation area covers the entire district. They perform parallel investigations with police stations on significant and crucial crime cases. This branch is well-organised in the maintenance of various types of records of crimes and criminals.
It has the following sub-branches:
District Crime Record Bureau (DCRB)
This branch collects and maintains information on crimes and criminals from all police stations in the district. It sends information to the State Crime Record Bureau (SCRB), Pune, whenever required.
Anti Dacoity Squad (ADS)
This branch prevents and detects property crimes, mostly dacoity and robbery offences. This Squad is one of the best crime detection teams in Maharashtra.
Modus Operandi Bureau (MOB)
This branch collects crucial information of various criminal modus operandi and maintains records like Known Criminal Register, History Sheet Register, Convicted Persons Registered and MCR. Feedback based on the intelligence collected, their suggestions and leads helps investigation officers zero in on offenders likely to be involved in offences.
Finger Print Branch
This branch collects and maintains fingerprints. Experts visit the crime scene and take chance prints or impressions or what is commonly known as latent fingerprints. They search through the fingerprint database of the arrested accused and provide an identical fingerprint to the investigating officers.
Anti Human Trafficking Unit
This branch conducts raids against prostitution and human trade rackets. It also maintains data of missing children.
Economic Offence Wing
This branch handles cheating and financial fraud matters.
Special Executive Officer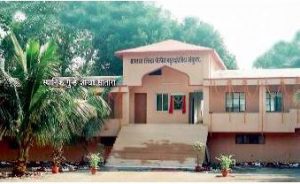 By Government Order No.Spl.2/Exm.0791/Nax/2783 dated:-10.02.1993., the Police inspector, Local Crime Branch, is empowered as a Special Executive Magistrate for chapter cases under CRPC 107, 109 and 110. The Court of the Special Executive Magistrate is located at the Local Crime Branch Office, Satara.
Working of District Special Branch
The District Special Branch is crucial in the structure of the district police organisation. This branch plans and designs structure arrangements during festivals, elections, examinations, VIP, and VVIP visits in the district and then coordinate with the respective police stations.
This branch collects confidential information in advance regarding activities of various organisations, movements and activities of various political parties. This information is then analysed and the input is shared with the State Intelligence Department (SID) and the concerned police stations for necessary action.
This branch also deals with character verification, passport verification, cases of noise pollution, and recommendation for various licenses. 
Traffic Branch
Presently led by police officer V.A. Shelar, this branch ensures the proper management of traffic in Satara. During festive occasions, they regulate traffic and plan hassle-free entry and exit roads. When there is a VIP convoy, they ensure that roads are cleared of traffic and human activity for the smooth movement of the convoy.
Women Cell
This is a specially-created Cell to look into women's grievances and cases of domestic violence. Women social workers and NGO members have been taken on the panel. They listen to the victim's side of the story and the other family members and try to bring about a resolution between them through counselling. Unsolvable cases are forwarded to the police station for legal action.