Mohit Naik
News of corrupt practices by Indian Police would wind their way to TV channels and newspapers once in a while, but not everyone should be painted with that same brush as many police officers in the country are dedicated to eradicating corruption across all sections of society.
Udhay Kumar Raghunath Palande, Assistant Police Inspector, is one such example of why people still believe in the role the police play in bringing to justice the guilty, no matter which category they belong to. This daredevil cop, attached to Ulhasnagar Crime Branch Division of Thane Commissionerate, has yet again achieved a milestone for his commendable job of crime detection.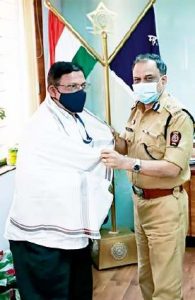 He contributed his time, energy and resources throughout the crisis the country faced since last year. He provided help to the needy and spent a vast amount of time in social work. We featured him in the previous issue of this magazine by highlighting his achievements and sincerity in doing his duty since he joined the police force in 1985. Excellence has no parameters, and Palande, who had dedicated the best years of his life to the Force, is now receiving the fruit of his efforts. Udhay Kumar Raghunath Palande was awarded the President's Police Medal, Government of India, on January 26, 2021.
Palande is currently posted at Ulhasnagar as Assistant Sub-Inspector of Police, Crime Branch, Unit-4.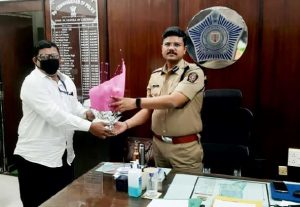 During his 36 years of service, Palande served at several divisions before joining the Crime Branch. After training at Khandala, he served at the Crime Prosecution Squad at Kolshewadi Police, Thane, from 1986 to 1990. From 1996 to 2004, he served summons at Vitthalwadi, Thane, and also did court procedure work for his team. His next posting was at Manpada Police Station, Crime Prosecution Squad, etc., from 2004 to 2010. 
In 2010 he was posted at Ulhasnagar Crime Branch. The citizens of Ulhasnagar were distressed by the rising car tape theft crime. There was a sense of insecurity among them. Uday Palande was appointed to the special team by his superiors to detect and prevent this crime. He went straight to work. Though clues were absent or leads to this recurring crime were scanty, his investigative skills and good networking with reporters and others opened up doors where he received vital information about these criminals. The main accused – Pappu alias Deepak Panjwani – was eventually arrested. Palande uncovered about 20 cases and seized 52 carts of property from him.
His hard work in solving the car tape theft crime was appreciated by the people and his superiors who took note of his excellent performance and gave him due recognition.
He was transferred to Vithalwadi Police Station, Thane, Ulhasnagar 4, in 1996, where he served in the Ulhasnagar Court for about six years. His excellent record in the court and police station was applauded and recognised by the staff at the court and the police station.
"I was very pleased after receiving the Honorary Director General of Police Medal in 2016 from the Maharashtra Guardian Minister of Thane, Shri Eknath Shinde. I am overwhelmed that my seniors and superiors considered my name for the President's Police Medal this year. They took note of my consistent performance and honoured me I promise to perform my duty with the same kind of fervour, dedication and sincerity towards my seniors and the citizens," said Udhay Palande. 
When asked about any particular incident during his years as a police officer, Palande recalled that "While investigating a case which was registered at Hill Line Police Station, I was on my way to Sangegaon, Kalyan, to nab the accused when the men and women of the Katkari community suddenly attacked and threw stones at me and my team. Undaunted, we handled the situation calmly. We caught the two accused and handed them to the respective police stations. I was honoured by Shri Vijay Kamble, then Commissioner of Police, Thane City. He handed over a certificate of Rs. 5,000. The then Additional Commissioner of Police, Crime, Thane City, Dr Shri Ravindra Singhal, awarded me Rs. 18,000 and a testimonial. I also received Rs. 7,000 and a letter of commendation from Shri Parambir Singh, then Commissioner of Police." 
Admirable Record
Assistant Sub-Inspector of Police, Uday Kumar Raghunath Palande, 54, has been with the police force for 36 years. He has arrested 476 wanted fugitives accused of various crimes at various police stations. He has single-handedly solved 9 murders, 81 burglary cases, 40 chain snatching cases, 22 car theft cases, 2 temple burglary cases, 4 cases of fraud, 2 cases of rape, and 8 cases of drugs. Apart from this, 6 cases of illegal gambling and 60-plus cases of sale of adulterated alcohol were solved by him.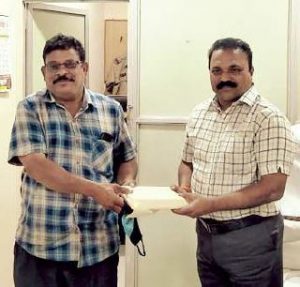 For his stellar performance in his distinguished career, he has received 982 prizes, cash reward amounting to Rs. 4,76,740, 51 testimonials and 7 Letters of Appreciation from the Commissioner of Police Thane City, Additional Commissioner of Police Crime, Thane City, and Deputy Commissioner of Police Crime, Thane City.
Because of his strong network in society and excellent crime detection ratio, Palande has given training to newly recruited officers of the Force. He has also been invited to several police stations all over Mumbai and Thane district to share his experiences. 
"Even when I was a Constable, I was training police officers. Could there be a greater achievement? All the cops turn up for the lectures to learn how to build contacts and use their network to trace the accused. The officers would become very excited after the sessions and, many would ask my help in solving cases," said Palande.
Palande is best known for his crime detection abilities. "We are glad to work under him as we can learn leadership qualities from him. We congratulate him on his many successes," said a police official attached to Thane City Police Station.
"My father was a captain in the Army. He dreamt of seeing me become an army officer like him, but due to some problems, I failed to do so. By then, my elder brother, Pradeep Raghunath Palande, had joined the police force in Thane. I visited him once, and it was then that I came to know there were about 450 police personnel vacancies. I applied, was selected, and completed my training and joined the Force to serve my nation," said Palande. 
The police officer was duly awarded the DG Insignia on Maharashtra Day in 2016. The DG Insignia is awarded to policemen who have been with the Force for more than 15 years with a clean record and for outstanding contribution to the Force.