Vishnu Nagar Police arrested an accused who attacked an individual with the help of two accomplices in May 2021. The accused, Aniket alias Panda Mhatre, is an accused in another incident. He had attacked a person in Dombivli East in 2019 with a knife. He was arrested in this case (G.R. No. 387/2019). Aniket had just been released on bail when he committed a crime again. This second incident was carried out near Mothagaon Creek in the Dombivli West area. 
Aniket alias Panda Mhatre (20), Sahil Thakur alias Valatya (22), Somesh Mhatre (25), all residents of Dombivali West, started knocking on Kolte's door at Garibacha Wada in front of Kolte General Stores in Dombivli West in May 2021. At that time, the victim, who is a resident, interrupted them. Angered by this, the three insulted the victim. During the altercation, Aniket alias Panda, stabbed the victim in the neck with a knife while Sahil alias Valatya stabbed the plaintiff in the head and back with a bamboo stick. The victim was seriously injured in the fight. A case under Sections 307, 324, 323, 504 and 34 of the Indian Penal Code was registered at Vishnu Nagar Police Station (G.R. No. 85/2021). This incident created an atmosphere of fear in the Kumbhar Khan area. A team from Vishnu Nagar Police was put on vigil 24×7 to maintain law and order in the area.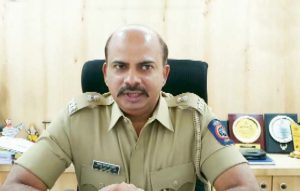 Deputy Commissioner Vivek Pansare ordered an investigation into the case and ordered that the accused be brought to justice as soon as possible. 
Accordingly, the crime detection team of Vishnu Nagar Police Station started searching for the culprits. While investigating, the police were informed that the main accused, Aniket alias Panda, had gone to Mothagaon Creek, Dombivli West. They set up a trap for him and arrested him. Aniket has been remanded to police custody for three days while the rest of the accused were absconding, said Sanjay Sable, Senior Police Inspector, Vishnu Nagar Police Station.
An investigation was carried out under the guidance of Vivek Pansare, Deputy Commissioner, Circle 3; Jairam More, Assistant Commissioner of Police, Dombivali Division; Sanjay Sable, Senior Inspector of Police, Vishnu Nagar Police Station, and Lakhande, Police Officer Badgujar, Police Officer Mahajan, among others.
Due to the diligence of the police, the entire absconded accused have now been arrested and remanded to custody.
The police have also urged all responsible citizens to immediately contact the Vishnu Nagar Police if anyone around them is committing misdeeds or any crime.