Santosh Pandey, DC- Traffic, Kolkata Police, in an exclusive interview to Mohammad Asif, Assistant Editor, Protector, gave an insight view of the traffic management during Durga Puja and explained how the groundwork starts much before the actual Mahalaya.
How did you manage traffic during the Durga Puja?
For an event like Durga Puja, the planning process is most important and it starts much before. Before Puja, we have our drill and briefings and after the event we do debriefings. During briefings, we tell our men what needs to be done and during debriefings, we discuss observations of our men and how the event could have been done in a better way. Puja generally starts from Chaturthi and Panchami, but shopping starts quite early. Though the deployment of cops begins in advance, the planning process starts quite early. We have meetings with Puja organizers about their scale of celebration and whether they want to shift their venue. This year one of the organizers had shifted to Mohammad Ali Park so we had to change our plans accordingly. The information we collect from them is judiciously used to manage our resources. Management of traffic in the market area is done before Mahalaya. Bara Bazar is the wholesale shopping destination for the entire eastern part of the country. And the biggest challenge is managing pedestrian traffic. We have to increase our deployment, barricade certain areas and impose certain restrictions. Even after all such measures, if the pressure on traffic is more, we plan diversion of the traffic of certain heavy vehicles.
What are the types of deployment?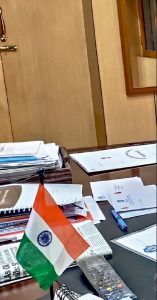 Normally the deployment is in three shifts- morning, afternoon and night shifts. The morning shift focuses on the removal of unauthorised parking. When the roads are free, it is easier for the main force to do their jobs. They take care of pedestrians and crossovers. We can watch the long queue of vehicles through the CCTV cameras and then plan solutions. If one tail is getting bigger, we give more preference to that section. This year we had a nice arrangement with Google traffic. When you are planning something, you must disseminate information. If people know about your plans, your task becomes easier. We discuss our traffic plans through social media platforms and print and electronic media. We gave them our plans and they started showing on their features. You could easily find which road is closed, which is one-way and where is gridlock to avoid that route. Ola and Uber drivers use Google traffic. We also check the ground realities after having a look at the Google map. We got lots of appreciation from people for traffic management. We were also surprised that even at Central Avenue there was no gridlock.
How are the Sergeants important for Kolkata police?
Sergeants are the backbone of traffic arrangement so we have a certain system of getting feedback. One briefing is done by CP and priority is given to people who have done excellent job in the area. We try to keep roads free of unauthorised parking.
What is your plan to check rogue bikers?
We had planned special night-time raids against bikers when they come out on roads. The appearance of our men in uniform with Enfield motorcycles seems to generate fear in the minds of traffic rule violators.
We had carefully chosen our spots where these rogue bikers are a menace and the police were deputed in advance to surprise them. We have carried out awareness campaigns against helmet less and reckless driving during the past three-four months, particularly during the puja. There were theme based posters on puja for traffic safety and that was well received by people.
Even arterial roads were taken care of. Though there was heavy traffic in the southern sector but diversion was not required this year due to better management of traffic. We had separate management plan for crowd and vehicles.
During Puja days, Rashbehari road becomes the nerve centre. The crossover at Rashbehari was managed by our men. If the flow of vehicle is more, we gave more time to motorists or if the size of the crowd is big, we gave more time to the pedestrians. For managing traffic, the right turn of the vehicle is very important. If you are giving both right turns or left turns to vehicles at a particular point, it means the movement of vehicles has become smooth.
Traffic control room keeps an eye on everything. We start with the deputation of officers at a particular spot so that he can access the traffic movement and relay the message to the command centre. If there is an ambulance that needs help or the traffic that needs to be diverted, the officer at the junction takes immediate action. Though the person at the spot sees only that point, the control room monitors all the areas through CCTV and has an overall view of the traffic.
How are the Bisarjans planned?
The immersion of idols is a big event but that is confined to certain routes and sectors. Coordination with other agencies is also an important task. Intervention is needed while giving priority to pedestrians over vehicular traffic. We also need to inform municipal corporation about the absence of street lights or the PWD about the repair of roads. We also require temporary removal of height barriers for the passage of idols.
Carnival is a big event so we need to know how many images are coming and which time they are coming. Sometimes images come a day before, therefore, pick up points also needs careful planning. Then we need to plan for Red Road carnival whether to close Khidirpur ramp or hospital road. Police officers are deputed with each image and are numbered accordingly. There is a running commentary and we ensure that there is not much gap between the images. Suppose the images coming from Lake Town return to the same place then we need to plan their arrival and departure routes. For moving to the ghat, they normally take Kingsway or Auckland road. Routes are planned in a manner that there is not much pressure on any particular section.
There are many ghats and ponds in which idols are immersed so we depute officers at those places. We depute officers on corridors like Strand Road and Strand Bank road. Traffic is closed on some routes and diverted via other routes.
How do you coordinate with other police commissioners of bordering areas?
There are some issues that are directly related to Puja. For example, in Bidhanngar there is a big puja that affects our traffic. Goods traffic management from Biddhanngar, Howrah and, Diamond harbourside is also an issue. There is complete ban on vehicle movement during daytime from Burdwan and Hooghly district. Heavy vehicle movements are allowed only during night hours.
Does Kolkata have limited parking space?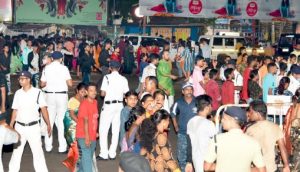 Yes, there is limited parking space in the city but we have a smart parking app through which you can find proper parking slots. Normally parking management is handled by KMC. One solution to limited parking space is the multi-level parking which can be used to park many vehicles in one place. There are two types of parking, one is general parking where anyone can pay and use the space. Another is exclusive parking but we discourage exclusive parking because that can be used by a few people only. Two multi-level parkings have been built in Gariahat to help motorists.
How do you take care of traffic seargeants?
There is a provision for regular check-ups. We organize camps for their spinal injury and eyesight examination. Policemen are deployed in eight-hour three shifts so that they don't get overstretched and have sufficient rest. We provide food to them at their locations. We keep them motivated so that their morale is very high. When you are managing traffic, you are always on your toes so you need to take care of their health. When you love your job you can't feel stressed.
What is your opinion on 'Safe drive, save life' campaign?
This is not a project that can be time-bound. Our main purpose is to reduce accidents, minimize fatalities. Every year we are finding that the figures are going down. We want to introduce more automated system for traffic. Speed cameras have been activated at 20 locations and at 70 locations the job is almost complete. Over-speeding can be checked as the driver will get an immediate message and become alert. Red light violation detectors have been installed at many places and there are plans to install at 130 more locations.
We have also started a drive against honking. It is a big problem in the city. We will place no honking signs around the hospitals and school areas. Those violating will be prosecuted for unnecessary honking. Actions have been taken against over 50,000 vehicle-owners. We are also planning synchronization of signals so that the traffic flow is smooth. If the third signal is open then the vehicles from the first signal can pass unhindered. It will be AI-based system and we are working on it.
Which signal system you are using?
We are using Scada signalling system that is based on algorithm We have a system in place through which we can calculate how much time do we need to spend on North-South Signal and East-West signal.
Three-Phase Plan for Durga Puja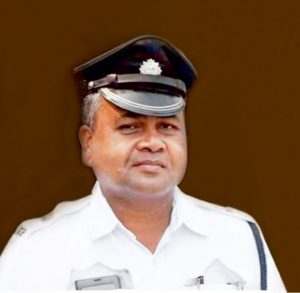 Though in West Bengal main Durga Puja lasts for four days, for Gariahat Complex it extends for almost 34 days. Needless to say, the rush at Puja pandals is for four days, but the entire city is out for shopping for almost 30 days in Gariahat neighbourhood. In South East TP Guard, we make our Durga Puja arrangements in three phases.
First is pre-puja shopping: We deploy extra police force and officers around Gariahat Complex to enforce no-parking zone and remove unauthorized vendors, parked vehicles, so that the movement of traffic remains smooth at Gariahat crossing.
In the second phase comes the puja pandal inauguration. Under the South East Traffic Guard area, at least eight big puja pandals come up, which are inaugurated by Hon'ble Chief Minister and senior ministers. We make arrangements at pandals by diverting some vehicles so that there is no hindrance in the movement of VIPs to and from pandals.
The third phase involves puja day arrangements. We strictly enforce traffic rules, remove unauthorized parking, penalize for no-entry zone entry, restrict the movement of auto-rickshaws, heavy vehicles and buses around Gariahat complex so that people have no difficulty in visiting pandals. In three shifts (24×7), we deploy more than 500 personnel, including NGOs and volunteers to avoid traffic jams. We install bamboo barricades on major footpaths and use 2,500 guardrails for the benefit of pedestrians.                                            
Insp. Samir Panja, Officer-In-Charge, South East Traffic Guard
On Their Toes for the People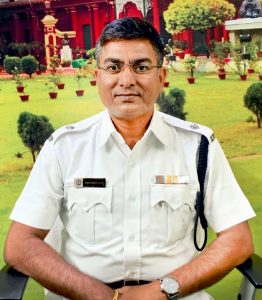 Durga Puja in West Bengal has become a global festival. People from all over the world, including the huge Bengali diaspora make it a point to visit Kolkata during Durga Puja.
Though festivities can be seen in every part of the city during the 10-day Puja, North Kolkata is particularly famous for its traditional Puja such as Sovabazar Rajbari , Chatubabu Latubabu and theme Pujas like Chorbagan, Kumartuli Park, Jagat Mukherjee Park etc. But as a huge number of visitors come to Kolkata, they also bring with them the challenges for the Jorabagan Traffic Guard. As the festive season starts with the buying of new clothes to bringing the images from Kumartuli to pandals and then immersing those idols at Nimtala, Ahiritola, Sovabazar and other ghats, the rush is beyond imagination.
Managing the smooth flow of traffic and pedestrians on the road become a herculean task for the police during those festive days. Many restrictions, including no-entry, no-parking and one-way entry, are imposed to ease the gridlock. In addition, barricades are erected on several streets, channelizers are used and additional officers are requisitioned to keep an eye on the traffic movement. With these steps, Jorabagan Traffic Guard tries to ease the congestion on roads.
This year Jorabagan Traffic Guard received a huge round of applause from the public for their tremendous work during Durga Puja.                      
Inspector Suman Mukhopadhyay, OC Jorabagan Traffic Guard
Safety of Devotees is Our Priority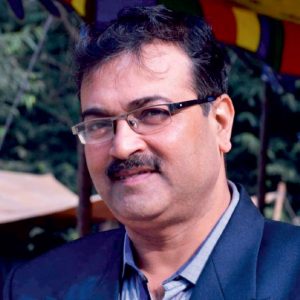 Durga Puja is not just a religious festival of West Bengal, it is a carnival for all the communities. Rashbehari crossing turns out to be one of the busiest spots during the puja. The largest number of Puja pandals in Kolkata is located around Rashbehari crossing where thousands descend via Kalighat Metro or by buses.
On the south side of the crossings are Mudiali club and Shibmandir, towards the north are 64 Pally and Sanghasree, towards the east, are Deshapriya Park Tridhara, Ballygunge cultural, Shinghi park, Hindustan park and on the west are 66 Pally, Badamtala, Chetla Agrani, Suruchi Sangha.
It's a challenging task for Tollygunge Traffic Guard to keep the movement of traffic smooth from 10 am to 6.30 pm. The disruption of Majherhat bridge route had added to the woes as the entire traffic moves via New Alipore Island, Durgapur Bridge, and Alipore Chetla Sector. But watching the crowd moving back to their homes after visiting puja pandals is a source of satisfaction for us. The words of appreciation are our reward. Though our families are deprived of our company, the entire crowd becomes our family and we enjoy every moment of it. I thank all my senior officers for guidance and motivation that help us succeed in our endeavours.                                                                       
Somnath Mitra, Officer in Charge. Tollygunge traffic guard.
Rising to the Occasion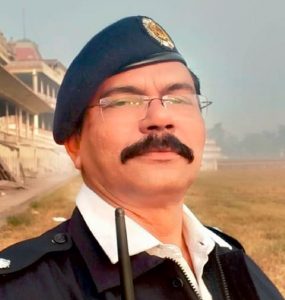 Durga Puja may be a time of revelry for children but it is also an occasion when the religious fervor of people is at its peak with an innate feeling that they are nearer to the deity. But this pious occasion brings big challenges for the police who have to stretch themselves to meet the devotees' needs.
Though we are the last traffic guard in alphabetical order, we try to give our best to bag top position as far as the smooth movement of traffic is concerned. Spread over an area of approximately 38.88 sq km comprising three police stations – Thakurpukur, Haridevpur, and Sarsuna, we were able to mange gridlock by the tireless efforts of our efficient officers covering 270 puja pandals. Some were mammoth-like those at Barisha club, State Bank Park, 41 Pally, Ajoy Sanhati, Vivekananda Athletic club, Vivekananda sporting club, etc. Most of these pandals were erected on M.G. Road where the volume of traffic has risen manifold after the collapse of Majherhat bridge. Traffic was absolutely normal during puja though preference was given to pedestrians over motorists. Besides, the idol immersion ceremony also went on smoothly under our jurisdiction from Red road.               
Inspector Krishnendu Bose officer –in-Charge Thakurpukur Traffic Guard
 A Task Done With Much Ease
Throughout the year Kolkata Police is on its toes for ensuring the smooth and safe conduct of religious and political gatherings, and big sports events.
But Durga Puja poses the biggest challenge for us. We treat it as our annual examination where people are the examiners and they prepare our mark-sheet. Like every year, we passed the examination with flying colours.
Spread over an area of 1.5 km, there are three big puja pandals comprising College Square, Santosh Mitra Square and Sealdah Athletic Club (Kaizer Street). During puja, a huge crowd descends in the area and the rush at the Sealdah Railway Station adds to the policing woes. Therefore, the peaceful conduct of Durga Puja under Sealdah Traffic Guard is a big challenge for the police.
This year, Santosh Mitra Square had built a Golden idol of Durga and, we were expected a tsunami of a crowd. In anticipation of the huge assembly, barricades and channelizers were erected till the B.B. Ganguly Street and Amherst Street crossing. As an additional precaution, a separate channelizer was used to manage the crowd on M.G. Road.
Last year, the traffic near Santosh Mitra Square on AJC Bose Road at Prachi Cinema was a bit chaotic. Taking a cue from the past, we had installed channelizer on M.G. Road and AJC Bose Road which gave astounding results. All of us did our best and in return got thanks from the public much to our satisfaction.                      
Joyjit Banerjee, OC Sealdah Traffic Guard