Sheer grit and the presence of mind can help overcome many difficulties in life. To inculcate self-confidence and courage among women, Kolkata police organised a special workshop on self-defence techniques for women from November 23 to 27 at Police Athletic Club.
Organised for the second year, Tejashwini, the workshop on self-defence received an overwhelming response. The workshop was organized for women aged between 12 and 40 years. The five-day workshop included basic training in street fighting techniques. About 200 women were accommodated for the second season of the workshop which concluded with a gala programme on November 27.
Sourav Ganguly, the current BCCI President and actor Koel Mallick were among the celebrities who graced the occasion. The Commissioner of Kolkata Police, Anuj Sharma, and Deputy Commissioner of Police, Supratim Sarkar, Damayanti Sen, Ajay Ranade, were also present at the Athletic club programme.
On this occasion, a documentary film on the training at the workshop was screened.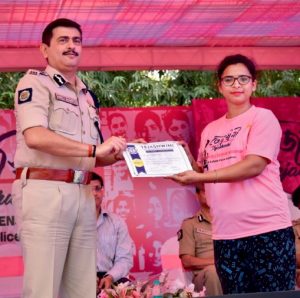 The Commissioner of Police laid the foundation stone of Police Martial Arts Academy where anyone aged over six years can get trained in martial arts from experts.
Shaista Anwar, Sayani Chakraborty and Priyanka Das were felicitated as Tejashwini for their outstanding performance at the concluding function.
Out of 200 participants, 16 took part in a special session for demonstrating combat techniques. They produced a glimpse of the training they underwent at the workshop. Kolkata City has always been a safe city for women but a collective effort can further bring down crime cases against women. To empower women, Kolkata police came up with a unique training programme to train them. When women step out of their homes, they are sometimes subjected to untoward gestures making them uncomfortable. This training will help the participants overcome eve-teasing. Many of the participants came with their parents while some along with their husbands. Though some of them have been doing exercises in the past, they took an intensive training for five days. The preliminary stage involved training in martial arts and kickboxing.
Supratim Sarkar, Additional Commissioner of Police said, "The spurt in crime against women at public places forced Kolkata police to come up with a training programme for adolescent girls and women. The women learnt basic fighting techniques. When they step out of their homes, they are subjected to obscene behaviour. This training will give them the confidence to tackle such incidents. I believe that the participants will become more confident and retaliate every time they are mistreated."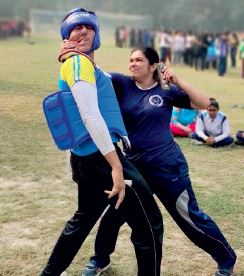 Actress Koel Mallick's recent film 'Mitinmasi' showcased a story of courageous women who single-handedly fought against miscreants. Koel, the chief guest on the occasion, said: "I thank Kolkata Police for such a fantastic initiative. I am feeling very happy about getting an opportunity to come here. I salute the women who underwent training for the last five days. I came to know that even mothers along with their daughters had come to take part in the session. In times of crisis, we need to defend ourselves without fear. Due to the fear factor, sometimes women become helpless. We need to stay fit and be prepared for any eventuality. My special congratulations to Kolkata police for such an initiative."
Emphasizing on the need to respect women, the BCCI president, Sourav Ganguly, delivered the most inspiring speech. In his address, he said that God's best creation is women and he always believed in it.
"I am used to seeing things differently. I know that the world is not perfect. And a perfect world doesn't exist. We should first give priority on giving respect and love to women. In my family out of four, I am the only man. I know how gracefully women do things. They are better than men in all respect. I always believe that mentally, morally and emotionally, women are superior to men. I think giving respect to others is the most important thing."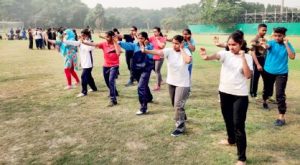 Anuj Sharma, Commissioner of Police, said: "I congratulate the participants and their parents who came with their daughters at this workshop. This year, 200 participants undertook training. I have asked the additional commissioner of police to organize more such workshops every three months so that more women get trained. I request the participants to wear the Tejashwini batch that will motivate other women around you to opt for such training.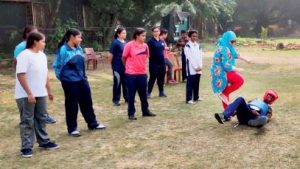 Sanchita Rakshit, a participant, who works with a private concern, shared her experience. She said, "It was a wonderful moment and an awesome feeling. I have to step out of my house in the night for buying medicines for my parents. To avoid any untoward incident, I came for the training. This has helped me get confidence. Trainers were quite good. They took pains to teach us combat techniques. I will keep practising the martial art and kick-boxing."
Shaista Anwar, who works as an assistant accountant in a firm. Said, "More often I see news of crime against women. So I decided to take self-defence training to protect myself in such a situation. The five-day course has been very useful and my confidence level has increased manifold after the workshop. Special thanks to Kolkata police for taking such a project for the women."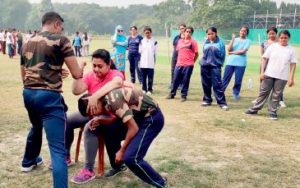 Ujjal Kumar Ghosh, the senior faculty member of Netaji Subhash Open University, came along with his wife and daughter on all five days. He said, "My job profile often keeps me out of Kolkata. My wife goes out to bring my 10-year-old-daughter from tuition to home between 10 and11pm. So she decided to take such training at the workshop along with my daughter. I brought both for the training so that they can protect themselves even in my absence. It is a great initiative on part of Kolkata police."
By Mohammad Asif