Bhandup Police have arrested a man who murdered a 70-year-old man in Bhandup so he can satisfy his girlfriend's desire for expensive things. His girlfriend has also been arrested. The accused is identified as Imran Munne Malik (26). His girlfriend's name is Deepali Raut (36). After 40 days of thorough investigation, the police team was able to finally solve the crime, said Prashant Kadam, Deputy Commissioner, Zone 7.
According to the police, Ratanlal Mohanlal Jain (70) was living alone in the Fugawala compound area on Quarry Road, Bhandup West. His body was found in a pool of blood on April 15, 2021, at his residence. Upon receiving the information, a team from Bhandup Police immediately rushed to the spot. The police (G. R. No. 136/2021) filed a case against the unknown accused under Sections 302, 394, 397 and 452 of the Indian Penal Code. Police teams were deployed to investigate the crime. Leading the investigation was Sham Shinde, Senior Inspector of Police, Bhandup Police Station.
Investigative police teams questioned 250 families, more than 500 citizens, money launderers, and vehicle owners, relatives of the deceased, 98 jewellers and mango sellers of the locality and also checked more than 300 CCTV footages. During the investigation, police received information that a person named Imran, who lives in the same area, was missing after the crime had taken place. According to the police, when they started searching for Imran, they found out that he had gone to his native place in Uttar Pradesh. Accordingly, the investigation team immediately left for UP. The police set a trap and caught him.
Imran is a native of UP and was living on rent in the same area as the victim. He was working in a salon. He knew that Ratanlal Jain provided money on interest. Imran's landlady took money from him and asked him to pay the rent directly to Jain. This was how Imran became acquainted with Jain.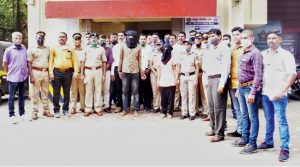 Meanwhile, Imran's girlfriend started arguing over money. She wanted Imran to buy expensive gifts for her. As usual, on April 15, the two argued over money. Imran hatched a plan and decided to rob Jain so he can keep his girlfriend happy. He went to Jain's house, and on the pretext that he wanted something from the kitchen so Jain would go there to fetch it, he started to search for money in the other room. However, Jain did not linger very long in the kitchen. As soon as he came out of the kitchen, Imran stabbed him in the neck. Jain fell to the ground, and Imran fled with jewellery worth Rs 3.5 lakh from the house.
He rushed home and related the incident to his beloved Deepali. She warned him that she would tell the truth to the police if they came looking for him. Fearing arrest, Imran escaped to his village to hide from the cops.
"While interrogating the accused, the police found out that two years ago, Deepali had lodged a complaint at the Bhandup Police Station against Imran for cheating and dishonesty," said Deputy Commissioner Prashant Kadam.
The case was investigated under the guidance of Additional Commissioner of Police, Eastern Regional Division Darade, Deputy Commissioner of Police, Circle 7 – Prashant Kadam, Assistant Commissioner of Police, Bhandup Division – Dhakne, Senior Inspector of Police, Bhandup Police Station – Sham Shinde, Inspector of Police, Unhavane, Inspector of Police, Gopale. Mulund Police Thane, Assistant Inspector of Police Suryakant Partkar (Bhandup Police Thane), Assistant Inspector of Police – Babasaheb Dukle (Parksite), Assistant Inspector of Police Sunil Jatak, Kanjurmarg Sub-Inspector – Dinesh Bagul, Umesh Shinde, Sharad Bagal, Ravikant Nandanwar (Bhandup), Police Deputy Inspector Amit Yadav (Pantnagar) as well as Arak Malvankar, Arak Madhav, Police Officers Sunil Pawar, Nagesh Darekar, Dhanraj Awhad, Dinesh Patil, Sandeep Lubal, Anil Wagh, Minanath Kasar, Nitin Patil, Sachin Ganjale, Anand Mankar, Suyarkant Shetty, Dheeraj Garud, Rohidas Pawar, Prakash Gondhali, Balu Koli, Nathu Kachare, Umakant Patil, Lalsingh Rathod, Kiran Nikam, Ranjit Thakur, Santosh Rathod, Pravin Khare and Ninad Jadhav.