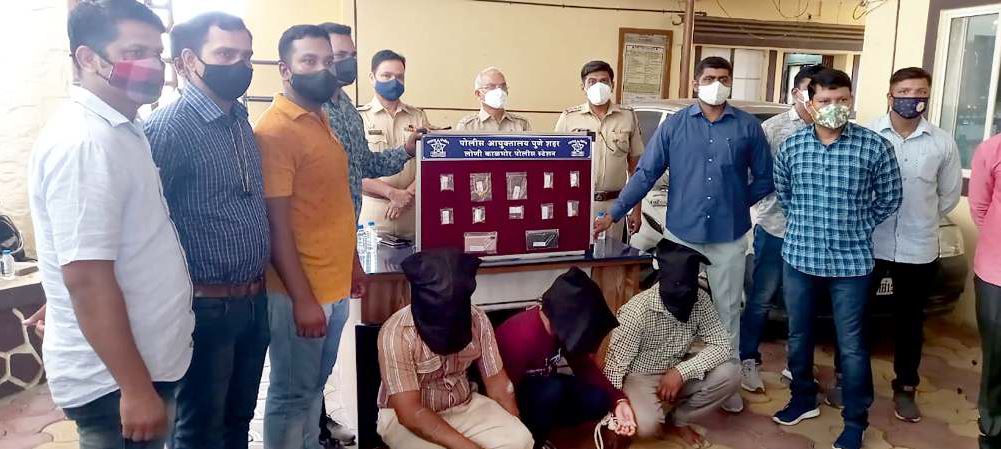 To minimise the increasing crime under their jurisdiction, Pune Police have been on the warpath tracking down wanted accused, arrest them and put them behind bars. In one such case, the Lonikarbor Police Station arrested a wanted criminal as per a tip received by police officers Amit Salunkhe, Bajirao Deer and Nikhil Pawar. As a result of this action, six cases filed in Lonikarbor and Hadapsar Police Stations have been solved and property worth Rs 6,50,000 has been confiscated. The accused has been remanded to police custody by the court. Further offences are likely to be uncovered, police said.
According to the police, Pune Police Commissioner Amitabh Gupta, along with Assistant Commissioner of Police, Dr. Ravindra Shiswe, issued an order to take action against criminals in Pune City indulging in illegal trades as well as criminals who commit crimes against local bodies, creating fear and panic among the people. Accordingly, a team from Lonikarbhor Police Station started investigating the cases. During the investigation, Police Naik Amit Salunkhe, Police Officers Bajirao Deer and Nikhil Pawar were informed about the accused. While investigating the case, the officers received a tip-off about the accused's whereabouts. Immediately, a team under the leadership of Rajendra Mokashi, Senior Inspector of Police, and Ranu Mahanor, ASI, ordered the officers to take action. "A trap was set between Handewadi and Uruli. The accused were on a bike when the cops traced them. The police warned them to stop. However, when they saw the police, they fled from the spot. Our officers chased the accused and caught hold of him," said Senior Police Inspector, Rajendra Mokashi. 
While interrogating the accused – Jaisingh Kalusingh Juni(28), a resident of Survey No. 86, Birajdar Nagar, Vaidwadi, Hadapsar, Pune; Somnath Namdev Gharule(24), and Ballusingh Prabhusingh Tak (24), a resident of Survey No. 110, Ramtekdi, Pune, confessed to all the crimes," Rajendra added.
The accused confessed to a burglary in Mantarwadi and Handewadi area. They also confessed to snatching two mobile phones from a Santro car at Chichure while the complainant was passing by Usalidevachi village with his brother-in-law. 
With these confessions from the arrested accused, Crime No. 203/2021 Bhadanvi Section 392 and 34, along with the offences filed under G.R.No.251/2021 Bhadanvi, Sections 454, 457 and 380, G.R.No. No. 339/2021 Bhadanvi, Section 379 and No. 1679/2020 Bhadavi, Section 379, Gur.No. 331/2021 Bhadavik, Section 457 and 380 have been solved. During the investigation, a Santro car, a motorcycle, and gold jewellery worth Rs 6,50,000 were seized from the accused. Several cases have been registered against them.
Accused Jaysingh Kalusingh has been booked in 11 cases, Somnath Namdev Gharule in 4 cases, and Ballusingh Prabhusingh Tak in 63 cases respectively. 
The following offences have been uncovered:
Lonikarbor Police Station, G.R. No.251/2021, Section 454,457 and 380
Lonikarbor Police Station, G.R.No. 273/2021, Section 392 and 34
Hadapsar Police Station, G.R. No. 339/2021, Section 379
Hadapsar Police Station, G.R. No. 1679/2020, Section 379
Hadapsar Police Station, G.R. No. 331/2021, Section 457 and 380