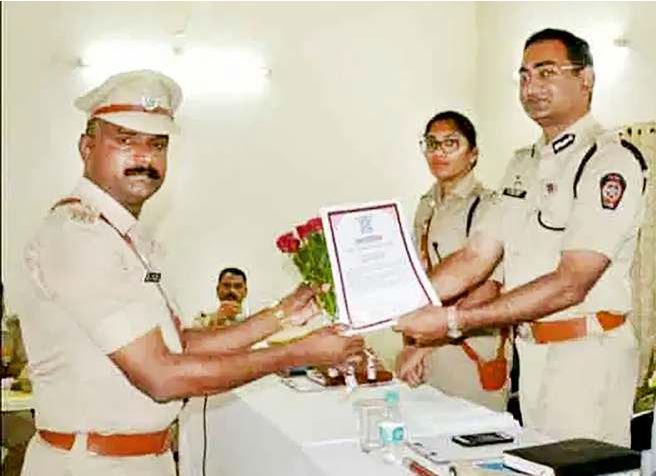 A gang accused of burglary and motorcycle theft has been arrested. The action was taken by the Hadapsar Police. As a result of this action, seven crimes in Hadapsar, Wanwadi and Kondhwa areas have been solved. Lakhs of rupees were seized during the operation, police said.
According to the information, Rs 4,68,400 worth of gold and mobile phones, LCD TV, etc., were stolen from complainants in Hadapsar, Wanwadi and Kondhwa areas.
A case was registered in a high-profile society – Magarpatta – which has tight security. The accuser's faces were unidentifiable on the CCTV. But from the footage, it is seen that they had used a red Passion Pro motorcycle. The Hadapsar Police, Thane, started investigating the case.
On 18/05/2021, at around 6:15 am, there was a burglary at another housing society – Bhosle Garden. Three unidentified persons tried to pull a chain from the neck of a woman who was on a morning walk, but due to her alertness, their attempt was unsuccessful. That same morning, robbers had broken the glass of a tempo on BT Kawade Road, which is within the jurisdiction of Wanwadi Police Station. They attacked the driver with a scythe and stole his mobile and cash. Footage from the scene revealed that the three accused came on a red Passion Pro motorcycle. Hadapsar Police appealed to the residents to come forward and report if they see any suspicious persons or activities so they can solve these three serious crimes. These three incidents which took place in two days had rattled the citizens and created an atmosphere of terror in them. They were living in fear of being killed in broad daylight.
Accordingly, three police squads were appointed to investigate the cases. While searching for the accused, Police Constable Shahid Sheikh and Shashikant Nale, attached to the investigation team, received a tip-off that the suspects were about to commit another theft under their jurisdiction. The police laid out a trap for them. The three suspects were seen approaching a newly-constructed MHADA building situated on the main road. "They were identified by the investigating police officers who tried to stop them. They sped on their motorcycle. The police squad chased and caught them near the New English School. After questioning them and asking for their names and addresses, the culprits identified themselves as Abhijeet alias Dadya Ashok Randive (21), a resident of Mhada Colony, Hadapsar, Pune, Satish Annaji Kedale (32), a resident of Mhada Colony, Hadapsar, Pune, and Noel Elaine Shaban (20), a resident of Koregaon Park, Pune. After that, the three suspects were taken to Hadapsar Police Station in Thane for further investigation.
The culprits' modus operandi was to loot tempos, truck drivers and people who go for their walk in the early hours of the morning in Thane. In the process of robbing them, they would inflict injury on the victims. The culprits confessed to robbing mobile phones and cash from them. They also owned up to a burglary at two places in the Old Mhada area within the jurisdiction of Hadapsar Police Station. A total of 24 stolen mobile phones were seized from the three accused. Further investigation is underway.
Seven Cases Solved With Their Arrest
"The following offences have been revealed by all the three suspects during the investigation. Hadapsar Police Station G.R. No. 365/2021 I.D.V. 393.34 with the Indian Arms Act, Section 4,25, Hadapsar Police Station G.R. No. 368/2021, 454,457,380, Wanwadi Police Station G.R. No. 166/2021, Sections 394,341,427,504,506 of the IPC and Indian Arms Act Section 4, 25, Kondhwa Police Station G.R. No. 375/2021, IPC Sections 392, 341, 34, Koregaon Park Police Station 102/2021, IPC Section 379 from the above accused amounting to Rs. 4,68,400 of gold jewellery, expensive mobile phones, motorcycles, LCD TVs and other items were seized," said Assistant Inspector Hanumant Gaikwad who is investigating the case.