Police Naik Rehana Sheikh (Bagwan) honoured for raising the image of Mumbai Police. The Commissioner of Police, Mumbai, Hemant Nagarale, and Joint Commissioner of Police, Vishwas Nangre Patil, have expressed and appreciated her generosity and compassion.
Over the past few decades, policing and police officers have changed. Policing used to lean heavily on physical attributes such as height, weight and brute strength. Over time, attributes that we thought would make a good police officer have shifted. The job still requires a high level of physical fitness; however, what is pivotal now is conscientiousness, excellent interpersonal problem-solving and conflict-resolution skills.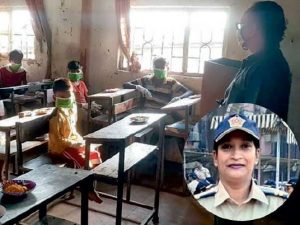 During the fight with the deadly virus, policewomen did a remarkable job of going beyond duty and social consciousness. This is a small attempt to honour and extol female power through our magazine. We feel it is of utmost importance that due recognition is bestowed on policewomen as they have remained deeply committed and have contributed to society in many ways.
The police are often criticised by the public. This is due to some rogue elements within the system. Let us keep in mind that the entire Force should not be painted with the same brush. Many raise the standard and image of the Force by their humble and helpful gestures.
The country was hit by COVID-19 a year and a half ago. During this crisis, all officers and employees of the Mumbai Police Force were on call 24×7. The entire police force performed admirable duties, while several went beyond their duty to protect humanity. The most notable among these is Police Naik Rehana Nasir Sheikh Bagwan (Buckle No. 00549).
Rehana Sheikh Bagwan was on duty at the Naigaon Armed Police Department when she contracted the virus. After overcoming it, she rejoined her duty. Her daughter's birthday was at the doorstep so she decided to distribute sweets to Dyanai Secondary School in Panvel's Dhamani area. As she went through the photographs that were taken at the school, she saw the unspeakable joy on the children's faces. She knew she had to do more. Her decision was confirmed when some of the children called to thank her. She decided to adopt 50 students of that school and fund their education till SSC.
"The school is not recognised by the State, but due to the strong will of the students to learn, it is doing well. I have decided to pay for their education and stationery expenses," said a visibly moved Rehana.
Rehana Sheikh Bhagwan also made a significant contribution towards the treatment of COVID-19 by donating her plasma to her colleagues and citizens who were infected by the virus. As a result, many got a new lease of life today.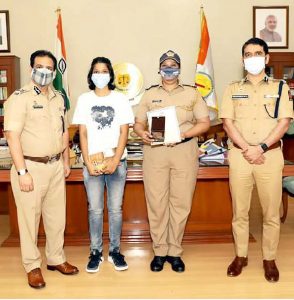 Commissioner of Police Mumbai City, Hemant Nagarale and Joint Commissioner of Police (Law and Order) Vishwas Nangre Patil took note of the compassion shown by Rehana Sheikh Bagwan during the corona crisis. The CP felicitated her at the Mumbai Police Commissioner's office with a certificate and memento. Vishwas Nangre-Patil said that her generous acts have further enhanced the image of the police department.
Meanwhile, Vishwas Nangre-Patil also lauded Namra, Rehana Sheikh's daughter, and bestowed his best wishes for her studies. He also presented her with a copy of his famous book, 'Kar Har Maidan Fateh'.
Rehana and her husband, Police Naik Nasir Sharfuddin Sheikh, are in the same profession. They are passionate about public service. They lead an extremely disciplined life and have passed on this same virtue and impeccable manners to their daughter, Namra, and son Rehan.
It is noteworthy to mention that Rehana's father, Abdul Nabi Bagwan, was a former policeman with the Mumbai Police. He retired as a Sub-Inspector of Police.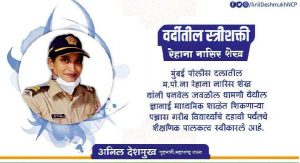 "Women in the Maharashtra Police Force are maintaining their commitment to the society in many ways. I am making a small effort to give a platform to recognise and highlight the important role they play in the Force. Police Naik Rehana Nasir Sheikh adopted 50 students studying at Jnanai Madhyamik Vidyalaya at Dhamani, near Panvel. I am proud to be leading the Force and have individuals like Rehana Sheikh who goes beyond her call of duty to help others and create social awareness," quoted the then Home Minister of Maharashtra, Shri Anil Deshmukh.
Our Correspondent