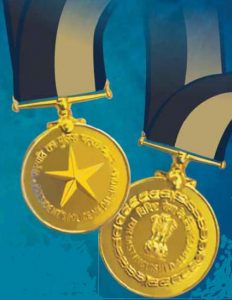 In a special award ceremony held at DGP office at Colaba, fourty two policemen from Maharashtra were felicitated with the prestigious President's Police Medal (PPM) on the Republic day for their distinguished and meritorious services. The awards were announced by the Ministry of Home Affairs for police personnel across the country. The prestigious event was graced by the Commissioner of Police – Mumbai; Director General of Police – Maharashtra and Hon. Governor of Maharashtra – Shri. Vidyasagar Rao.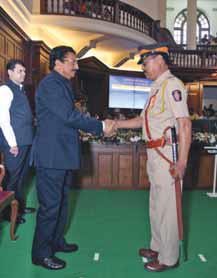 Additional Director General of Police -V.V. Lakshmi Narayana, Mumbai; Mahadeo Shripati Gawade – Deputy Superintendent of Police, Chiplun Division (Ratnagiri) and Shivappa Irappa Morti, Assistant Police Sub-Inspector – Hatkanangale police station, Kolhapur were the recipients of President's Police Medal for distinguished services from the state.
Among those who will receive Police Medal for meritorious services are Sanjay Shamrao Nikam, Deputy Superintendent of Police, Anti-Corruption Bureau, Mumbai; Kalyan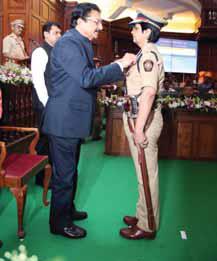 Mahadev Ghodke, Assistant Sub-Inspector, Police Head Quarters, Beed and Prakash Manohar Nalawade, Assistant Police Inspector, State Intelligence Department, Mumbai.
Seema Deepak Mehendale, Inspector, Police Control Room, Pune City is the only woman in the state to receive the PPM for meritorious service.
Rest of the country
While Jammu & Kashmir has the highest number of recipients at 32 for the Police Medal for Gallantry, Uttar Pradesh has garnered around 72 medals for meritorious services, followed by 39 in Maharashtra.
A total of 777 police personnel across the country will receive the PPMs—597 for meritorious services, 85 per cent of the awards have been bagged by lower rank police officials like Constables, Assistant Sub-Inspectors and Sub-Inspectors.
Eighty PPMs for distinguished services have been conferred on police personnel of Constable and Sub-Inspector ranks. The Police Medal for Gallantry will be bestowed posthumously on ten police personnel from Assam, Chhattisgarh, Jharkhand, Border Security Force, Central Reserve Police Force and Sahastra Seema Bal (Armed Border Force).
President's Police Medal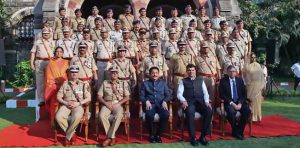 The PPM is a decoration awarded to members of law enforcement in India. Established on March 1, 1951, the medal was originally called the President's Police and Fire Service Medal. The medal is awarded for either gallantry or distinguished services, with the gallantry version of the medal being accorded precedence. The medal is awarded annually on Republic Day and Independence Day.
by Mohit Naik