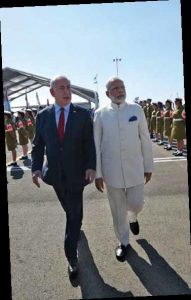 Dear Mr. Modi, I Love You
A meeting in Jerusalem with 26/11 survivor Moshe Holtzberg- "Baby Moshe" to millions of Indians- was a heart-warming interlude in Prime Minister Narendra Modi's strategically important visit to Israel.
"Namaste, aapka swagat hai hamare desh mein (welcome to our country)," Moshe said, reading out a short and emotional message for PM Modi. The Prime Minister kept his arm around Moshe as he talked briefly about India, his parents, his wishes and declared, "Dear Mr. Modi, I love you and your people in India."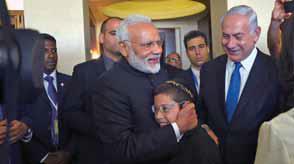 The 11 year old Moshe lives with his grandparents in Afula, around 90 km from Jerusalem. "Baby Moshe" to millions in India who were moved by his story of loss and survival – was "excited and emotional" about the meeting with PM Modi, his grandparents said. He lost both his parents in the Mumbai terror attacks on November 26, 2008, shortly before his second birthday. Rabbi Gavriel and Rivka Holtzberg were directors of the Chabad House, popular as Nariman House, one of the sites of the 26/11 terror attack in which 164 were killed. As terrorists stormed into the Chabad House, Moshe's nanny Sandra Samuels grabbed him and hid him in a room. She had heard Moshe's cries and found him standing between his parents' bodies. Samuels, who was given honorary citizenship by Israel, works in Jerusalem and meets the family on weekends.
"I love to play, I try to be a good student… Please continue to love me, always remember my parents. I hope I will be able to visit Mumbai. When I live there, I will be the director of Chabad house." Moshe said.
PM Modi, holding him close, assured, "Anytime you can come to India. Anytime you can go…"
Ambulance Sirens To Get Louder
Ambulances in the state had siren audibility of about 65-75 decibels until now. Due to low audibility, traffic police sometimes couldn't hear the siren and therefore there was a demand to raise the levels to 110 to 120 decibels so that vehicles can make their way through the congested roads. With the modification in laws, ambulances at considerable distance from signals become more audible to the traffic police. The decision to get louder sirens in ambulances was being discussed by the Maharashtra government for the past couple of months, but activists and ENT specialists had been raising concerns over the possible health hazards the decision would pose.
Yuva Sena chief Aaditya Thackeray confirmed Maharashtra government's notification allowing the maximum volume of ambulance sirens to be 120 decibel. "This is to ensure that traffic police at signals are able to hear the sirens. I had observed that often traffic police were not able to hear ambulance sirens if the vehicles were at a distance from the signal. This move will ensure that the sound of the siren reaches the signal," he added. The state environment department issued a notification announcing an increase in the permitted decibel limit for ambulances and other emergency services from 75 db to 120 db. The change would mean that an ambulance siren at 120 db would be louder than the clanging of cymbals played in festival processions, which measure between 110 and 115 db.
The decision was made after Yuva Sena chief Aaditya Thackeray's request to state Environment Minister Ramdas Kadam that decibel level of ambulance sirens in the city be brought on par with ambulance sirens in London and New York. "These foreign cities have ambulance sirens with higher decibel levels than our ambulance sirens, so that they can be heard in crowded traffic areas, even from a distance. If our ambulance sirens are louder, they will become audible even at signals at busy junctions, benefiting people," Thackeray had said in his letter to Kadam. In the notification, the state environment department has reasoned that the standard for siren noise levels on ambulances and other emergency vehicles is not mentioned in the Noise Pollution (Regulation and Control) Rules, 2000. Also, the noise limits for sirens fitted on ambulances are in the range of 110 db to 120 db.
Cyber-Crimes Against Children Can Now Be Reported At The POCSO E-Box
Child victims of cyber-crimes can now lodge their complaints at National Commission for Protection of Child Rights (NCPCR)'s POCSO e-box. Considering the growing menace of cyber crimes targeting children, NCPCR has now enhanced the scope of POCSO e-box to handle cyber bullying, cyber stalking, morphing of images and child pornography. Child victims themselves or their friends, parents, relatives or guardians can report cyber crimes by pressing the e-box button available at the Commission's website, www.ncpcr.gov.in. They can also register their complaints on email id: pocsoebox-ncpcr@gov.in or mobile no: 9868235077.
Child abuse is finding new forms and channels through mobile and digital technologies. In India about 134 million children have access to mobile phones and the number is growing very fast with even faster access to internet. While this provides opportunities for accessing useful material for learning purposes, lack of digital literacy and online safety measures expose children to hazards of cyber-crime. POCSO e-box is an easy and direct medium for reporting of child sexual abuse under the Protection of Children from Sexual Offences (POCSO) Act, 2012. Developed by NCPCR, POCSO e-box was launched by Minister of Women and Child Development, Smt. Maneka Sanjay Gandhi last year.
Mock Interrogation Sessions To Understand Radicalized Youths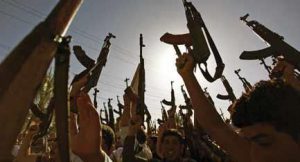 It has been observed that youngsters tend to get drawn towards radical ideology. In an effort to counter this trend and prevent youth from getting drawn towards terror organizations, senior officials of the Maharashtra police anti-terror wing are holding mock interrogation sessions to understand the psyche of youngsters better so that they can be counseled more effectively to keep away from the path of violence. Recently, two senior IPS officers conducted a series of mock interrogation sessions where one played the cop while the other played the role of a radicalized 19-year-old youth. The purpose was to help the police deal with radicalized youths by understanding their psyche and preparing a ready reckoner to tackle them. "We wanted to understand how youngsters are radicalized, what attracts them to the terror fold, why they feel the need to fight or take up a cause that doesn't seem to have an immediate connect with them. So we decided to do a role play where in one of us played the cop and the other a radicalized youth. The exercise was conducted with the purpose of finding answers to help us brief our men on how to handle such kids. A need has been felt to understand their vulnerability and tackle them with hard facts so that instead of terror outfits, the police create a deeper impact on their impressionable minds. The purpose is to make them give up this path and convince them not to follow propaganda and risk their lives," revealed a senior official.
"If for example—a youth says 'we need to fight to save our women who are being raped'. We will show him actual crime figures that reveal the true picture that women across various religious groups are victims of sexual violence. Also, in most cases, the accused are known to them," said the senior official while speaking on the action plan. Terror outfits use propaganda to push their ideology, our aim is to ensure that we crush the same and use hard facts to vindicate our stand and create an impact," added the official.
This exercise by the Maharashtra Anti-Terrorism Squad (ATS) is part of a larger deradicalisation initiative undertaken by the state home department headed by chief minister Devendra Fadnavis. After assuming power in October 2014, the BJP government had prepared a comprehensive anti-terrorism policy with a special emphasis on deradicalistaion. The policy, which has stakeholders from various ministries, still continues to be a "workin progress."
The police are also using the social media to counter radicalisation. The state counter terrorism agency recently released a video on social media. The video shows ATS cops tracking a youngster who is otherwise hailed by his parents to be a brilliant mind but falls prey to online radicalisation. The cops from ATS, Maharashtra confront the parents with this harsh reality by showing them his online footprints. The police plan to release more such videos over the next few months. "If the terror outfits can use social media to spread their ideology, we can make better use of them by creating awareness and sensitising the youth. The videos are hard-hitting with the intent to both sensitise and send a strong message that they won't be dealt with kid gloves, if they cross the line. These videos will be soon screened in cinema halls and community gatherings to reach maximum number of people. While the videos are first in the action plan chalked out by the state counter-terrorism agency, its next step would be to reach out to youngsters. The cops will be visiting colleges and schools across Maharashtra where these videos will be screened and discussions on radicalisation will be held. All these activities will enable dialogue with youngsters. Like the metropolises, the hinterlands have witnessed several cases of youth being drawn to terrorism. More lectures and seminars will be held in such pockets to sensitise the youth," added the official.
Emotional Intelligence Course For Police Personnel
Policemen are often criticized for being insensitive in dealing with unruly situation or crowds. The action of the police in a given situation may be legally appropriate, but lacking in emotional understanding. As a result, the image of the police becomes negative in the eyes of the public. The Maharashtra police has therefore designed a course on 'emotional intelligence' for police personnel. The course has been designed to enhance the service delivery of police to the public, improve the decision-making ability and to build their confidence level. Maharashtra police is the first in the country to formally introduce a course in emotional intelligence in its training curriculum, thereby making it integral to the ethos of the state police. The practice will serve as a yardstick for other states too to emulate. To begin with, a select group of 50 officers from the state police have been trained in Emotional Intelligence. The group will go to various units and impart training in the course to policemen and officers across Maharashtra. As of now, the group has trained around 800 officers and 2,500 police personnel. The course has been introduced in the police training schools and academy from this year. The course will help police personnel and officers in their professional as well as personal life.
Dubai Recruits World's First Robot Police Officer
Dubai will now have a robot patrolling the city streets as a police officer. The world's first operational robot police officer was officially inducted into the Dubai police force at the 4th Gulf Information Security Expo and Conference (GISEC). This robot– or as it is known, the robocop– is around 5-foot tall and weighs around 100kg. It can not only identify hand gestures from a distance of up to 1.5 metres, but can also detect people's emotions and facial expressions. In other words, the robocop can tell when you are happy, sad or even smiling, and will itself respond accordingly "to put people at ease". The robocop comes with other special features, such as its facial recognition software with which it can identify offenders. With this tool, the robocop can also broadcast live video feeds to the police command room. With an aim to assist and help people in the malls or on the streets, the robocop is the latest smart addition to the force and has been designed to help fight crime, keep the city safe and improve happiness levels.
Maharashtra Police To Get Kits To Detect Beef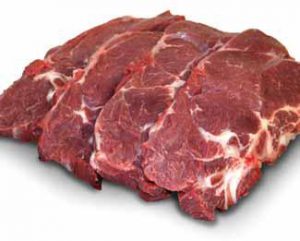 A Maharashtra forensic laboratory will develop and provide kits to the state police to detect beef. The kits will be able to detect meat proteins in a sample and provide test results within half an hour. The move comes amid controversy over beef ban and lynchings by cow vigilantes across the country. If the test results are positive that a particular sample is cow meat, it will then be sent for further forensic testing for confirmation through DNA process," said Deputy Director K Y Kulkarni of the premier Forensics Science Laboratory at Kalina in Mumbai. The lab will design and develop these portable kits, each expected to cost around Rs. 8,000, for the police forces. To begin with a total of 45 such kits are likely to be given to Mumbai police in August. Each kit would be capable of testing 100 samples of meat and confirm if it is cow meat or meat of any other animal. Regular DNA test cost around Rs. 750 per sample, these test kits will save all time, money and efforts. For instance, since police will be able to confirm within 30 minutes if seized meat is of cow, they would not be required to make arrests and seizures. The kits are available only in Mumbai, Pune, and Nagpur, and would soon be extended to Nashik and Aurangabad. For the past over two years, Maharashtra has implemented a total ban on beef, including slaughter of cows, bulls, and bullocks, in the state under the Maharashtra Animal Preservation (Amendment) Act, 1976.