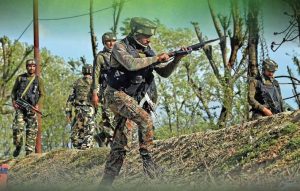 In an appalling incident 25 CRPF jawans were killed and six wounded after a Maoist attack on security forces in Sukma district of Chhattisgarh. According to sources, 100-strong CRPF men who were on a patrol duty to provide security for road construction work, came under the attack of fierce gunfire from Maoist guerrillas who were occupying strategic positions. Maoists mounted the assault around 12:25pm on April 24, in Kalapathar area of south Bastar region, one of the worst-hit by left-wing extremism in the country.
A press briefing by a CRPF officer said "We have lost 25 men and we have still to account for all personnel. About 7-8 boys are still missing. The last word on the encounter will come once the entire area has been searched and all the troops contacted. The patrolling party consisted of 99 personnel. An injured jawan was brought to a hospital in Raipur. Around 300 Maoist guerrillas had attacked the patrol. All the members of the patrol belonged to the 74th Battalion of the CRPF. The attackers had colluded with the villagers to check our position. Some women naxals were also party to this attack. They were all in black uniforms and had sophisticated weapons like the AK series assault rifles" The wounded troopers, who were airlifted and hospitalized, were identified as Assistant Sub-Inspector R.P. Hembram and Constables Swaroop Kumar, Mohinder Singh, Jitendra Kumar, Sher Mohammed and Latoo Oraon. Prime Minister Narendra Modi condemned the attack calling it 'cowardly' and 'deplorable'. "The sacrifice of the martyrs will not go in vain. Condolences to their families," the PM said.
Past Incidents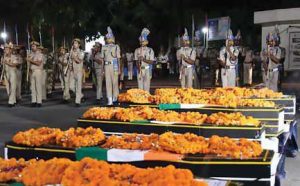 In a similar incident, twelve CRPF personnel were killed on March 10 and their arms looted when naxals ambushed their patrol party. Four personnel were also injured in the naxal attack and two of them were stated to be critical. According to a press report, the incident occurred in the dense forests near Kottacheru village under Bhejji police station, around 450 kms from the state capital at 9:15 AM when 112 CRPF personnel of 219th battalion were out for a road opening task. The Bhejji area in south Bastar region of the state is notorious for naxal attacks and many security personnel have been killed here in the past.
While briefing to press, CRPF DG Sudeep Lakhtakia, said "The troops were part of the road clearing party that was securing an under-construction road between Bhejji and Kottacheru. They were ambushed by naxals who set off multiple hidden IEDs on the ground and opened fire. The squad effectively retaliated, however twelve CRPF men lost their lives. The naxals also looted ten weapons like INSAS and AK series assault rifles and two radiosets from the slain men." "Maoists are trying to disrupt normal life and activities in this area as the Central Reserve Police Force has increased its presence here and re-opened a local 'haat' (market) last year, after it was forcibly shut by the red ultras."
List of Martyrs