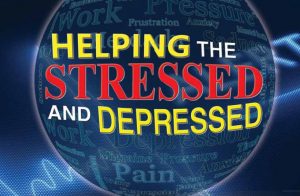 Youths are the future of our country. It is important therefore that their activities are monitored so that they do not stray and get into wrong habits. However, with internet and social media being used so extensively, they have become addictive especially among younger generation and the negative influences almost outweigh the positives. We become part of social networks in virtual world but in reality it is only making us lonely. Stress seems to be afflicting the youth in a big way and they are becoming victims of depression.
If statistics are to be believed, most of the youth in the age group of 18-30 are depressed. They need care because it is not a normal situation. Depression is more than just a feeling of being upset or sad. It drains your energies completely. Research on the subject show that on an average one out of twenty persons suffer from depression at some point of time in their life. Depression is more common among post-partum mothers, adolescents and elderly population.
In view of this situation, the Maharashtra state police force is trying to do its bit through social media. The state cops have started a campaign called. "We Are Listening on Twitter through which the local citizens who feel lonely can reach out to them and share their innermost fears". Share your problems with your loved ones and if not – talk to us; Value your life, it is very precious; End your isolation, sharing will give you the solution, are some of the tweets that seem to have struck the right chord with the youth.
"Depression can creep in at any age, but it is more common during adult years. Nowadays, however children and adolescents are becoming victims too. It manifests itself more prominently as irritability than low mood. Many chronic mood and anxiety disorders in adults begin as high levels of anxiety in children. Through this campaign, we have asked people to reach us and share their problems. This is an attempt from our side to help people in battling with depression," said a police officer attached to Mumbai police.
"This is a great move by Mumbai police, depression and stress are becoming common in the younger generation and many college students have committed suicide due to this. The efforts of Mumbai police are commendable and we salute our cops," said Vijay Shinde retired bank officer. "Stress and depression is a topic of concern and Mumbai police is all set to deal with it. People should communicate with the cops and sort out their problems," said Pratik Mishra.
"Recently, an engineering student committed suicide by jumping off from the 11th floor of Taj Lands' End hotel in Mumbai. Apparently, he was in trauma due to some family problems and studies. Stress and depression are issues that need to be addressed. We thank Mumbai police for this initiative," said Sagar Ringe, employee at Mahindra.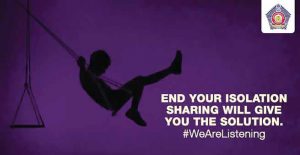 "In the past couple of years several incidents of suicide have come to light. We have started a short campaign called # We Are Listening on Twitter and other social media forums where one can call control room and share their problems with police personnel. Our officers would be happy to connect with the citizens of our states," said a police officer attached to Mumbai police. The identity of the caller will not be disclosed, he/she can tell us their problem and our officers would be happy to guide them, he added.
Signs and Symptoms of Depression
If you have been experiencing some of the following signs and symptoms most of the day, nearly every day, for at least two weeks, you may be suffering from depression:
Persistent sad, anxious, or "empty" mood.
Feelings of hopelessness, pessimism or irritability.
Feelings of guilt, worthlessness, or helplessness.
Loss of interest or pleasure in hobbies and activities.
Decreased energy or fatigue.
Moving or talking slowly.
Feeling restless or having trouble sitting still.
Difficulty in concentrating, remembering, making decisions, sleeping, oversleeping or getting up early. Appetite and/or weight changes.
Suicide attempt or suicidal thoughts.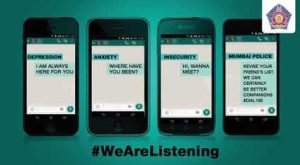 Aches, cramps, or digestive problems without a clear physical cause and/or that do not ease even with treatment. Not every one who is depressed experiences all the symptoms. Some people experience only a few symptoms while others may experience several. Some persistent symptoms in addition to low mood are important to detect major depression, but people with only a few but distressing symptoms may benefit from treatment of their "subsyndromal" depression. The severity and frequency of symptoms differ. Symptoms may also vary depending on the stage of the illness.
"The best solution for depression and stress is to open up, talk and share your problems. Talk therapy or medications are some of the options to get out of this condition. We appeal to the parents to talk to their kids as it will help in boosting their morale and if you are hesitant to share with your parents you can call and we will be there for you," said a high ranking officer.