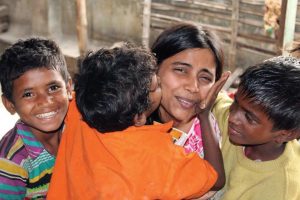 "Length of life should be measured not by the number of years but by the number of right actions." These famous words by Dutch Renaissance humanist Desiderius Erasmus gains immense importance when it comes to societal narratives and responsibilities. Kolkata boasts of many a Samaritan, several of whom we know while the others work selflessly to bring about a change in the lives of others. The protector of the down trodden and the needy, such individuals bring in a different meaning to life and perspective!
Kolkata has a beautiful name. It is known for its warmth, amicability, super-superior affection and a dotting humane angle. Individuals who make a difference and bring about all these are our silent harbingers of a mission of good life.
Some of them are known faces while others work backstage.
Sufia Khatoon is one such wonder-girl who has made it her life's goal to be besides those who have no one to call them their own.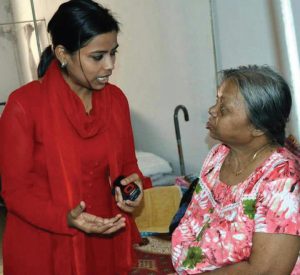 In her mid-twenties, Sufia began her journey with few of her friends with the slum kids of Kalighat and Elgin Road. With minimum resource and little help, she took an innovative route to reach out to the young minds. Musical lessons and sanitation— she opted for diametrically opposite aspects and instantly got tremendous response from those affected families. Although Sufia comes from a business family, she earns on her own to fund her dream of reaching out to the poorest of the poor in society. Recently, she has launched "Lead the Way" programme where a group of volunteers conduct workshops on art, self defense, sanitation, hygiene, computer training, spoken English. Sufia has also donated two computers to Ashiyana home recently along with books and school supplies for kids.
Many slum kids from Kalighat– Hazra call Sufia the "original Santa". One very December 24 night, Sufia gives food and blankets to 500 people on the streets. In the beginning it was her solo effort and now, many of her friends, well-wishers have joined this noble mission. And 'Santa on the way' has become a regular event and little kids keenly wait for 'his' arrival. Interestingly, the bulk of the fund is organized by Sufia herself.
Coming from a locality where first generation education has been a norm, Sufia has been a true inspiration for many. At Tiljala, where she stays, most of the children are enrolled in schools and people are much aware of the need of education. In her journey, Sufia has enjoyed a lot of support from both her parents. According to Sufia, "With every initiative the first hurdle is getting people together to work for a projector contribute in kind or volunteer. I have to keep talking to everyone. This happens because people are working professionals or businessmen or students and they have prior commitments, so I act as the link for them to get support to reach out to the right places. There is a belief every time that it will workout, people will connect and I can support the lesser fortunate— one person at a time."
Sufia has already made her name as an author and a poet who can speak and write with ease in five languages. Side by side, she has been curating events where she is making all possible efforts to give ample exposure to the slum kids. In fact, whatever she earns, she spends it for them.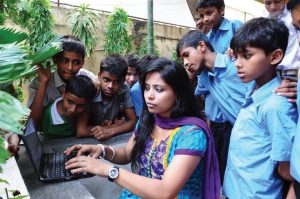 At present, Sufia is working on Build-a-Book library project. While looking after so many kids in the last five years, she has seen realized that only true education can uplift and enlighten the nation. Thus she expects, once her makeshift library is ready, she will be collecting books from various government and private schools, orphanages. Being an erudite writer, Sufia herself is a master storyteller.She has already penned a few books. She wants to send story books to old age homes too, so that the elderly are not deprived of their reading habits. As of now, she has been able to collect 1,400 books.
To bring about the coveted change in society, we would need more Sufia Khatoons in the near future to garner selfless support and service for the downtrodden and the needy.
Ranabir Bhattacharya