In a bid to stop the spread of the coronavirus, the Central Government has extended the lockdown it till May 3, 2020.
Maharashtra Police have over 1.8 lakh police personnel, including over 16,000 officers of Sub-Inspector rank and above. As many as 74 police personnel from Maharashtra Police have been tested positive while performing their duty. Police teams in Mumbai and Thane have been the most affected. Of the 12 officers, eight are from Mumbai Police and four from Thane Police. Of the 62 constables, 33 are Mumbai, 18 are from Thane, three from Pune, six from the State Reserve Police Force in Hingoli and two from Mumbai Railway Police. Three officers and two constables have recovered thus far.
On March 23, 2020, Chief Minister Uddhav Thackeray announced a statewide lockdown, including the closure of district and state borders. Meanwhile, the Pune City Police and Pimpri-Chinchwad Police ordered a conditional curfew till April 27, becoming the first two police jurisdictions to do so.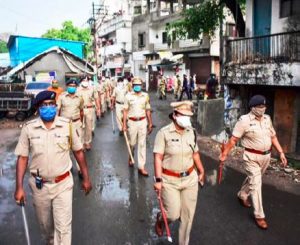 In Pune, two police personnel attached to a police station in the city have been tested positive. They are among 14 persons quarantined and tested as contacts of a police constable who, along with his wife, had tested positive earlier. An officer from the said police station admitted that to have a colleague testing positive affect everyone's morale. "We know that we are at high risk and all precautions are being taken. But when news of someone you know testing positive arrives, it does affect the morale. The safety of our families and everyone at the station becomes a constant worry. There is regular communication with the senior officers and efforts to make sure that we all keep doing our duties."
After the lockdown was implemented across Maharashtra, there have been several instances where the police have been accused of excessiveness, but the police are also bearing the brunt of attacks by citizens who are breaking lockdown orders. According to records from the Police Department, as many as 136 cases of attack on police personnel in 44 jurisdictions have been registered. Among these, two offences each have been registered in Pune and Pimpri-Chinchwad and nine have been registered in Pune rural jurisdiction. Pranay Ashok, PRO, Mumbai Police, has confirmed that all of these offences have taken place when the police were on lockdown or COVID-related duties.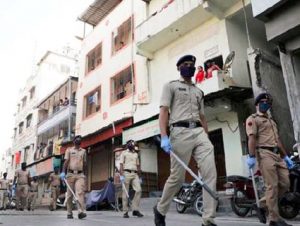 Recently, Pune Rural Police booked three vegetable vendors for allegedly manhandling cops on duty at Baramati. According to the police, the sale of fruits and vegetables by roadside vendors has been banned to prevent the spread of COVID-19. However, some vendors were found selling fruits at Bhigwan Chowk area and residents had also gathered there to buy these essentials; violating lockdown orders. When the police reached the spot, the accused allegedly manhandled them. A police team led by Inspector Audumbar Patil arrived shortly and asked the vendors to cease trading. Police Constable Popat Nale lodged a complaint at Baramati City Police Station. The accused were then booked for the assault. The accused have been identified as Bhausaheb Mande, Vaibhav Madane and Raju Bagwan.
Citizens Speak
Journalist Prakash Sharma: "Police officers and doctors are working round the clock to save us from this pandemic. We should avoid adding to their already existing problems. They are performing their duties despite the danger posed on their health. Every citizen should coordinate with them and help India win the battle against the coronavirus."
Sreeraj Nair, Senior Employee, TCS: "Try not to come out of your house unless it is extremely important. Food and grocery are made available to us by the government through an online platform; kindly make use of it. Police personnel have been to be infected while performing their duty. When you help them, you are helping society."
Aniket Belose, Employee, Janna Bank: "I am working in a bank. While travelling to work, I see police officers patrolling in such tough conditions just for our safety. We should understand and help them by not going out unless it is an emergency. They are fighting for us. Let us help them in this battle by staying at home."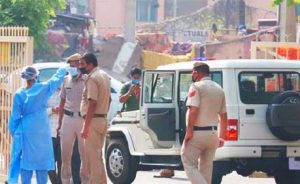 Nitesh Poojari, Journalist, Times Network: "Like all of us, policemen also have families waiting for them at home. Because of some morons roaming around and breaking the law, police officers have to take strict steps and punish such viruses of the society. More than 74 police personnel are COVID-19 positive until now. I hope this number does not increase so we can fight and win this battle against this pandemic by the end of this month."
Our Correspondent