Internationally Women's Day is celebrated globally on March 8. On this day, women are recognised for their achievements irrespective of their nationality, ethnicity, cultural, economic or political background. "Think Equal, Build Smart, Innovate for Change" was the theme for this year's celebration. The objective of the theme is to focus on innovative ways to advance gender equality and empower women, provide them protection, access to public services, and sustainable infrastructure.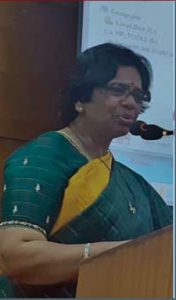 The Maharashtra State Police also celebrate this day every year marking it with a token of appreciation for the women police staff. Women police posted in every district of Maharashtra work day and night for the betterment of the society. Recognising their contribution, the Mumbai Police posted several tweets on its Twitter handle like "she works non-stop, but never gets tired," "she is fearless," "she is forgiving."
Several initiatives were launched by the Mumbai Police to mark the event. A two-minute video  featuring police officials like Sayali Talekar and Assistant Police Inspector Ashwini Koli, was also launched. The video described the inspiring qualities of women in Mumbai Police. The video led by the hashtag #NoOneLikeAWoman, soon went viral and gained popularity across Twitter and other social media platforms.
A seminar was also organised where the Chairperson of Maharashtra State Commission for Women – Vijaya Rahatkar, honoured women officers with commendable record in solving cases this year.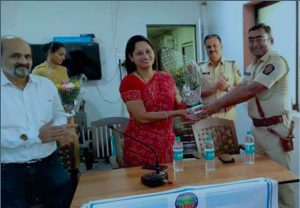 The Palghar Police celebrated the special day by giving full freedom to its female officers. A senior police officer of Palghar Police Station said, "By the orders received from the Superintendent of Police – Palghar, each and every police station give complete freedom to the female officers on duty that day. Every police station was directed to felicitate lady police officers with an exceptional achievement in detecting crime in their jurisdiction."
"A seminar was organised at a local police station with Smt. Kiran Nagavkar and Dr. Chauhan as Chief Guests. They educated the women personnel about health issues and other stress control measures. Also  present at the event were Additional Police Officer – Yogesh Chauhan, and Sub Divisional Police Officer – Vikas Naik.
Additional Police Officer – Yogesh Chauhan shared some of his experiences during his tenure in the department. He encouraged the women personnel to stand firm on their principles. He also promised to help them whenever they require his assistance.
"Female police play a vital role in the police department in all aspects of policing. It wouldn't be possible to function so efficiently without them. They play a significant role in solving cases. I heartily congratulate all the women police staff associated with the Palghar Police Department for their support," said Vikas Naik while briefing at the event.
Recap
On the occasion of International Women's Day, around 60 female police employees were given a training on Cardio Pulmonary Resuscitation (CPR) and emergency session at the Zen Multispecialty Hospital. CPR procedure is extremely vital until further measures are taken to restore spontaneous blood circulation and breathing of a patient. The main purpose of the workshop is to enable immediate help to a casualty patient while reaching him to the nearest medical facility. This helps improve the survival rate of the survivor. Blood test, body mass index and eye check-up were also conducted on these female police employees. They also underwent extensive physiotherapy sessions.
According to Dr Roy Patankar, Director – Zen Hospital, change in lifestyle, stress, and high blood pressure are factors causing heart attack. "All of us need to know at least the basic CPR. Every minute that goes by during a cardiac arrest without CPR decreases a patient's chance of survival by 10 percent. It is a fact that policing involves stress and so the police are susceptible to high BP. It is therefore important that they are educated about high blood pressure," added Dr Patankar.
"Women in the police department are well-educated so women complainants feel comfortable in sharing their problems with them. The number of female cops in the city however, is less compared to the requirements," said a police officer.
"Crime against women have  reducing. Thanks to the Mumbai Police for the many new initiatives regarding women safety. I salute the female police officers for their hard work and contribution," said Karishma Nair, TCS employee.
"Behind every successful man is a woman," is a famous quote. With this quote, one can understand the importance of women in our lives. In India, women are worshipped as goddesses, and their safety is of prime importance. The State Police celebrating 'Women's Day' is a big boost to women in the Force," said Prakash Sharma, Journalist.