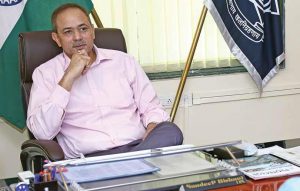 The State Reserve Police Force or SRPF was raised on March 6, 1948, as a special armed force of the State of Maharashtra. Maintaining law and order, disaster management, anti-naxal operations, security of vital installations, etc are some if its wide ranging responsibilities. Today, SRPF is an accomplished and noble armed police unit and forms an integral part of Maharashtra State Police. On the occasion of its 69th anniversary, Additional Director General of Police, Sandeep Bishnoi (1990 IPS batch), discusses the status of various initiatives under his leadership, and also deliberates on issues like naxal threat, security of the citizens and health issues of the Force.
SRPF has been a vital and integral part of maintaining security in Maharashtra. The rich history of this unit is exemplary. Can you share with us about the strength, functions, selection process, various initiatives as well as the revamping that has been undertaken by you since you took over?
SRPF is the back bone of the Maharashtra Police. We have around sixteen groups, three battalions and one training institution where the SRPF constabulary is being trained. It is a force of almost around 16,000 officers. Physical fitness is of utmost importance for SRPF personnel because they have to deal with crowd management during the call of duty on big festivals and important events like Kumbh Mela and Maratha Mocha.
The working hours of the officers are not fixed; it can be up to 16-17 hours a day. Physical fitness thus plays a crucial role in SRPF. In the past, recruits were asked basic questions on fitness and no physical tests were conducted during the selection process. This has now changed. Physical tests have become mandatory and form an important criterion. This has made a huge difference in the selection process. We keep a record of Body Mass Index (BMI) of every policeman and that helps us in ascertaining their physical condition. Sport activities which was just a formality until recently, have been made mandatory. As a result, the level of physical fitness of the officers has improved greatly.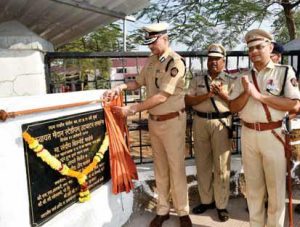 Discipline is the foundation of any force. Many offenses have been registered under the SRPF Act since I took over. We have prepared a watch list of offending officers and counsel them using different tactics. If the officer is a repeat offender, he is then punished under the SRPF Act. Maharashtra SRPF is known for the discipline it maintains in comparison to other organisations.
We have worked on several initiatives for the welfare of the officers and their families since the officers are on field duty most of the time. We have a team permanently posted at Gadchiroli, Thane and Nashik. A water treatment plant was recently set up providing the teams with distilled water thus making sure they are kept healthy.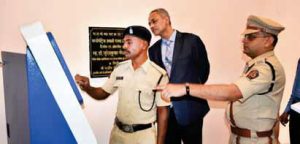 There are many groups located at remote places and far away from civilisation. To keep them relaxed after a day's work, we have started the concept of open air theatre system where the latest movies are shown. We have set up tailoring classes and beauty parlor classes for the officers' wives to keep them occupied and make use of their free time fruitfully. Such activities keep them engaged and also help them earn some extra money. Yoga training classes have also been set up for the officers.
The hospital facilities of SPRF are in a bad shape hence they cannot be used during emergency. We have started eight hospitals and tied up with doctors to keep track of the health of our men. This arrangement has made it possible for us to register the medical sheets of every officer attached with us. We have instructed our officers serving in naxal-hit areas to keep their blood group on display on the badges of their uniform so that they can get quick help in case of any emergency. We also maintain records of all the officers, their capabilities and levels of field training. Earlier, the SRPF personnel had the option to choose between field duty and peace duty but that has changed now. They are required to work in every field of duty as and when required.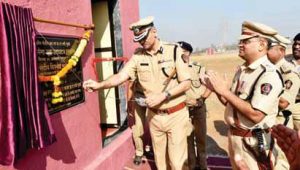 We have also brought changes in the naxalite areas. Earlier, the officers had limited space and used to cook and sleep in the same space. We have now improved this by providing different sections for kitchen and resting. We are also in the process of introducing the 'body protector' that will enable our officers to tackle violent crowd during riot-like situations. It is lightweight and easily mobile. For the first time, we have initiated interactions with the public. On Raising Day, we held exhibition of arms so that the common people also get to know about them. We have introduced outdoor games like volleyball matches with other teams. Training camps are being set up for police recruitment, because of which, people now are getting to know about SRPF. We have done this in Thane, Navi Mumbai and other places as well.
We now have SRPF website where one can get all the details about the SRPF. Pictures of martyrs have been displayed on the website and we respect and pay our tribute to them. The website contains all relevant information pertaining to SRPF.
How would you rate computer literacy at SRPF?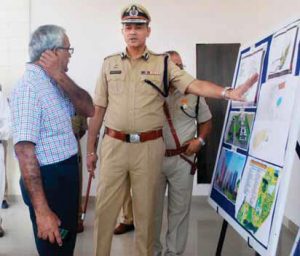 As far as computer knowledge is concerned, there is much to be desired. Computer knowledge and being able to converse in English is very important these days, hence we have started an in-house computer coaching classes for all groups. Since we do not have a direct recruitment procedure, our personnel have been upgraded from low ranks. They therefore lack in proper education and have no computer knowledge. We also set up computer classes and train them in smart phone usage, which are essentials of modern living.
You have indeed brought about many required changes that will benefit the SPRF in the long run. How have these initiatives been received by your seniors and impacted the cadres with regards to their performance?
My seniors have been very co-operative. The new changes have been well received and appreciated. There have been many positive changes. Their morale is boosted, thus translating in us winning awards and improving our performance. The Force has won several awards across the country. We won the 'Best Parade' award and some other awards at Bengaluru. We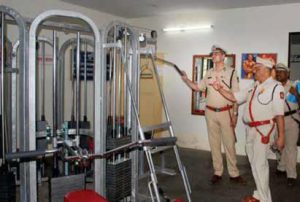 won the All India Band Competition at another event. It is my privilege to share with you that for the first time, we have a song for SRPF composed by me. The song is full of energy. It can be played by all the bands of the SRPF. We have also hired several singers for the Sainik Samelan to sing the song. These are some of the steps that have strengthened our Force. Alcoholism within the Force has also been a subject of concern. Officers who are alcoholics have been sent to the rehabilitation centre for treatment.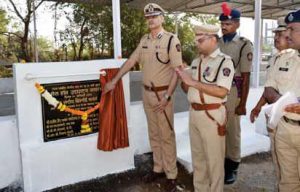 What is the financial support SRPF has been receiving from the government?
Government support has been very limited. For the first time, we have received funds from MPs, MLAs, the Mayor, Collector, etc. We have modernised the entire gymnasium. We have been very positive and have tried to mobilise funds from different sectors and sources.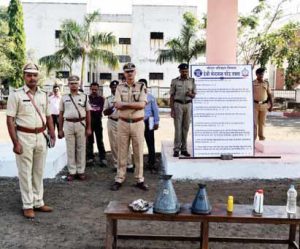 What are the housing and financial incentives available to SRPF personnel at present?
We are looking into their housing requirements. We are arranging residential quarters for the officers to stay. Through the DG Housing Project, SPRF has been allocated 588 houses. 700 new houses are coming up at Navi Mumbai and Nashik. Group 13 has been operating since 1993; yet they did not have their own building. This will change as their own building is in the process of being handed over to them. We have also started a new initiative wherein, if a constable dies during an accident, his immediate family will get an immediate compensation of Rs. 25Lakh from HDFC Bank. In the past, SRPF personnel used to contribute funds from their salaries which was accumulated and given to the family of the deceased. With this initiative, the family of the deceased will get direct remittance through the bank. Though the families also get government compensation, this new initiative will benefit them immediately.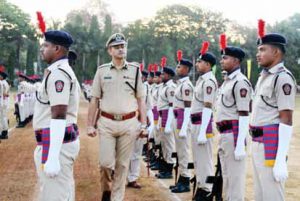 Every cadre is required to be physically fit and in good health. What is the status of the healthcare facility at SRPF?
It is good. Our Force is generally healthy but there are some rules that need to be followed. Whenever our team members go to Gadchiroli or other places, they are vaccinated for malaria and dengue. We provide water purification facility and general medicines. They are under the supervision of doctors. We have also started psychiatric counseling at such places. In the past, there were several instances of suicide by
officers mainly due to stress which was basically caused due to long working hours. In cases where an officer is a victim of stress, his weapons are taken away from him and he is sent to a rehabilitation centre. A qualified medic takes care of the mental stress.The officer is put back on duty only after he has recovered and has passed all the required psychological tests. Thus, instances of suicides have reduced significantly. It is our endeavour to ensure that the requirements of the officers are met on time. We have an effective upward communication system where a dedicated phone number is being provided to jawans to report any kind of ill treatment meted to them by the seniors. According to my observation, there is no corruption in SRPF.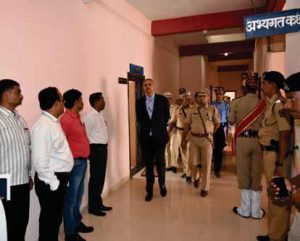 Is the SRPF fully equipped in terms of manpower?
As of now, we have enough officers. We have also planned to start two more groups. Most importantly, we have created two companies of State Disaster Management in collaboration with State Government. One of these companies is being trained by National Disaster Force (NDF), India. The groups are being trained for disastermanagement and so we have earthquake trainers, flood rescue trainers, etc. We have one stationed at Dhule and another at Nagpur.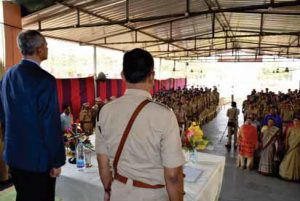 Combating naxalites and providing security to the state requires the Force to be well equipped with the right kinds of weapons. Share with us more on this important and necessary requirement.
We are quite well equipped as far as weapons and equipments are concerned. We have AK's and other imported weapons and we will continue to improve and arm ourselves to the point where it is necessary to ensure security. We also need to focus on providing up-to-date trainings to the Force in handling the different kinds of modern weapons and artillery that are part of our cache.
What are the incentives available in SRPF?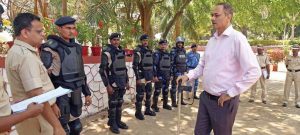 SRPF has no provision for extra incentives over and above the salaries. But personnel posted in the SRPF Disaster Team get an extra 10 percent incentive; those posted in naxal-hit areas for five months get a salary package of Rs. One Lakh. Since SRPF personnel are generally posted away from their headquarters, they tend to make such extra payment by default. Housing facilities available to SRPF police are comparatively better than that of the local police. The basic challenge is providing basic amenities to the commandos who are deployed in remote and difficult locations.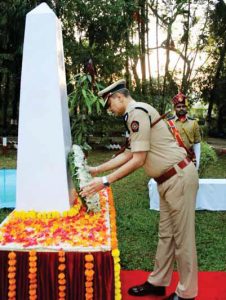 Lastly, since SRPF is also stationed in naxal-hit areas, can the naxalite crisis be resolved?
We need proper strategy for development in the areas where naxalites are thriving. Development should be visible and its benefits accessible to the residents. Better policing methodologies to improve law and order need to be implemented. Use of technology in reaching out to the citizens can also help in a great measure.
Sandeep Bishnoi
Additional Director General of Police-SRPF