In an eyebrow raising incident, Panvel cops beat up two youths near a mall, after they brutally attacked a couple with iron rod in a road rage incident. The video showing four constables beating a youth on the road had gone viral on social media and the act of the police was strongly condemned by the locals. After knowing the cause of the incident however, the locals appreciated the efforts of the police.
Incident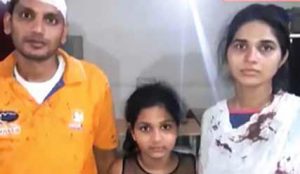 According to Panvel police, the victim Dinesh Naik and his wife Disha Naik along with their nine year old daughter had planned a visit to a mall in Panvel from Mangaon on a motor bike. Unfortunately, before they could reach the mall, their bike collided with a Santro car that was being driven by Sameer Patil, son of NCP leader Subhash Patil. Sameer and his two minor friends Sandesh Pawar and Pratik Patil lost their temper with the couple and soon the arguments got ugly and Sameer assaulted Naik with iron rod and slapped his wife.
Speaking to Protector magazine, Sunil Bajare, Senior Police Inspector said "The accused Sameer and his friend had allegedly attacked the couple over a minor road rage. We were alerted about the incident, so our officials reached the spot. The accused however, had left the spot by then. We took the victim for medical attention and another team was assigned the task to chase the accused. Within 20 minutes, the officers traced them and arrested them on Panvel highway. On being asked to sit in the police van, the accused Sameer started arguing with the officers and asserting his status as son of NCP leader Subhash Patil. He started using obscene language with our officers and attacked one of our constables. He threatened that they would be suspended if they arrested him. The officers punished him and dragged him to police van."
Bajare added, "I am very happy with the action of our officers. This was needed in Panvel. Citizens should feel confident that they have the police to protect them and no one can get away with any misconduct on the road. The accused not only beat up the victims, but also assaulted our officers. I am proud of my officers for their impromptu action. We have charged the accused under Section 324 (Voluntarily causing hurt by dangerous weapons or means) 341 (Voluntarily causing hurt) 504, 506, 427, 34 r /w, 184, 177 and 332 (voluntarily causing hurt to deter public servant from his duty).
 By Nitesh Poojari