Mohit Naik
His name itself is a combination of light and darkness, and so is his persona. Hard on criminals but he has a soft spot for the common man. A patriot to the core, it is thus more than symbolic that he was born on August 15 – India's Independence Day. 
This 1998 batch Indian Police Service (IPS) officer is a journalist, enthusiast, poet, publisher, and a scholar of religious studies. He often recites verses from the Gita and ayats from the Quran. While senior IPS officers often inspire their subordinates, he, on the other hand, is inspired by his Sub-Inspector father.
The protagonist we are talking about here is Pimpri-Chinchwad Police Commissioner Krishna Prakash – a police officer known for his special and dashing style. He proves this, time and again, by going out of his comfort zone to get to know how the police force is being viewed upon by the public. Are they doing their duty well; is the common man satisfied with them? Krishna Prakash often disguise himself to experience this first-hand.
He became a 'Matanwale Uncle' and visited many police stations to check their work ethics and interactions with the public who visits the stations. Some of the stations ticked all the criteria while others fell short of the expectations. Those who failed had to get their stations in order, which means that the officers and staff had to be ensconced in their stations till they have ironed out their shortcomings.
The Police Commissioner himself went to Hinjewadi, Wakad and Pimpri Police Stations as a complainant. Hinjewadi and Wakad Police passed the test. The night duty staff was able to furnish satisfactory answers to Krishna Prakash's googly questions, for example, meeting the test of service and having the correct responses and help that ordinary citizens need. In another incident, firecrackers were detonated close to the Wakad Police Station premises. The complaint was received by Krishna Prakash himself. Based on that, he complained to the Wakad Police Station about the firecracker incident.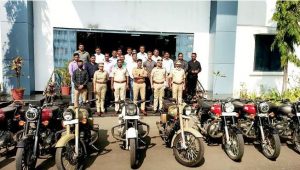 From there, the morcha (protest) proceeded towards Pimpri Police Station. Meanwhile, his private vehicle went through two police barricades. The blockade was expected to be investigated as per strict lockdown rules. In one place, the police mob was stunned, and in another place, the lethargic attitude of the police was seen. The protestors reached the above-mentioned station. Krishna Prakash, who had disguised himself as a 'mutton seller', informed the cops that 'his neighbours' needed an ambulance but the police are obstructing it and are demanding exorbitant fees. He added that the behaviour of the police personnel was not fair. The police officer present at the police station disrespected the complainant and asked him to sort out the problem on his own, lodge a complaint at another police station, or he can call a government ambulance.
Krishna Prakash was thus able to experience first-hand what citizens often face when they approach the police for help. His various disguises are appreciated by many.
Every city police chief must undertake such activities sometimes to ensure all police stations under his jurisdiction are up to the mark. Only then can it be said that the motto, "Sadrakshanaya Khalanigrahanaya (To Protect Good and to Destroy Evil)" is fulfilled.
A Brief Profile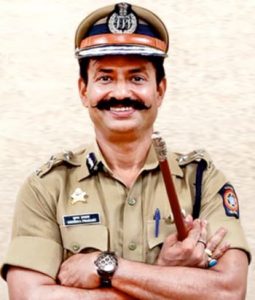 Krishna Prakash hails from Kurambay village in Ramgarh (formerly known as Hazaribagh) district of then Bihar. This district now falls under Jharkhand. He studied in a local school near his native village before shifting to St. Robert's School. He completed his intermediate from St. Columba College with Physics, Chemistry and Mathematics. He shifted to the Arts stream and graduated in History from Ranchi University.
Krishna's first assignment as a journalist was as an Editor with Yuva Sandesh, a local magazine. He was selected to be the only candidate in his 1998 batch of IPS after two failed attempts. Since his journalistic days, Krishna wrote and compiled articles on secularism. He has been able to utilise and implement the ethos and values of this treasured principle in his role as a police officer. 
"I request every citizen to adopt policing for the betterment of the society. If everyone participates in policing, our city will become a secured and safe city of dreams for its residents. Moreover, I appeal to citizens to respect the police as they maintain the lines you can hardly sketch," said Krishna Prakash.