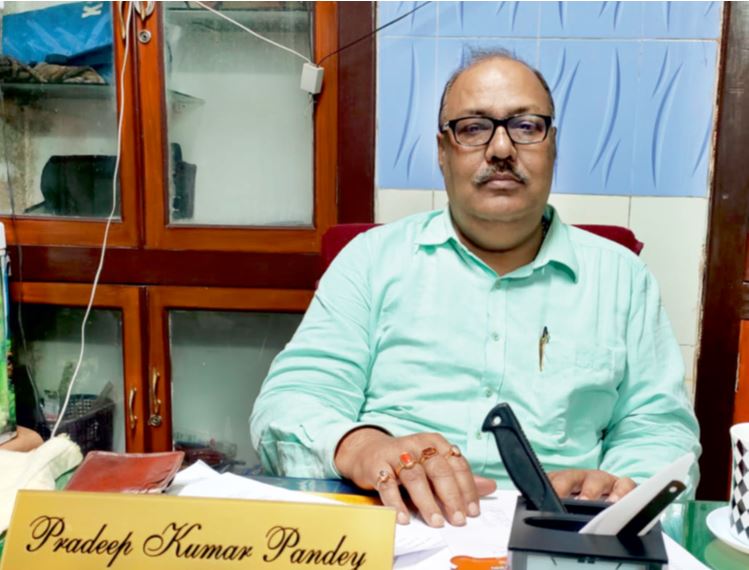 When you are in hostile territory, canines are your best friend and the only savior from mines or IEDs. Elite commandos and the special forces around the world have a dedicated team of dogs for combat zones. Even police forces of many countries use dogs to sanitize VIP routes or meeting venues. Taking a cue from them, Kolkata police started using their services way back in 1971
Their smelling power is a thousand times more than human beings, they can hear 100 times better and see 50 times more during night hours. Just like radar, they can see moving objects better all around the arc of 270 degrees.
Foreseeing its future security needs, the Kolkata police created a dog squad in 1971 with a gift of German Shepherd Dog (male) from Scotland Yard. The dog named 'Pavlova' was used for the detection of crime.
Amazed by 'Pavlova' performance, their numbers started increasing over the years. Currently, the force has 48 dogs out of which 34 are explosives detectors, four of them are crime trackers, three are used for the detection of narcotics, six of them are used for guarding and assault operations while one is used for search and rescue operations.
Initially set up on a plot of three kathas, the plot area was increased to nearly two and a half bighas. Rendering 24X7 service, the canines are safeguarding the life and property of Kolkata citizens. At present, an elite team of 72 handlers is taking care of the Kolkata Dog squad. The dog squad is generally used for five purposes: The explosive squad is used for sniffing out explosives along with B.D.S (DD) team and S.B. (S.P.S. Technical) team at vital installations, sanitizing VVIP convoys and VVIP places of stay, meeting venues and meeting the security needs of important dignitaries visiting Kolkata. It has played a vital role in protection, crime control, terrorism, and investigations. The crime tracker dogs are used by local police stations to track the criminals from the scenes of crime while the narcotics team sniffs out drugs from the consignments.
Search & rescue dogs help in disaster management and rescuing humans from under the piles of rubble during calamities.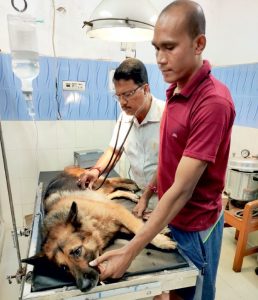 The guard & assault dogs are used by the commandos in case of security threats. Sensing the need for more such squads, construction work has started for the upkeep of 30 specialized dogs near Nabanno Parking Plaza under Kazi para ramp with all the modern facilities. It will be interesting to note that all the dogs have a personal kennel along with one constable and one assistant constable to impart them training and for their upkeep.
The diet is given as per the recommendation of the Animal Nutrition Board, Government of West Bengal as well as on the advice of veterinarian attached to Kolkata police dog squad. They undergo a regular medical checkup and average working period of dogs is 8-10 years. The Government allowance is Rs 6,750 per dog per month only on food as per the diet chart of animal nutrition board. Kolkata police dog squad takes part in many events including the All India Police Duty Meet competition (AIPDM). These dogs have shown their mettle in many disciplines at the AIPDM meets and have given tough fight to their counterparts in the country.
The star performers are: 'Bina' (Labrador retriever) got the fourth position at Chennai, 2007 whose handler is Kushal Singh Dosila. Taken care of by Abhijit Goswami, 'Snoopy' got a bronze medal in the field of explosive detection in Mumbai in 2008.
Similarly, 'Coco' (explosive detector) secured Silver Medal at Phillaur, Punjab in 2015. Coco's handler name is Rajesh Biswash and 'Penny' secured fourth position in crime tracking at Punjab 58th AIPDM-2015. Penny's handler's is Pronoy Roy. Another dog 'Gypsy' (G.S.D) secured fourth position in crime tracking at I.T.B.P Training Center, Bhanu, Haryana at 59th AIPDM-2015. Gypsy's handler is Mohan Mandal.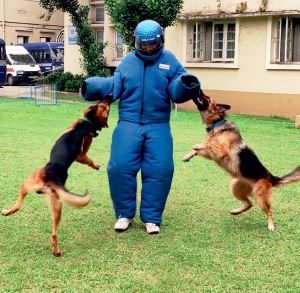 Police dog 'Misha' (Explosive Detector) won a Gold Medal in explosive detection at West Bengal Duty Meet-2003. Misha's handler is Prakash Singh Dhapola. It recovered a huge amount of RDX from Sealdah Railway Station. Similarly, 'Dora' (Narcotics Detector) has many feathers on its caps, among which is the recovery of a huge quantity of narcotics from Tollygunge area in the middle of September, 1993.
During an interaction, Pradeep Kumar Pandey, Assistant Commissioner of Police (Security), gave two examples in which dogs have played a vital role in cracking the case. 1) Bowbazar P.S. Case no-241 July 2, 2001, Chandra Kanta Ojha, aged about 75 years, was found dead with his mouth gagged and his hands and legs tied at his residence in Robert Street. Ojha, a tenant, used to deal in readymade garments. On receiving the information, local police started the investigation along with police dog 'Bina'.
A white piece of cloth was lying on the spot. 'Bina' was given the scent of that cloth and she started tracking the movement of suspected person. The dog found a used shirt of the suspected person which was lying in the nearby room. In the course of investigation, two culprits were arrested, including the 15-year-old prime accused Dinesh Kumar Singh. The case was recorded under section: 302 IPC, on the basis of the statement of Narendra Tiwari, resident of 13, Robert Street. In Nadial P.S Case No 37 dated: March 19, 2017, the local police received information that some bloodstains were found inside a shop godown of a five-storied building at X1 Akra Road P.S- Nadial, Kolkata-17.
On arrival the police found bloodstains all over the floor which was covered with white powdery substance and some dragging marks with footprints were also present. Immediately, dog 'Gypsy' along with handler Mohan Mondal was requisitioned. After getting the scent of the crime scene, 'Gypsy' started moving and finally stopped near a garage where some clothes were found.
This clue helped in the recovery of the body. In course of investigation, the culprits were arrested by the police. On the basis of statement of Sanwar Ali Purkait, a case under section 364/120B IPC was registered at Nadial P.S. Local police along with the detective department have started investigation. Nowadays, the policemen, paramilitary forces, and army are going for 'Belgium Shepherd' because it is very agile and an all-purpose dog. Belgium Shepherd is able to work in all types of climate and is less prone to disease, said Pradeep Kumar Pandey.
There is a trained veterinary doctor and a nurse to look into the basic needs of dogs, the assistant police commissioner said, adding a small operation theatre and a laboratory are also there for medical emergency.
One of the most popular dogs in the world is Blood Hound but Indian climate creates problem for this species, he said, adding that is a stumbling block.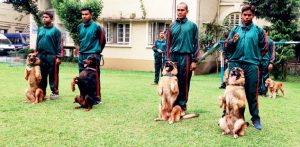 Kolkata Police Dog Squad procures puppies from their own kennel or even from outside between the age group of 45 days and two months. They are kept in separate rooms to prevent the spread of diseases.
These puppies are given preliminary training until nine months. However, if the dogs are between 6 and 9 months, they are directly sent to the National Training Centre of Indo-Tibetan Border Police (ITBP). Generally, the dogs procured young are better suited for training purposes.
Each dog along with handler and assistant handler are sent for training the duration of which are between one and two years.
After the completion of the course, they are awarded certificates and return to serve the police.
There is a very strong between a handler and a dog as he takes care of all its needs. The basic principle of training is to generate love and affection of the dog towards its handler so that it follows all the instructions. That is why the
handler has to go first to the NTCD to train himself before giving training to the dog.
Daily Routine of Dog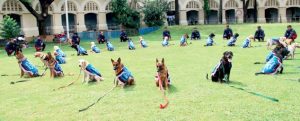 They wake up by 5am and are taken out for the nature's call. Their body temperature is also taken which should be between 101-102 degrees. Any discrepancy in movement, fever, hunger, urine and other health conditions are brought to the notice of the handler. They are taken to the police training school (PTS) at around 6am after that to brigade parade ground, behind Prince ghat, Mohun Bagan and Basketball grounds, Esplanade bus stand, Sealdah railway station, Rabindra Sarobar. It is a routine practice to sniff out explosives and narcotics from busy places. They also do agility jump, vehicle intervention, motorcycle jump, countering terrorists, obedience, explosive detection search and rescue, swimming etc. They are back by 8am and then given body massage and grooming. During massage and grooming their health parameters are noted down. They are fed at around 9 am. Their body temperatures are again taken at around 3 pm.
Around 4 pm -5 pm they are taken for indoor training and given food at around 5:30 pm. The Kolkata police dog squad's kennels are covered by CCTV cameras and each movement of dog is monitored round the clock. They are ready for 24X7 duty. After the retirement, the police dogs are usually handed over to the deserving person after proper verification with the approval of Ld. C.P Kolkata. The person has to adopt the dog for its lifetime. Regular visits are made to ascertain they are taken care of well.
Photos by: Mohammad Asif