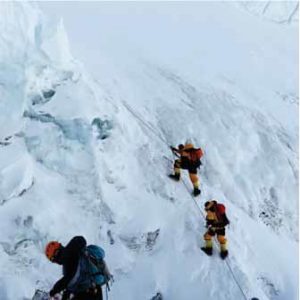 Edmund Hillary once said 'Mount Everest, you beat me the first time, but I'll beat you the next time because you've grown  all  you  are  going  to grow… but I'm still growing!'
Rudraprasad Halder, an Assistant Sub Inspector in Wireless Department in West Bengal Police could not spell out anything after a miraculous escape even being trapped in the devastating tremor and landslide on 25 April, 2015 during Mt. Everest expedition. Following earthquake with such magnitude Rudraprasad had to return from the base camp at Lobuche East (6094 metre) at that time but his feeling and determination was no different than the British mountaineer Edmund Hilary, the first conquerer of Mt. Everest with Jamling Tenzing Norgay.
The devastating tremor took slives of 22 people and following the incident, Nepal government banned expeditions in Himalayan region for the year. It is always a dream for any mountaineer to conquer Mt. Everest. Being undone for the first time Rudraprasad neither lose his heart nor gave up the effort although such summits demand huge monetary involvement. He however, tried to find a way out for accumulating fund from various sources because he had no considerable amount of money for the summit in 2016. He had to spend all his savings and sell out a major portion of inherited family property for the summit in 2015 but it all went in vain due to natural calamity. When the Director General of Police enquired about his mission Mt. Everest, Rudraprasd informed the top cop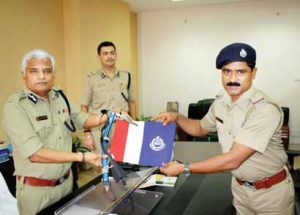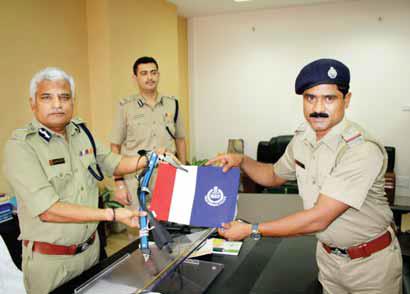 that it required nearly Rs 20 lakh and the money was the hindrance. Then it is the West Bengal Police which came forward with a fund to the tune of ten lakh rupees and later additional amount of Rs 2.5 lakh was further allotted by the department, informed Rudraprasad. According to him "I was instructed to meet ADG (Welfare) Sumanbala Sahoo at her office on a scheduled day. I followed the instruction and accordingly went to her office. She wanted to know the details about the expedition and advised me to make preparation with an assurance of funding from the department. I was so excited that I could not believe my ears. Last time the department allotted Rs 5.5 lakh to me for the Everest summit which was one fourth of the total expenditure but this time department assured to sponsor almost the total amount. Meanwhile the Nepal government announced to exempt peak royalty amounting to Rs 9.5 lakh. Once the financial arrangement for the summit had been completed, I started taking preparations for the Everest summit."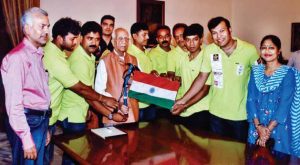 While describing his horrific experience during Everest summit 2015, Rudraprasad said, 'We were all set to move forward for climbing up from the base camp but when it shuddered we decided to climb down immediately. We were not crazy and did not dare to wait for good weather because a few aftershocks were common, we knew. The weather became worst within a moment. I slipped a little bit while assisting a fellow climber but somehow managed to get hold of myself and evade the frost bite which could have taken my life.'
In his word, if any body is bit adventurous, may prefer trekking and mountaineering but he or she will feel an urge within himself or herself to go in for an expedition further. Rudraprasad who hailed from Raidighi in South 24 Paraganas at Sonarpur for his study, became associated with local club- Sonarpur Arohi. Some members of that club used to go for trekking and rock climbing. Influenced by adventure of this sort Rudraprasad joined them following a rock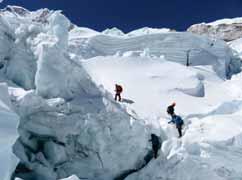 climbing course at Gojaburu hill in Purulia in 1999. Then he pursued Basic, Advance, Search & Rescue, Alpine Mountaineering Course with "A" grade from Nehru Institute of Mountaineering. 'My first expedition was at Joginparbat (6348 metre) at Gadwal range. Since then I have participated in 19 expeditions of which two are for rescue. I was overwhelmed to receive the award which was conferred to me in memory of Tenzing Norgay and Radhanath Sikdar after I conquered Mt. Everest in 2016. Although I have conquered the highest peak Mt. Everest still want to go in for other summit because every peak is interesting and has its own characteristic. Now I plan to go for Kanchenjunga summit,' said Rudraprasad. 'I cannot ignore the call of the mountains because it is not the mountain we conquer but ourselves', he exclaimed.
Abhijit Chatterjee