Intro –
In a welcoming initiative, the City Police has come up with public safety measures and laid down some important precautions that need to be observed while travelling or going about in our daily life. If we observe the following safety measures, we could safeguard ourselves from petty crimes.
Chain Snatching:
Cover your ornaments/jewellery with a saree or dupatta in potentially-unsafe localities.
Always use the footpath. Avoid deserted roads and areas.
If you are with your wife, ensure that she walks on the side of the footpath.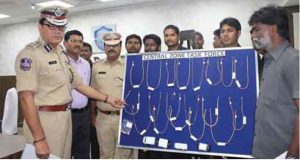 Bag/Wallet/Mobile Lifting:
Hold your money bag/mobile and other baggage securely in front of you and be watchful of suspicious elements if you are walking on the road.
When travelling in a rickshaw, keep your belongings close to you and not near the gate side of the rickshaw.
Avoid using a plastic bag to carry cash. If you are a victim of snatching, make sure you alert the public by calling out 'chor-chor.'
While withdrawing a huge sum of money from the bank, always request a trustworthy person to accompany you.
When depositing cash in the bank, fill up the slip book in advance. During banking transactions, seek help only from bank officials.
House Breaking:
Make sure that the safety locks and latches are properly locked. Ensure that all cupboards are safely locked before you leave the house.
Request your neighbour to keep a watch on your house if you are away for a long period.
Avoid putting your cash/jewellery in the cupboard in the presence of your servants/outsiders or strangers.
Do not disclose or discuss any financial matter in the presence of servants/outsiders/strangers/carpenter/plumber/watchman, etc. Be wise as they might put your life and that of your family at risk.
Keep your surplus cash/jewellery/valuables in a bank locker.
Install CCTV cameras in your society.
Employ a servant/watchman only after their records are verified by the police. Keep a copy of the complete information of workers like carpenters/plumber/civil contractors along with their identity cards.
Vehicle Safety Measures:
Always install automatic safety locks in your vehicles.
If possible, park your vehicles only in the Pay & Park area for safety.
If you find any unknown vehicle parked in the vicinity of your society for a long time, inform your nearest police station.
Many a time, strangers try to divert and distract your attention by spitting on your shirt or saying that you have accidentally dropped your cash or belongings. Once your attention is diverted, they pick up your bag/mobile/laptop from the car and pass on to another person who will flee with your belongings.
 Cyber Crime:
Never share your credit card details or disclose your PIN/O.T.P. with anyone.
Some callers or emails will tempt you with lottery/reward points to extract your credit card information. Do not fall victims to such call or emails.
Do not operate the ATM in the presence of a stranger.
Be careful during e-shopping/online shopping.
If there is a technical fault with the ATM, do not press your passcode repeatedly; instead, go to another ATM.
Beware of Facebook/email/website hackers.
Bogus Police:
If a person introduces himself as a crime branch/police officer and threatens you with some reason or ask you to step to the side of the road, do not trust such a person. Do not get intimidated, but with the help of the public, bring him to the police station.
Imposters like to pose as police officers, especially when they encounter senior citizens or gullible citizens. Beware of such opportunists. Make sure they are caught and arrested.
Do not be intimidated by the so-called Bhais and Dadas of your area or group. Keep your cool and ensure you inform the police about such personalities.