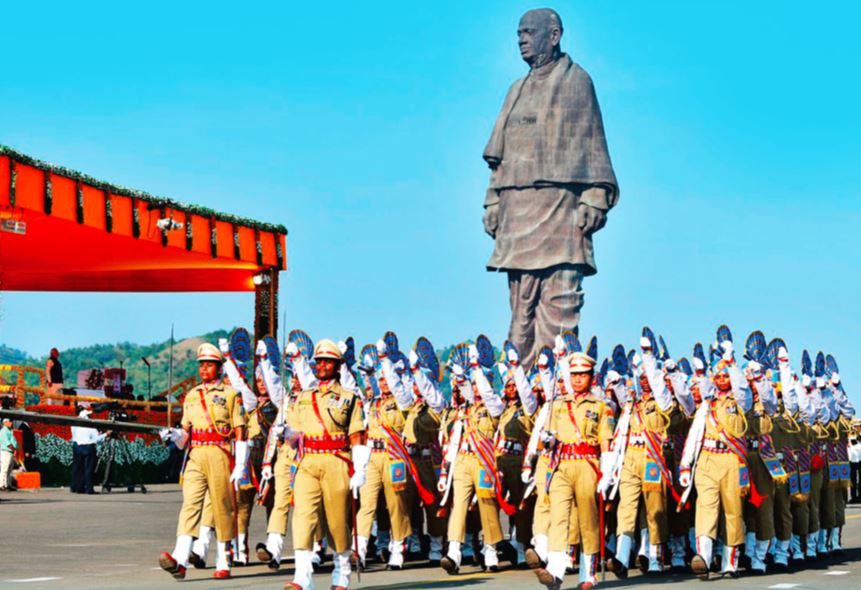 Sardar Vallabhbhai Patel's birth anniversary, October 31, is celebrated as National Unity Day or Rashtriya Ekta Diwas, as a tribute to India's first Home Minister, who led the task of integrating princely States into the Union of India after Independence in 1947.
On his 144th birth anniversary, Jammu and Kashmir and Ladakh have officially become Union Territories. To mark the historic occasion, Prime Minister Narendra Modi said, "We want to build a strong link of faith, the sort of faith that even Sardar Patel had dreamed of for Jammu, Kashmir and Ladakh."
At last year's birth anniversary, his statue, called the Statue of Unity, was unveiled in Gujarat. It is the tallest statue in the world with a height of 182 metres. It depicts Sardar Patel, the Iron Man of India, towering over the Narmada River. Designed by prominent Indian sculptor, Ram V Sutar, it is located on a river island, facing the Sardar Sarovar Dam in Kevadia district of Gujarat.
PM Narendra Modi commemorated National Unity Day by paying tribute to Sardar Vallabhbhai Patel at the Statue of Unity. The Prime Minister also participated in the Rashtriya Ekta Divas Parade or the 'Run for Unity' marathon which is also being organized across the country to encourage citizens from all walks of life to run together. Several top political leaders participated in the marathon.
The President of India, Ram Nath Kovind, and Union Home Minister, Amit Shah, also paid obeisance to Sardar Patel in New Delhi. The Union Home Minister flagged off the 'Run for Unity' marathon, with boxing champion, Mary Kom, handing over the flag. Thousands of people took part in similar marathons across the country.
Theme for 2019 Celebration
Bring the nation together; united in times of strife and rising extremism.
When was the first National Unity Day Observed?
The National Unity Day was first observed in 2014 when the Narendra Modi-led NDA government came to power.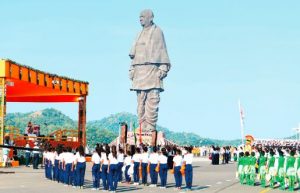 A Brief History on Sardar Vallabhbhai Patel
He was born on October 31, 1875, in Nadiad, Gujarat.
Patel practiced law at Godhra, Borsad and Anand in Gujarat, after passing the bar examination with no formal education. He just borrowed books from senior lawyers. He travelled to England and enrolled in the Middle Temple Inn, a school for barristers and finished a 36-month course within just 30 months. He topped the final examination despite having no previous college experience.
He was one of the most successful lawyers in the country. He joined the Indian freedom struggle after meeting Mahatma Gandhi in 1917.
He played a leading role in organizing non-violent protests, peasant protests in Kheda, Bardoli and Borsad in Gujarat. He also worked against social taboos including untouchability and caste-based discrimination.
Patel also supported Mahatma Gandhi's Non-Cooperation Movement and the Khadi Movement, and chose to wear only khadi clothes.
He was appointed as the 49th President of the Indian National Congress in 1934. He had also played a major role in promoting the Quit India Movement.
Sardar Vallabhbhai Patel was appointed as the First Deputy Prime Minister of India and the first Home Minister of free India.
As the first Home Minister, he worked towards the political integration of India during the Partition, and also oversaw the Indo-Pakistani War of 1947.
After Independence, Patel was given the key duty of persuading the Princely States to integrate into the Indian Union, as when the British had granted India its independence, they had given the Princely States the option of either joining India or staying independent.
He was successful in unifying over 500 Princely States with the Indian Union. This mammoth achievement earned him the title, 'Iron Man of India'. He was lovingly given the title of Sardar, meaning leader or chief.
Sardar Patel passed away on December 15, 1950, in Bombay. He was posthumously honoured with the highest civilian award – the Bharat Ratna in 1991.
The 182 metre 'Statue of Unity' was inaugurated in 2018, to pay tribute to his efforts of keeping India unified, post Independence.
Powerful Quotes from Sardar Vallabhbhai Patel
There is something unique in this soil, which despite many obstacles, has always remained the abode of great souls.
Take to the path of dharma – the path of truth and justice. Don't misuse your valour. Remain united. March forward in all humility, but fully awake to the situation you face, demanding your rights and firmness.
Every Indian should not forget that he is a Rajput, a Sikh or a Jat. He must remember that he is an Indian, and he has every right in his country, but with certain duties.
Faith is of no evil in absence of strength. Faith and strength, both are essential to accomplish any great work.
Little pools of water tend to become stagnant and useless, but if they are joined together to form a big lake, the atmosphere is cooled and there is universal benefit.
6. My only desire is that India should be a good producer and no one should be hungry,          shedding tears for food in the country.
Our Correspondent