Jyoti Pathak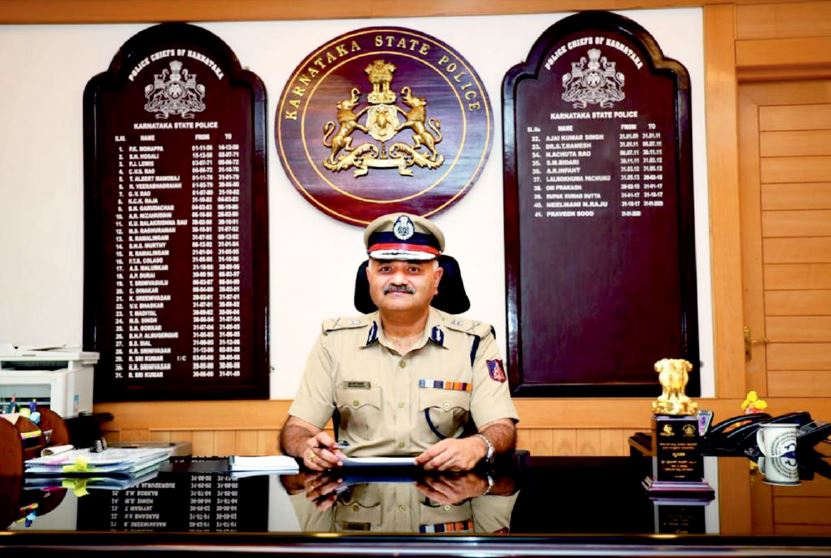 An IIT Delhi alumnus and a 1986 batch IPS, Praveen Sood took charge as the new  Director General & Inspector General of police following the retirement of incumbent Neelamani N. Raju in February '20
In his dynamic career spanning over 3 decades he has to his credit some major initiatives that have made a huge difference in the functioning of the department.
He began his early career as Assistant Superintendent of Police, Mysore in 1989.  He served as Superintendent of Police, Bellary and Raichur.  In due course, he was posted  as Deputy Commissioner of Police, Law & Order – Bengaluru city.
On a deputation as Police Advisor to Government of Mauritius for 3 years in 1999, he got an exhaustive exposure to the work style of European & American police.
He pursued Post Graduation in Public Policy & Management from Indian Institute of Management, Bangalore and Maxwell School of Governance, Syracuse University, New York in 2003.
Praveen Sood as a top cop has worked proactively in improving the image of the police through technology driven initiatives. According to him, it is not the crime statistics that convey the ground reality nor does it really matter to the general public. The general public is concerned about how their grievances are dealt with. Technology driven strategies  are transparent and evidence based and helps in building trust on the police. The general perception about the police is negative. Public in general, is intimidated with the prospect of dealing with the police. The fear is very deep seated and has its roots  in early childhood. In almost every household in the country mischievous  children are controlled by guardians with fear for police. As a result, as mature individuals we endure crime and offences and approach police only as last resort.
As Commissioner of Police – Mysore city during 2004 to 2007, he focused on transforming haphazard and unregulated traffic situations in Mysore city.  Awareness campaigns, mechanical & engineering improvements and better enforcement played an important role in improving traffic regulations of the city. Another milestone in this tenure was the arrest  of Pakistan origin terrorists
He took over as Addl. Commissioner of Police – Traffic, Bangalore in Feb 2008 and continued till September 2011. A strong supporter of technology driven traffic management, he was instrumental in establishing the most advanced Traffic Management Centre at Bengaluru city.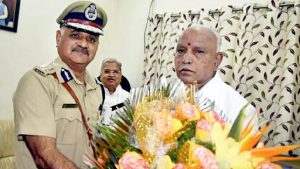 His endeavours have been recognised from time to time. He has been decorated with Chief Minister's Gold Medal for excellence in service in 1996, Police Medal for Meritorious Service in 2002 & President's Police Medal for Distinguished Service in 2011. He is also a recipient of Prince Michael International Road Safety Award in the year 2006.
His contribution towards road safety & traffic management was also recognised through National E-Governance Gold Award for "Most innovative use of technology for Traffic Management" in the year 2011.
His contributions in the department are wide ranging. As Additional Director General of Police- Computer Wing, he played a major role in implementing CCTNS i.e. Crime & Criminal Tracking Network System all over Karnataka by networking all Police Stations up to Delhi.
Ensuring data entry and retrieval of all information from police stations and higher police officers online in real-time was a major task and it was achieved during his tenure. 
He was instrumental in introducing mobile governance through SMS gateways for collection of fees as well as service requests from the public. He was also nodal officer for delivery of services to citizens under Karnataka Guarantee of Services to Citizens Act.
As Commissioner – Traffic & Road Safety he was involved in replicating the Bangalore model of technology driven traffic management to the entire state.
During 2013-14,  as Managing Director of Karnataka State Police Housing Corporation  improved the turnover of the company from Rs 160 cr to Rs 282 cr in a short span of nine months.
Subsequently, he was posted as Principal Secretary – Home  Department, Additional Director General of Police, Karnataka State Reserve Police and Additional Director General of Police, Administration.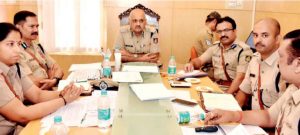 As Additional Director General of Police, Karnataka State Reserve Police and Additional Director General of Police, Administration he was instrumental in introducing large scale reform in the internal procedures of the department as well as Promotions & Welfare at cutting edge level i.e. Constabulary.
As Commissioner of Police, Bengaluru city, he launched  "Namma 100" an "Emergency Response System" for the citizens in distress. With 100 lines managed by multilingual "Communication Officers" 24 X 7, and support of 276 Emergency Response Vehicles (Hoysala), spread all over Bengaluru City; he promised every call to be picked up in 15 seconds and every scene of distress to be visited by "Hoysala" within 15 minutes.  "Namma-100" or "My-100" was receiving, on an average, 6000 calls a day with average intervention time of 5 second and average response time of 17 minutes within 3 months of its launch.
He was also instrumental in launching "Suraksha" App and "Pink Hoysala" managed by all-women cops especially for the women and children in distress.
As Director General of Police, CID, Economic offences & Special Units, he  played an important role in implementing some major initiatives for better investigation and awareness for prevention of cyber crimes.
The CID department in collaboration with Infosys Foundation has taken a big step by establishing a state-of-art "Centre for Cyber-crime Investigation, Training & Research". This measure will help in creating capacity for investigation and trials of cyber crimes among police officers, prosecutors and judiciary.
The Karnataka police played a crucial role during Covid 19 under his leadership.
Praveen Sood DG&IG Karnataka has been architect of some landmark initiatives like:
ERSS 112 emergency number and services that have been launched in the city of Mysore, Mangalore, Hubli and Dharwad for all emergencies, related to police and fire services. One number will be a single point of contact for people across the state.
Bengaluru city police's e lost app has become very popular and will be replicated across Karnataka state. State police will replicate technological solutions used by Bengaluru city police.
Covid 19 pandemic has been a different paradigm altogether. It was for the first time that the entire world came to halt at the same time. The situation due to Covid 19 escalated very soon. There was no specific protocol to follow and time to conduct any orientation drill or training. The Karnataka police was entrusted with an increasing number of duties – from giving security to hospital staff to being involved with providing food supply to low income groups.
Approximately 80000 police personnel were told to report to their respective police stations. Leaves were cancelled. The messages and instructions were passed down the hierarchy to each police station. This exercise helped to establish greater coordination between various stakeholders and public agencies.