Supercop D.Sivanandhan believes that police should have the 'Autonomy 'to take professional decisions and for this, reforms are necessary. In an interview to PROTECTOR, he expressed the view that well thought out reforms are mostly on papers and are hardly implemented.
Excerpts from the interview:
What are your views on the state of police reforms in the country?
India is only country in the world where there is a system of lathi charge when a crime is committed. The police should have the autonomy to take professional decisions which doesn't seem to happen here in India. All the suggestions of reforms are mostly on paper. In a political set up like this, politicians, the ruling party and the people play an important role in policy formation. Police reforms have to be brought about and need to be sincerely implemented.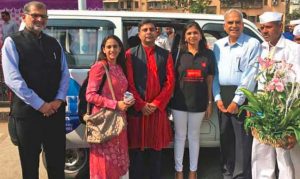 Your views on the recent initiative of 'Body Cameras' for traffic constables in Mumbai?
Science and technology is a vast topic. In the United States and other advanced countries, these hi -tech 'Body Cameras' have been in use by the police since last 20 years. These light-weight, virtually invisible and appearing to be a part of police uniform, easy to handle devises will be capable of grabbing high quality images and record videos in all light conditions besides having Wi-Fi, GPS and Bluetooth capabilities to quickly transmit data of various incidents. These cameras would be capable enough to defend the police (actions) also because there are incidents where police personnel have been attacked openly in Mumbai.
Do you think this will stop corruption?
There is a giver and there is a taker. When a person violates law or jumps a signal he or she tries to handover a bribe to the police officer on duty. If we don't give money at that time and opt for a proper challan instead, we avoid corruption. Corruption is therefore a mindset and the way we have learned to deal with a situation.
Are you satisfied with the services of 'Roti Bank'?
I am attached to 50 NGOs that are related to education and health. 'Thane Police School' and 'Thane Police Hospital' where I was closely associated are running very well. I am trying my best to help needy people. Education and Health are the two important issues where I am focusing.
What is your opinion about the operations being carried out to maintain law & order situation in J&K?
I am not very competent to discuss about the situation at Kashmir since it is a sensitive issue and there are reports of involvement of another country. As an Indian, I am worried about Kashmir. And so, I requested my friend Padmashree Dr. Natarajan to personally visit Kashmir and attend to some medical emergencies there. There were about 700 medical cases that needed attention. The most complicated about 148 of them were attended free of cost by him. He travelled and stayed there at his own cost and risk. Government helped him with legal formalities but amenities were not provided to him and neither he was provided any cover. This is our way of contributing and conveying message to Kashmiris that citizens in other parts of the country are concerned about them and ready to help, come what may. There is an organization called 'Sarahad' run by Nagpur based boys who are helping the people of Kashmir in all possible manners. Only those specialists who are born and brought up in Kashmir, know the language & culture can understand the situation. It's difficult for a person living in Mumbai to understand the Kashmir problem and solve it.
Recently there was an encounter in Chhattisgarh several lives were lost. Do you see an end to such situations?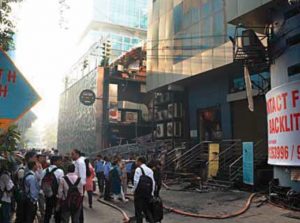 Naxalism started in 1970 and is still rampant in naxal infested areas. Andhra Pradesh has managed to tackle and solve the issue though there was a huge loss until they came up with State Intelligence Bureau (SIB) which is very powerful. CRPF is doing a great job. Maharashtra did well by bringing development and working on action plans. I was posted there for three years. I saw people sleeping on the floor. I changed all that by ensuring construction of strong walled compounds for police personnel, built Watch Towers and had wells dug so that fresh water shortage problem could be resolved. We ensured protection to the officers there to provide better road facilities and other amenities for the betterment of their life. We worked towards providing 'Pattas' for land to Adivasis and education & employment opportunities. Exploitation of Adivasis is an issue of concern and it can be tackled by providing them with land and proper amenities.
You are engaged in social service and interact with several NGOs. How in your opinion can we solve the agriculture issue of the farmers since majority of Indians still live in villages?
Agriculture issues are related to paucity of water. Jaggi Vasudev, the man on a mission to ensure water supply, in his video has shown that 40% of the country is turning into a desert. An entire perennial river like Kaveri has dried up. There is a water dispute related to Mahadayi river between Goa &Karnataka. The state of Karnataka on the other hand is closing Kaveri. Chandrababu Naidu, Chief Minister of Andhra Pradesh is the only person who has successfully worked towards completing the project of connecting Godavari & Krishna river. Connecting rivers and planting more trees can bring about rain water harvesting. In Marathwada, Nana Patekar spent a few crores and made a huge difference there. If all the stakeholders join hands to resolve the 'water crises' we have a bright future ahead .In my opinion ' water dispute' will be the cause of world war III, rift between states, cities and countries. Farmers' woes will not end unless the water issue is addressed. Planting millions of trees all over the country could help resolve the problem. Environment problems and ecological issues are common to the whole world.
What is your opinion on Kamla Mills fire?
Corruption is the root cause of such unfortunate incidents. Many constructions come up without the knowledge of concerned authorities and are virtual fire traps. All the Mills are currently fire traps. The internal roads in the Mill compounds do not belong to BMC due to which there is no street lighting. The roads are very narrow and do not allow enough space for two vehicles to run at the same time. Vehicles are parked in a disorganized way. In case of any fire mishap, it is virtually impossible for fire brigade vans to make their way through them. The 'exit route' instructions in case of disaster should be made available at such places. When the fire incident took place at Kamla Mills, people panicked and rushed towards the toilet and died to suffocation. A competent person should instruct the people in crisis about dealing with such a situation. These days hotels are fitted with curtains made up of  combustible material like polyester and others of 30-40 meters height that are vulnerable to fire. BMC is responsible for it. For the common man, rules are stringent and they are fined if they keep any material on the road. On the other hand, huge structures come up without any safety measures? In India, enforcement has to be very strict, these meet up joints are crowded and should follow safety measures. Todi Mill and Raghuvanshi Mill and other such places are also 'disasters' waiting to happen. The roads belonging to these places are private with no street lights and no CCTV cameras installed on the pathways. There is a chicken entry and exit is also the same.
Where do we stand as far as law & order situation in the state is concerned?
Law & order is fantastic in the state. Police is very capable. Leadership should come up with innovative ideas for the betterment of the department. If the 'eight hour shift' policy works properly in the department, it will be fantastic. In my opinion it will bring in new spirit, provide more man power and work brilliantly. The present CP – Mumbai is capable, he was my trainee and has come up with a pragmatic solution of 'eight hour shift'. He is committed to the success of the policy and is passionate about his job.