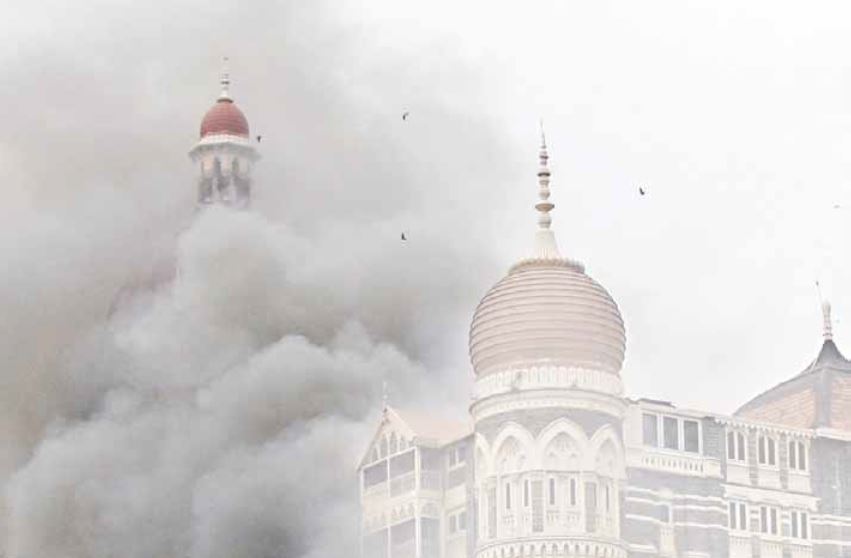 Intro    –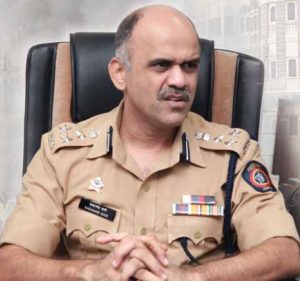 Such a night comes probably once in a lifetime for those destined to witness it; a night that could demand everything from you; a night that could bring you to your knees or bestow martyrdom on you. It was on one such night many years ago when 18 brave men from the Mumbai Police sacrificed their lives. On such a night, Sadanand Date survived with splinters from grenade blasts embedded in his body – the metallic splinters he would carry with him for the rest of his life like testimonials from a battlefield. Yes, it was a night of battle with terrorists from Pakistan. Date stood his ground and faced the explosives like a man, like a cop – a cop from the Mumbai Police. That night brought chills for the whole world as they watched the events unfolding live on television screens. As Additional Commissioner of Police, Sadanand Date currently serving as commissioner of police (MBVV) shared about it in an interview with The PROTECTOR magazine, the night of November 26, 2008, was indeed one of the most challenging nights when he confronted two heavily armed terrorists at Cama & Albless Hospital in South Mumbai.
How did the day, November 26, 2008, start and end on such a horrifying note?
I would not call it horrifying. 26/11 was a challenging night for the Mumbai Police. I ended a very long day and reached home at nine o'clock. I had my dinner, and I was about to retire to bed. Then, about 10 minutes to 10, one of my juniors, an Assistant Commissioner of Police, called and said, "Sir, are you aware that firing is taking place between two groups at VT, Oberoi and the Taj?" I replied in the negative. He went on to say that a ticker is seen on TV. I switched on the TV and saw the ticker. Firing was taking place at three locations. I realized the enormity of the situation. All of us needed to get back to work and ensure that peace returns at the earliest. I told my wife that I had to rush back to work. I contacted my seniors and asked if any help was needed. I sent an SMS, and by the time I got into my uniform, the response came and I was told to go to the CST Railway Station. By that time, my vehicle had arrived. I went to the nearest police station and collected my carbine. Events unfolded so quickly that none of us knew what was happening. I approached the Metro Square on my way to the CST.
So no one had any clue that it was a terrorist attack.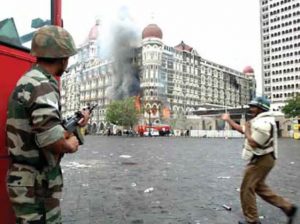 It was when I saw the grenade explosion much later that I realized it was a terrorist attack. At the Metro junction, I met two officers and two constables who had stopped the traffic proceeding towards CST. It was then that we came to know about the firing at the Cama and Albless Hospital. My operator – the walkie-talkie man who is always with me, two officers and two constables and I proceeded towards the Cama Hospital. When we reached the hospital entrance, the watchman told us that firing had taken place inside the hospital and some dead bodies were lying around.
We entered the hospital precincts along with the watchman. We found two dead bodies in front of a six-storey building. We were told that a nurse assigned on the fourth floor- a gynaecology wing was requesting help. I informed the police control room about the situation at Cama Hospital and that I was proceeding to the fourth floor. Meanwhile, one more officer and a constable joined us. Eight of us gathered to enter the building. I kept one Head Constable as a guard at the exit of the building and instructed him to watch for movements. We decided to go to the fifth floor and then ascent to the fourth floor to see what was happening. As we were entering the lift, a man came running into the passage and told us about some suspicious activity on the terrace. I then decided to go to the sixth floor. As we were about to enter the lift, I told my men that we are walking into an undefined area and there had to be absolute fire control because we were in a hospital and we did not want to kill any innocent person. I strictly told my men not to open fire even if we were fired at.
There were two bulletproof vests with us. I took one and told my men that with protection from the vest, I would take the lead. I then divided the team into two. Three of us decided to go to the terrace to check what was happening. In hindsight, I do not know whether it was luck or an on-the-spur instinct that as I was about to enter the terrace, I felt it was not the right thing to do. So we went back to the sixth floor. I wanted to check that floor before going to the terrace. Fortunately, some construction activity was going on on the sixth floor so we found some metal clips used for electrical wires and pipes. We took a bunch of those clips and proceeded towards the terrace. I threw the metal clips at the terrace door. As soon as I threw them, there was a burst of fire from the terrace. We realized that the danger was on the terrace. We got down to the sixth floor. There was a wall in front of the lift. Using it as a cover, we fired back. We informed the control room that we were fired at by automatic weapons and that we needed reinforcements.
My understanding then was that the criminals were armed with automatic weapons. We still had a good amount of ammunition with us. We had to stall them till we get reinforcements or look for a way to storm the terrace. We also checked to ensure there was no exit from the terrace to any other building; thus the staircase was the only way for them to come down. As we were keeping watch on the staircase, we saw a hospital employee coming down and waving his hands, indicating that someone was behind him. I told him to duck and he did so. I fired a warning shot above his head. We then heard someone running back up to the terrace. The shocked hospital employee came running towards us. After preliminary questioning, he showed his ID. While this was going on, I saw a grenade come flying towards us. Someone had thrown it at us from the terrace. It ricocheted and landed in front of the lift. It was the first grenade, a green ball, to explode at a distance of six to eight feet from us. That area was a very small place. I realized that it was not a gang war or fight between two groups. This was an act of terrorism. The grenade exploded and the splinters injured my eye. There was momentary dizziness. I ordered my men to fire back while also keeping watch on their movements. Another grenade was hurled towards us, and it exploded. The first grenade had already hit a few of us and now almost everyone was thrown to the floor with the second grenade attack. Most of my men sustained serious injuries so they were unable to fire back or use the wireless to contact the control room. I had to make a decision.
Except for my two men who were lying injured, I ordered the rest of them to leave their weapons there and go down by the other staircase at the end of the floor and get medical help. I told them that I would hold the terrorists till reinforcements come. This was around 11:25 pm. The intermittent firing continued. The terrorists threw another grenade. It landed just three feet from me and exploded. I sustained a serious injury to my left leg. I did not fire back after that. Following this, there was one more burst of firing. I then sensed some movement. I came out from my hiding place and walked a few steps with my revolver drawn. I saw two people going down towards the fifth floor. I fired two shots at them but, that did not stop. They lobbed their sixth grenade towards me and left.
Did you miss the target?
One of them sustained an injury from my revolver.
What happened thereafter?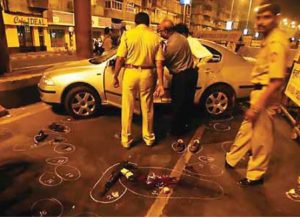 This must have taken place around 11:50 pm or so. I waited there for a few minutes and informed my boss via SMS about the situation at Cama. I told him that the terrorists were carrying AK 47s and grenades and that people on the floors below should be alerted. I also instructed that if anyone wanted to come to our rescue, they should use the side staircase and not the central one which was used by the terrorists. I did not get a response from my boss, so at midnight, I called him again and repeated the information. I was listening to the sounds in the hospital and keeping the wireless channel network on active mode. Fifteen minutes after the terrorists fled the hospital, I heard a distinct, long volley of firing. I think that was the firing on Mr Karkare's party. In quick succession, I heard over the wireless that a police jeep was overtaken and the suspects were firing at the jeep indiscriminately. They had left the Metro junction and were driving towards Vidhan Bhavan. The report over the wireless said they got into another car, were intercepted and neutralized at 12.30 am, and that one of them was captured alive.
Were you still at Cama Hospital then?
I was still on the sixth floor of the hospital, bleeding. I called one of my Assistant Commissioners and told him that the injured constable was in a very bad shape and that I had sustained injuries. The officer, ACP Temkar, came and picked me up at quarter to one. We arranged to send the constable to a nearby hospital, and I was taken to KEM Hospital. I realized that besides the leg injury, I sustained other injuries. There were two injuries in my eye, on my throat, my chest, my right knee, and distinct incise wounds on my left ankle.
In your question, you described the 26/11 night as horrifying. I would call it a challenging moment; in terms of our losses, a very tragic moment.
People ask me if I feel emotional about it, that it was some heroic act on my part. Whatever I did was part of my duty and not more than that. People ask me why I went to the sixth floor of Cama Hospital? Well, a nurse was asking for help. If there was an armed police officer in uniform, the answer is pretty clear as to what needs to be done.
I did not doubt in my mind what I had to do. I simply walked in because it was my duty to be there and to ensure the people are safe. And one draws satisfaction from the fact that many patients could have been taken hostage on the terrace, but because we were at the right place at the right time, the terrorists had to flee the hospital. That being said, I feel a deep sense of disappointment that we were not successful in neutralizing them straightaway.
For a policeman, I think, it was a kind of situation which tested his devotion to duty. And one gets the satisfaction that one did what was expected. That is the bottom line.
How did you feel when you saw the bodies of your staff grievously injured?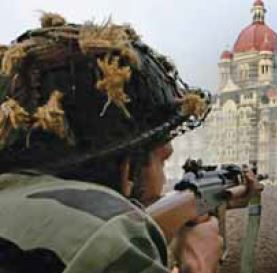 One feels very sad. It is an enormous challenge to watch your colleagues suffering excruciating pain and dying in your presence. But I admire the men who walked up with me, and the courage shown by all ranks – from constables to officers – is reassuring. People walked into such a dreadful situation without an iota of doubt, of backing out and without any complaint.
It was an unknown situation. You had no clue about the severity of the situation or the kinds of weapons they had, or that they were terrorists.
Yes, but it was clear that these people with firearms had entered the hospital. We were taken by surprise by the use of so many hand grenades. It was for the first time such a pitched battle occurred. It was a lesson for us at the Force.
What does the harrowing experience teach the Mumbai Police in terms of preparedness?
The tragic and sad memory of losing so many colleagues and the pain that was inflicted on us only help us to resolve to accomplish the task at hand, that is, to ensure that people living in this city remain safe. Besides improving our operational preparedness in terms of equipment, firepower, training, assessment, intelligence, one change which we are striving to push is to raise the awareness of the people about the problem of the global phenomenon of terror. It is essentially a challenge for humanity.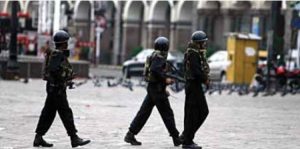 The first thing we need to do in meeting any challenge is to comprehend the challenge from all aspects. It is essential to make people aware of this threat and make them ready and prepared to look for threatening signs. For example, if we are travelling by bus or train, we must be alert if we notice suspicious objects and alert the police. We should not take security for granted. In a sense, we are all responsible to make this city more secure. These are the lessons we have to learn as a police force and as a society to make it progressively difficult for others to strike or attack us. Most importantly, it is for the police and security forces to upgrade themselves and be prepared to give a befitting response in the event of any terrorist attack.