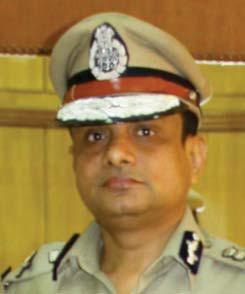 After hectic time with Durga Puja, Kali Puja, Diwali and Chhat Puja,
Kolkatans have shifted to the soothing cultural arena, which has always been very rich in this cosmopolitan city. With the onset of winter, several events have been organized, which have both national and international standing making Kolkata an important destination for the people, who matter in the eld of art, culture and sports. Ensuring the events ran smoothly; Kolkata Police earned another feather in its hat, receiving appreciation from the public.
Kolkata Police has always stood guard in all such important moments in the city's life and is committed to continue its endeavour to support such important ventures in the future. In this issue of Protector, Joint CP (Crime) in an interview emphasized on cyber security measures in accordance with the rising number of internet users and online transactions taking place. The cover story throws light on the renowned Detective Department with its several sections and specialised squads, which are housed at Lalbazaar, the Headquarters of Kolkata Police. With its impeccable track record of solving cases, it continues to receive appreciation from all quarters.
Kolkata Police, in an attempt to build a strong bond with the younger generation has been organizing a Football Tournament – Friendship Cup for the past few years. Friendship Cup 2016 has been covered which is very popular among the youngsters as well as football lovers of the city. There is an article on Trafc Computer Cell of Kolkata Police which handles the technicalities of the trafc department. There are illustrated photo feature- Police Panorama and regular Health and Legal Column.
The South West Trafc Guard which is covered in this issue brings out the fact how the personnel posted manage both road and river trafc efciently in Kolkata Port area.
Kolkata Police is aware of its responsibilities and will continue to extend all possible security cover for the citizens to ensure that everybody can live freely and peacefully. The job is certainly challenging but there is no reason to worry as Kolkata Police personnel are well trained in handling any unusual situations. Kolkata Police stands rmly safeguarding the lives and properties of the people, and will never compromise on the safety and security of the city.
Wish you all a Happy and Prosperous 2017. Happy reading!
Rajeev Kumar 
Commissioner of Police, Kolkata 
kolpolcp@gmail.com