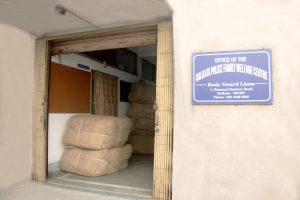 Kolkata Police has set up a welfare society to take care of essential requirements of the men in uniform to ensure that their social obligations are met in time even as they are busy in tackling safety and security of the people in this highly important cosmopolitan city. Highly trained men in white has established the Kolkata Police Family Welfare Centre in 1973 with the objective to provide various
support to the family members in different areas including in the eld of education so that the police men and ofcers need not worry for the admission of their children in the educational institutions.
The organization was registered as a society since 1994 and is providing a gamut of benevolent services and extends assistances to the police personnel and their families. It promotes education and culture as well as takes care of health issues for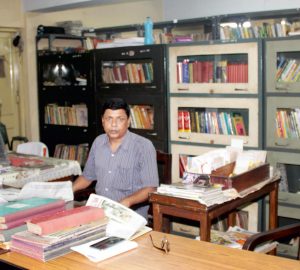 them. The centre also generates employment opportunities for some people belonging to the members of police families. The wife of Commissioner of Police is the president of the organization. Special CP-II looks after the management and operations of the KPFWC. Administrative Ofcer and Ofcer in Charge of Kolkata Police Family Welfare Centre Sukumar Chakraborty said "The funds are self-generated by the Kolkata Police Family Welfare Centre with its tender works. It is regularly audited and submits necessary Income Tax returns to the concerned authorities. The organization gets much importance from the Kolkata Police as monthly meetings are conducted for further planning and improvements."
Kolkata Police Family Welfare Centre runs four basic primary schools at Alipore Bodyguard Lines, BT Lines, Gopal Chatterjee Housing Estate and Nowdapara Police Housing Estate to promote education. Apart from running schools for the children, students of senior classes are provided with scholarships. About 1500 students receive scholarships every year to continue their higher studies. The organisation extends nancial assistance for a police family in case of any bereavement in any police person.
There is a library at Alipore Bodyguard Lines which is managed by KPFWC. Librarian Swapan Kanti Debacharya said "At present we have 8080 books in the library ranging from children's books to specialised ones which are required to carry on research activities. We also keep daily newspapers, magazines and books on specic subjects. "There is an exclusive room for the chess training in the library. Grandmaster Dibyendu Barua trains budding talents every day for two hours.
The Kolkata Police Law Institute is another entity which was initially funded by the KPFWC. It functions under its aegis and still receives nancial support occasionally. The institute conducts a 3-year course for in service police personnel of both Kolkata and West Bengal, and a ve-year B.A. LL.B. course primarily for the wards of serving and ex-police personnel. 20 percent seats are allocated for other students in the ve-year course, and 10 per cent seats are available for candidates recommended by the University of Calcutta to which the institute is afliated to. The institute has also received approval of the Bar Council of India.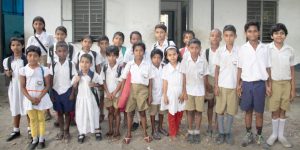 Kolkata Police Family Welfare Centre runs free medical units at Kolkata Armed Police 4th Battalion Housing Estate at Salt Lake, Gopal Chatterjee Housing Estate, Bidhan Sishu Uddyan Police Housing Estate, Nowdapara Police Housing Estate and at Alipore Bodyguard Lines. Specialist doctors also visit those medical units regularly. KPFWC has been providing funds to Kolkata Police Hospital for purchasing modern instruments since last three years. The KPFWC also provides mediclaim facilities to the cops and their families, and make funds available to its members for meeting any emergency situation.
The family welfare centre has setup two manufacturing units-at battalion lines and Bodyguard Lines. Police Uniforms, mosquito net and many household items are manufactured at this centre. It has been able to create employment opportunities for 25 skilled workers. The family welfare centre is also imparting training on sewing and embroidery works to interested member of police families.
Anirban Saha